We were lucky enough to see two different cheetah whilst in the Mara.
The first was a coalition of 3 males, don't know who they are but Vincent said they were about 4 years old. We saw them on the afternoon of 09/09/11 where they were just enjoying the sunshine and resting up, only moving to eventually seek out some shade.
The next morning, along with umpteen other jeeps (marischalled by the Rangers) we watched as the boys made a couple of unsuccessful attempts at hunting wildebeest. They then moved away from the group, lay down in the grass and were very, very patient (as were we !) until the wildebeest came to them and they successfully caught one. This was our 4th cheetah kill that we've seen in Kenya, we've been really lucky at seeing one on each visit we've made. It's hard to keep track when there's 3 cheetah and a herd of wildies running everywhere so it was exciting stuff
Our second cheetah was a lone (unknown) female who we saw on our last morning. She was right at the border of the Masai Mara National Reserve and the Mara Conservancy feeding on a Thomson Gazelle under a tree. She didn't look old and her rather large tummy was not as a result of what she was eating, she was definitely pregnant
Once she finished eating she headed off over the border into the MC where we followed for a short time before leaving her be due to the number of vehicles that started coming and also that we were not supposed to me in the MC, it's a different park with it's own fees !
Doogs

Doogs

Moderator




Posts

: 10734


Join date

: 2010-05-14


Age

: 48


Location

: Aberdeen



The Boys enjoying the sunshine
(I've got a very similar photo to this of Honey's Boys from a previous safari !)

One of the Boys Surveying the Scene

Patience pays off, successful at last !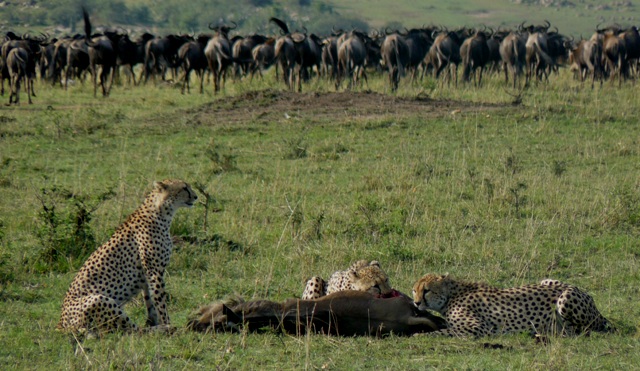 Doogs

Moderator




Posts

: 10734


Join date

: 2010-05-14


Age

: 48


Location

: Aberdeen



Our Lone Female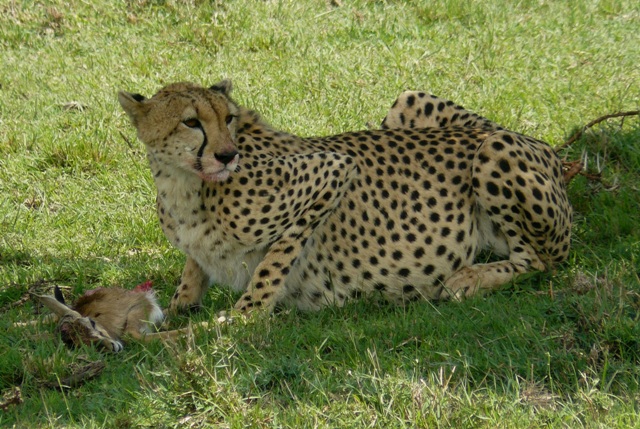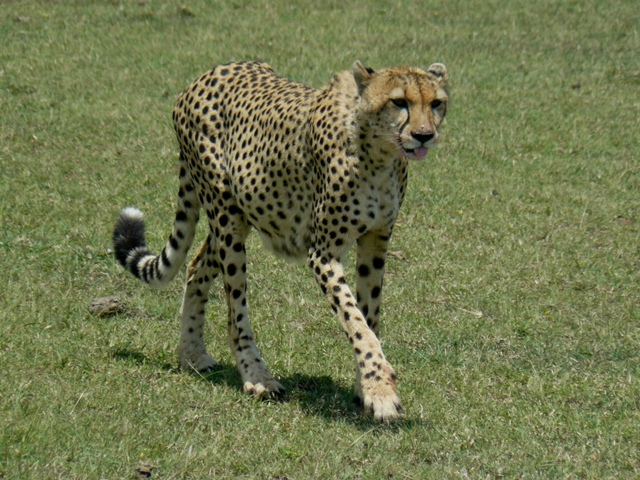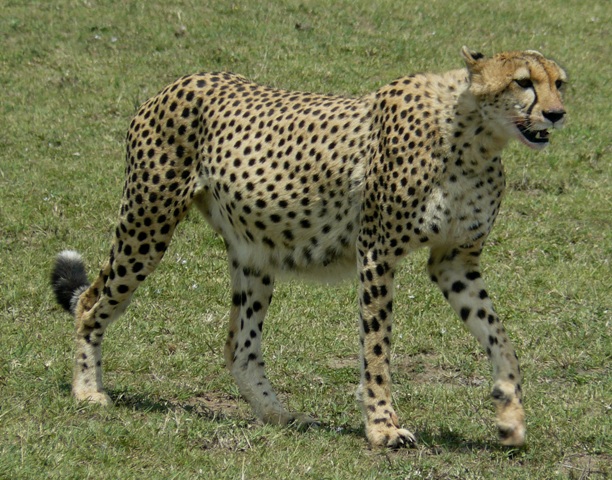 Doogs

Moderator




Posts

: 10734


Join date

: 2010-05-14


Age

: 48


Location

: Aberdeen



That definiately is not a tummy full of food is it Doogs, that is most definiately a tummy full of little Cheetah
and she looks about ready to give birth as well. Have you kept in touch with your guide to know when she gives birth and how many little ones she has?
Loving the three boys, they do remind me of Honeys boys, I hope they are as successful as they are, wonder if one of them is the dad of your lone female?
Great pictures again and really looking forward to the next installment
littlewid-x-
_________________
LOVE ALL WILDLIFE

littlewid

Admin




Posts

: 10464


Join date

: 2009-12-28


Location

: West Sussex



Fantastic photos Doogs. It would be really great if they were as successful as Honeys Boys would'nt it. It must have been really exciting to watch the chase, they really are fantastic Cats. Got to agree with LW, looks as though there's some little Cheetahs on the way. Thanks for sharing Doogs
WS

_________________
If I can make somebody smile, my day has been worthwhile
Another great account Doogs and the pictures as well. How great is it to see another cheetah with a full belly of little cheetahs. This is good news for the mara.

SM

Safari Maiden




Posts

: 3392


Join date

: 2010-05-05


Age

: 48


Location

: Midlands



Great photos and wonderful 'blog' Doogs. You were lucky to see so many cheetah and Honey's boys always seem to be sleeping

Lai Pai

Laikipia

Moderator




Posts

: 16153


Join date

: 2010-05-13


Age

: 58


Location

: Cheshire




---
Permissions in this forum:
You
cannot
reply to topics in this forum