We spent the first 5 days at Sarara in Namunyak, home to the Samburu. A truly wonderful place run by Jeremy and Katie, Jeremy's father Piers has given it back to the Samburu but they have a lease for the next 30 years or so.
It is incredibly hot and arid but has a waterhole right in front of the camp. There are no lions at all, a few cheetah, which we didn't see, but plenty of leopards. There are no zebra or wildies, but plenty of eles, lesser kudu, buff boys, hyena and dik dik (I have never seen so many dik dik in all my life) lots of warthogs as well as some beautiful birds.
A Hornbill at the bird feeding table in the main room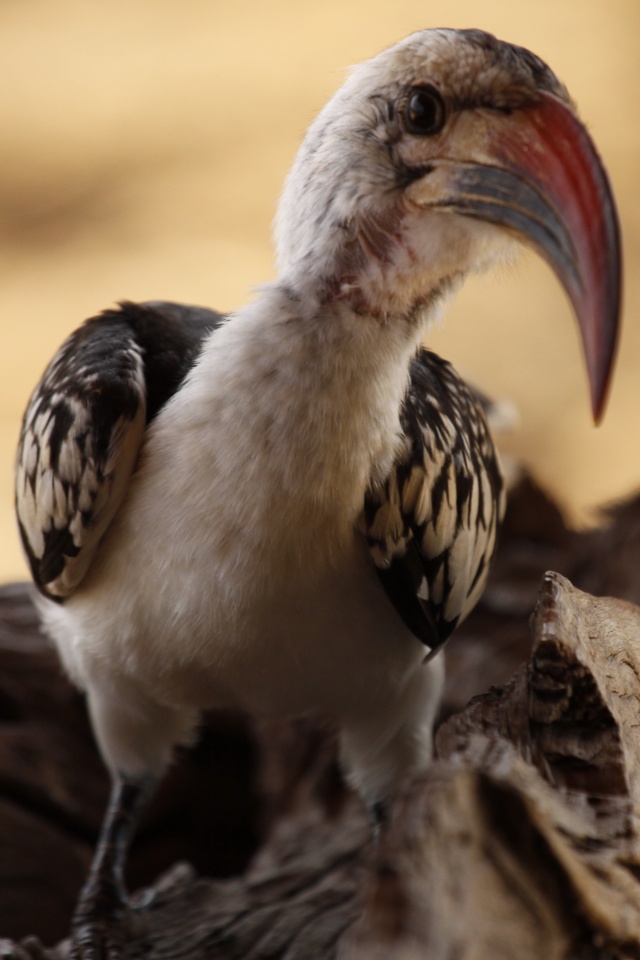 Ele at the waterhole - we sat on the rocks with Jeremy watching them, very quietly ..... so not to alarm them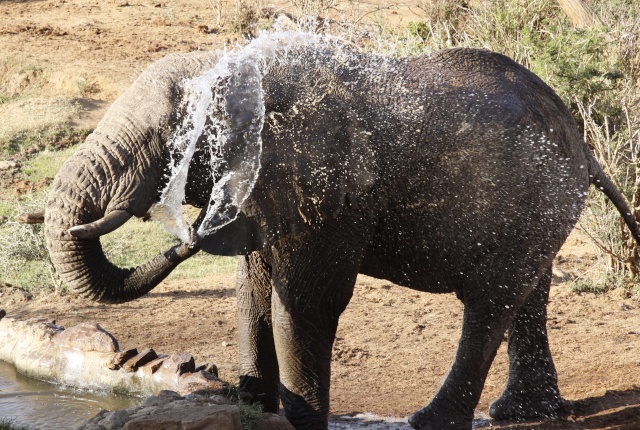 Reticulated giraffe (different to those found the in Mara) stunning markings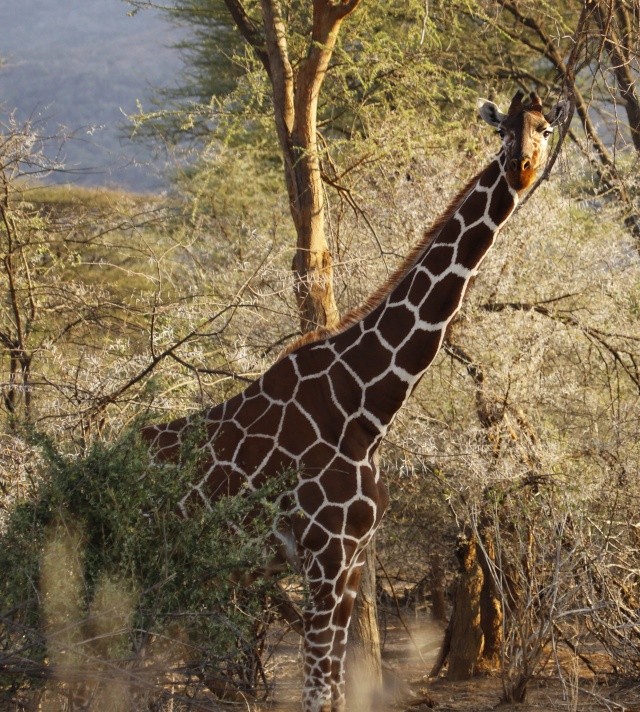 Can't remember who he is but lovely colours
What a view - from our outside loo. (inside one for nights) and outside shower, just wonderful.
Sarara a female leopard, named because she has an S marking on her left side.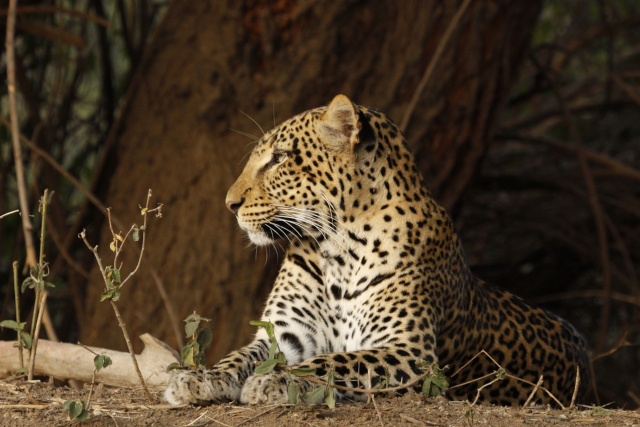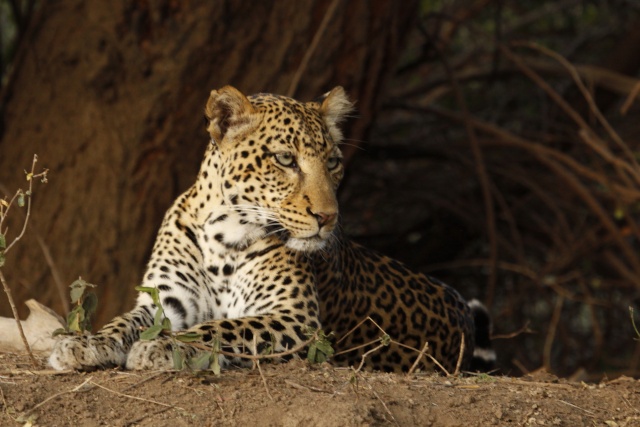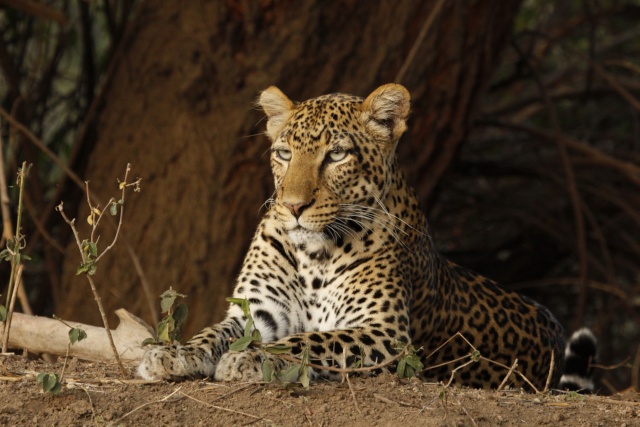 Sassia - two month old female lesser kudu, she was orphaned so is being hand reared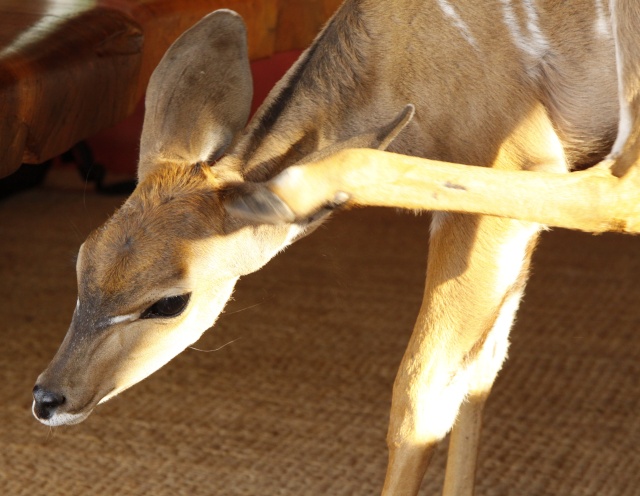 Just checking me out - I was lucky enough to give her a bottle one afternoon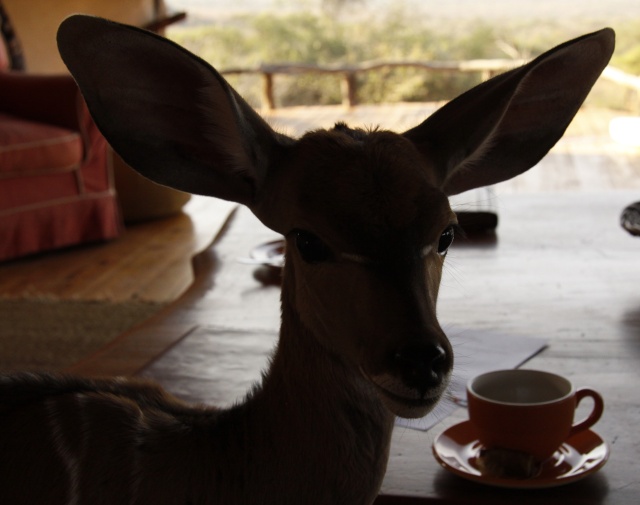 Katie with Sassia. During the day she and the little male kudu who is older and bigger, also being hand reared, are able to round around and do what kudu's do, at night they are both kept it to keep them safe from the leopards and hyenas.
They also have a gorgeous male Springer Spaniel called Siawa who leaps into the pool and throws sticks at you! He has to be kept on the lead and sleeps on their bed at night as the leopard is after him. One night the leopard was on the path checking around but fortunately Katie had an askari (guard) with her. We found leopard paws by our tent one morning

We walked to the Singing Wells one morning, no photos as the Samburu are naked. They are 3 men wells and they sing to get the rhythm going, they water their livestock every third day, the goats come in and drink as much as they like, the Samburu work tirelessly to bring up the water in cans and the heat is quite intense. It was amazing to watch. They always leave some water out at the end for the wildlife.
Our last night we had dinner on the dry river bed with the hyenas for company as it was near their den, where they had at least 4 rather cute little cubs. It was a wonderful evening amongst the stars. What a special place Sarara is.
Lai Pai

Laikipia

Moderator




Posts

: 16153


Join date

: 2010-05-13


Age

: 59


Location

: Cheshire



Oh WOW Lai Pai, those are stunning photographs, loving the Hornbill, he is spectacular isn't he. All the photo's are so gorgeous but I am in love with litte sassia and how utterly fantastic you got to feed her with her bottle. How will she and the little male get along once they are weaned, are they going to stay with the owners as they wont be affraid of people or are they planning on letting them roam off?
My heart was in my mouth reading about the Leopard being after their Springer, thats one thing that would worry me about having a dog out there, easy prey for the predators.
The view from your outside small room is just breathtaking, I think I would always be thinking, let me just use the Loo

an outside shower, wow, getting up and showering in the fresh African air enjoying all the views must really be a wonderful way to wake up.
Dinner in the dry river bed with the Hyena and cubs near by sounds like a magical setting for a romantic movie, I bet that was just an exciting, woohoo, can't believe it dinner.......just the business

littlewid-x-
_________________
LOVE ALL WILDLIFE

littlewid

Admin




Posts

: 10464


Join date

: 2009-12-28


Location

: West Sussex



Thanks Littlewid. The great news about Sassia and the little male is that they are both free to come and go (apart from at night whilst they are so young and small). The male will leave of his own accord eventually and Sassia will probably always stay around Sarara and the waterhole. So although they are being hand reared they will be free. I imagine they will become vary of humans once they stop being fed milk and have less contact, although I think Sassia thinks she is a dog, she and Siawa get on very well

Lai Pai

Laikipia

Moderator




Posts

: 16153


Join date

: 2010-05-13


Age

: 59


Location

: Cheshire



What a brilliant place it sounds, Lai, and they seem so in tune with the wildlife. How great that even the Samburu leave water for the wildlife as well. Really must be majical to have the Kudu wandering around. Great photos as well, the colourful Guy looks like some sort of Chameleon ? .
WS

_________________
If I can make somebody smile, my day has been worthwhile
It would be nice if that relationship between sassia and siawa continues as neither are predators to each other. In some ways a shame the little male will wander off but then that is what is supposed to happen, total independance. It's good to know they are both really free but safe at night and i'm sure after raising sassia it will be nice for the owners to know she is still around and safe when she is weaned. It must be some wonderful to be helping wildlife along the way to survival.

littlewid-x-
_________________
LOVE ALL WILDLIFE

littlewid

Admin




Posts

: 10464


Join date

: 2009-12-28


Location

: West Sussex



Littlewid.
I've just looked it up WS and it's an Agama Lizard - we also saw a stunning blue chameleon/lizard type at Naboisho but it ran away when I went after it to get a photo

Lai Pai

Laikipia

Moderator




Posts

: 16153


Join date

: 2010-05-13


Age

: 59


Location

: Cheshire



Wonderful photos Lai Pai!! I love the markings on the giraffe. Makes them look so different. Little Sassia is so cute

how wonderful to have fed her.
We saw a couple of those lizards when we were at Ukunda. I did wonder what they were, now I can impress Chris and tell him.


Anne-Marie1981




Posts

: 1089


Join date

: 2010-05-17


Age

: 37


Location

: Northamptonshire



Anne-Marie
Lai Pai

Laikipia

Moderator




Posts

: 16153


Join date

: 2010-05-13


Age

: 59


Location

: Cheshire



Great assortment of photos Lai Pai
and what a beautiful camp, with stunning views

Loved reading your account of your time Sarara.
How wonderful you got to give Sassia a bottle of milk

Totally loving Sarara the Leopard, she is gorgeous

and what excellent photos you have taken of her, love them. How fantastic on one hand she was so close to you all in the camp but also a bit

Siawa sounds like a typical Spaniel and so much fun and always putting a :) on everyone's faces.
Your final night sounded blissful


Doogs

Moderator




Posts

: 10734


Join date

: 2010-05-14


Age

: 48


Location

: Aberdeen



Thanks Doogs. We really enjoyed our time at Sarara, what with all their own in house wildlife!

Happy to report they now have rain there, so hoping it is spreading to where you were too.

We really hope we can visit again next year, it's such a relaxing place.

Lai Pai

Laikipia

Moderator




Posts

: 16153


Join date

: 2010-05-13


Age

: 59


Location

: Cheshire




---
Permissions in this forum:
You
cannot
reply to topics in this forum