One morning we visited Sereolipi Primary school about an hour's drive from Sarara. On the way we gave 3 women one with a small baby a lift, it was so hot and they had miles to walk. We felt bad that we didn't find them on the way back.
We took a couple of footballs for the children, lots of pencils, paper, chalk and crayons. It's a great school, and they were practising sport for the cup challenge the next day between 3 schools.
Just a few photos.
Class 4 singing for us - they enjoyed their teacher dancing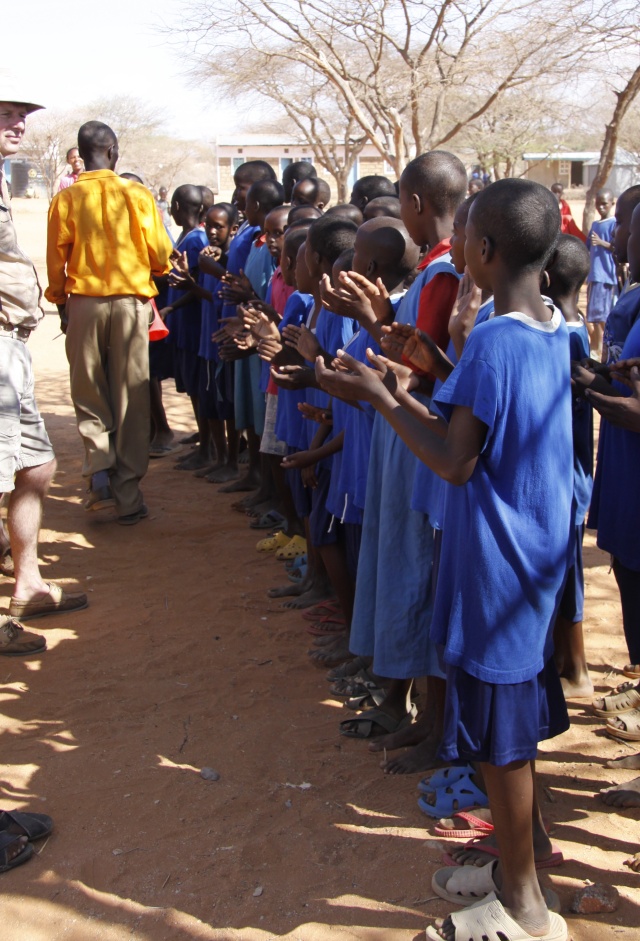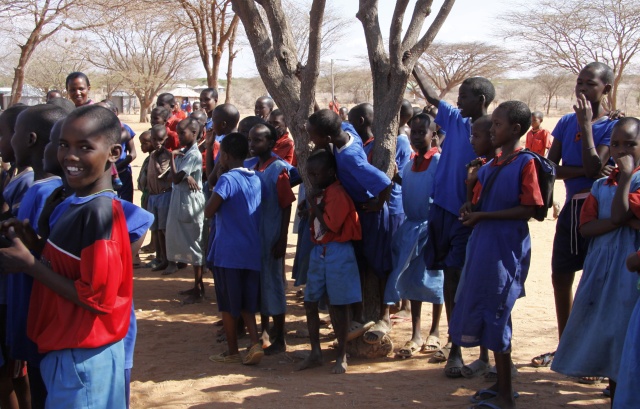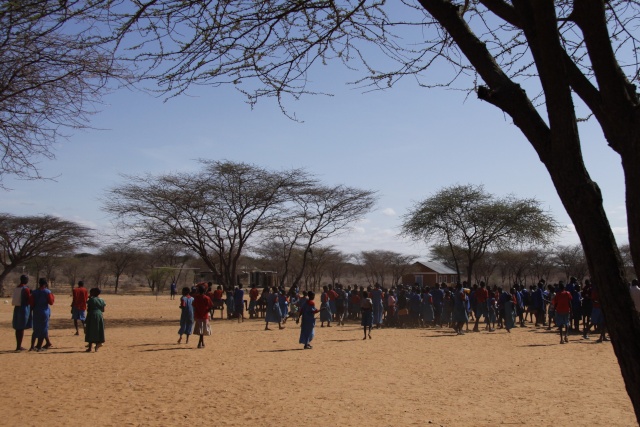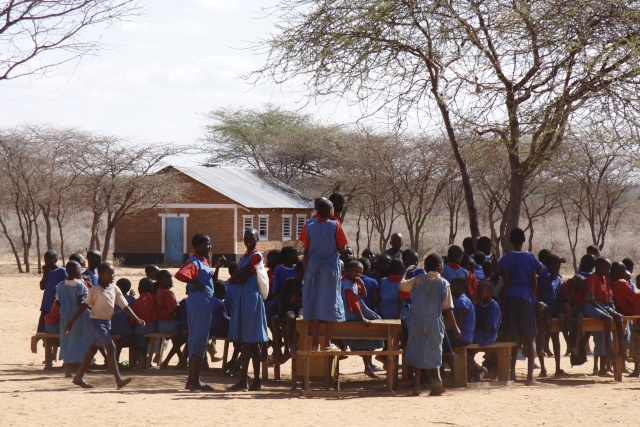 We couldn't come back the next day to support them in their games but it was such fun to visit and to realise just how much they want to learn, unlike our children!!! We met 5 youngish lads on our way back and gave them all our water, they'd been walking for days with not even a bottle between them. Honestly it really makes you appreciate just how lucky we are, turn on a tap and running water.
Lai Pai

Laikipia

Moderator




Posts

: 16153


Join date

: 2010-05-13


Age

: 58


Location

: Cheshire



We take so much for granted don't we, we are so naughty at times. I bet though if we had schools with that setting many more of our kids would attend and stop bunking off. It's always the way isn't it though, the more you have the less you respect it and the education that can be given but a scool in the bush probably puts us to shame a lot of the time and the kids within that school.

They all looked so happy didn't they and I bet they just loved all the stuff you took for them and appreciated you stopping by.

I think it is the best part of going somewhere to see how real life is in that country and trying to join in with them.

Looks a lovely school Lai Pai.

littlewid-x-
_________________
LOVE ALL WILDLIFE

littlewid

Admin




Posts

: 10464


Join date

: 2009-12-28


Location

: West Sussex



We really do'nt know how lucky we are do we, and most of the children in our Schools dont know either. They all look so happy, and clearly want to learn to better themselves. How brilliant that you took all the stuff for the School, I bet they really appreciated that.
WS

_________________
If I can make somebody smile, my day has been worthwhile
How wonderful to be able to see the school and take so much out for them

Children here don't realise how lucky they are. I find it so infuriating. They always look so clean and smart and happy.
Lovely to have been able to give a lift to the women, and to help out the lads with water. I couldn't even begin to imagine walking half a day without water. Certainly an eye opener.

Anne-Marie1981




Posts

: 1089


Join date

: 2010-05-17


Age

: 37


Location

: Northamptonshire



Well done to you and Pete for going to the school bearing gifts that would have been greatly received and appreciated by the kids & the staff there. Sounds like you both had a great time and how lovely that must have been to have the kids singing to you


There's just something about Kenyan kids you can't help but love

They have nothing yet all you will see is these gorgeous, smiling, happy faces, they are wonderful.
Lovely thought from you both to give the women a lift and then the boys your water, you really are a kind and thoughtful person Lai Pai



Doogs

Moderator




Posts

: 10734


Join date

: 2010-05-14


Age

: 48


Location

: Aberdeen




Doogs - the funny thing is in this country you wouldn't consider it, giving some strangers a lift - but out there you wouldn't not. The women were great, very chatty with our wonderful guide/driver Daniel, and the woman sitting next to me with her baby was so shy with just the occasional smile -
You're so right about the kids, they were great. One little girl was sitting alone in her classroom reading whilst the others were outside and she was happily talking to us and teaching me some swahili numbers and how to pronounce them. If we go back next year we'll definitely take some more fun stuff for the kids as well as bits and bobs for the teachers.
Lai Pai

Laikipia

Moderator




Posts

: 16153


Join date

: 2010-05-13


Age

: 58


Location

: Cheshire



we probably wouldn't even consider it - far too many consequences to think about over here which is really sad but unfortunately a fact of life.
They woman obviously really appreciated it and good that they spoke away to Daniel, did you ask him to stop or did he stop and ask you if it was ok to give them a lift ?
That must have been so sweet that little girl teaching you the Swahili numbers


Doogs

Moderator




Posts

: 10734


Join date

: 2010-05-14


Age

: 48


Location

: Aberdeen



We asked him to stop, he probably wanted to but wasn't sure how we would re-act. He was delighted though.

Lai Pai

Laikipia

Moderator




Posts

: 16153


Join date

: 2010-05-13


Age

: 58


Location

: Cheshire



Nice one

x

Doogs

Moderator




Posts

: 10734


Join date

: 2010-05-14


Age

: 48


Location

: Aberdeen




---
Permissions in this forum:
You
cannot
reply to topics in this forum