For our morning drive we headed towards Musiara Marsh to check on the birdlife. Due to the heavy rains every track we tried to get close to the Marsh gave us that 'sinking feeling'. Rather than getting permanently stuck we decided to look for firmer ground away from the Marsh. Driving along a little used overgrown track, David who was driving, suddenly braked and came to a halt and to our utter surprise and amazement, sitting in the middle of the track were two beautiful tiny little bundles of fur, serval kittens. They were probably about 6-8 weeks old and appeared totally unfazed by the presence of a vehicle. My initial instinct, was to go and pick them up, put them in my pocket and bring them home with me!! However I decided that there would be problems at Heathrow with customs and immigration, particularly with the Governments latest crackdown on illegal immigrants, so I settled for taking some photos. According to my camera records we were with them for about 18 minutes with the vehicle engine turned off the whole time. We did not need to follow them as they kept close to the vehicle until eventually and regretfully for me disappearing into the long grass. It was one of those rare wildlife experiences, when you have to pinch yourself to confirm it was really happening, a magical few minutes.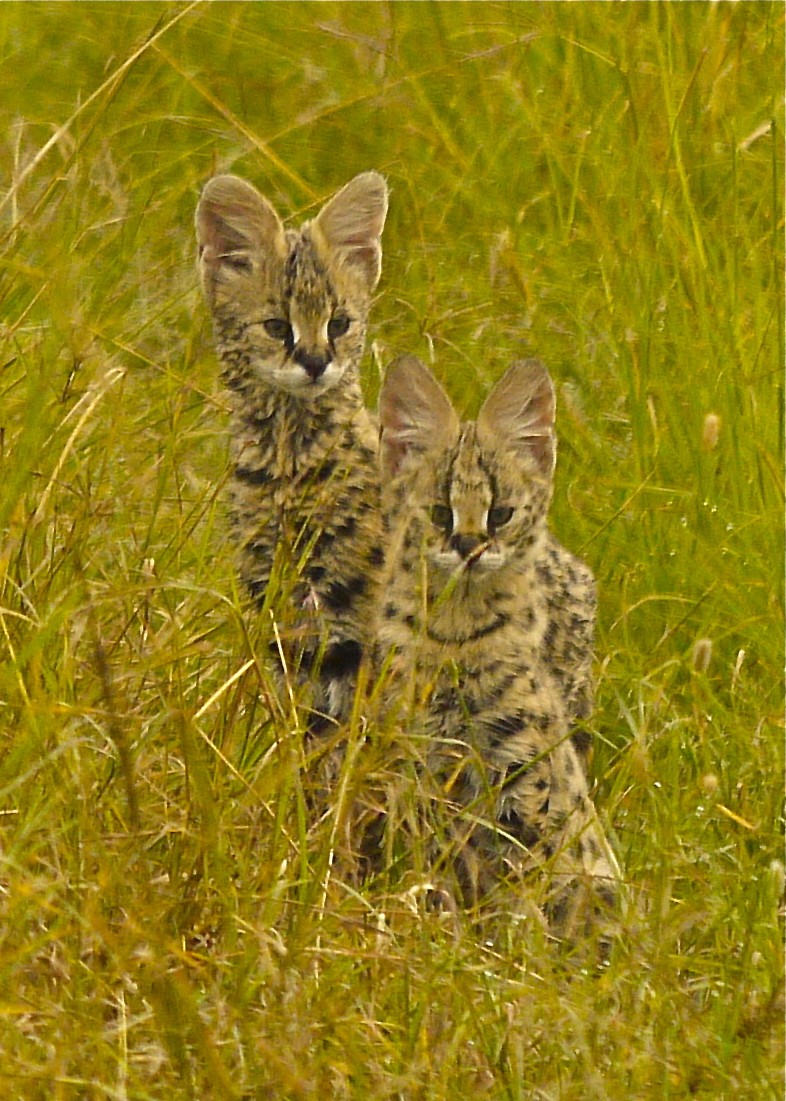 Safariman




Posts

: 518


Join date

: 2012-06-27


Age

: 74


Location

: Buckinghamshire



Love these Safariman! I love the little Seval, such an amazing small cat in a great big world!

Ronnie

RMorr50912




Posts

: 539


Join date

: 2012-01-03


Age

: 48


Location

: Virginia, USA



lucky you Safariman - lovely little serval kittens. I've never seen kittens and it's wonderful they weren't worried by the vehicle, although I hope they are more aware by now!
Lai

Laikipia

Moderator




Posts

: 16153


Join date

: 2010-05-13


Age

: 58


Location

: Cheshire



Stunningly beautiful aren't they and my instincts would have been the same, however, as we all know they are best left in the wild.
Was their mother around safariman or do you not know? odd for them to be left alone unless she was out hunting at the time.

I wonder if you have something special in those photos because whenever you see servals on wildlife programmes it is always an adult serval, I have yet to see any programme with kittens, I may just have missed the right programme but I am wondering if you have a first there?

littlewid-x-
_________________
LOVE ALL WILDLIFE

littlewid

Admin




Posts

: 10464


Join date

: 2009-12-28


Location

: West Sussex



LW, I assume the mother was off hunting. Surprisingly, during the day is often the best time to see some nocturnal predators if they have young. They hunt during the day and try to ensure their little ones are safe at night. I have seen a similar thing with leopards and their cubs. Unfortunately, as with all young they are not sure what is safe and what is dangerous. I imagine the survival rate for serval kittens is not very high as they are easy prey for many other predators and raptors. Hopefully the very long grass of the Marsh will give them some protection.

Safariman

Safariman




Posts

: 518


Join date

: 2012-06-27


Age

: 74


Location

: Buckinghamshire



It must be hard being left alone at that age and as you say, they are easy prey for other predators safariman. The thing is, it's often best for the mum to hunt during the day so that they are safe during the night when the little ones could really be under threat but on the other hand, at that age they are quite inquisitive and more than likely put themselves in danger. Those two look as though they were also having a play session and you mentioned they were not affraid of the vehicle but I suppose thats something that an experienced mother has to weigh up in the raising of her kittens and cubs with Leopards, the risk to them is more than likley less during the day than it is during the night.
littlewid-x-
_________________
LOVE ALL WILDLIFE

littlewid

Admin




Posts

: 10464


Join date

: 2009-12-28


Location

: West Sussex



Safariman those are brilliant photos, like Ronnie I think Servals are fantastic Cats especilay for their size, and you have also put a wonderful story to go with it, It makes it so much more interesting when the circumstances of coming upon wildlife, and how you came to take the photos, you really start to get the atmosphere.
Thanks Safariman
WS

_________________
If I can make somebody smile, my day has been worthwhile
Safariman, I felt like I had to add a little more to my comments from before. I had just gotten to work when I saw the post and really couldn't do justice to the post. The Serval Cat is really a very interesting one to me. They really are something else. As small and fragile as they seem they are very competent and efficient hunters. I have seen video of a Serval going after a venomous snake, and as quick as a snake strike is, not quick enough to get the Serval. The snake ended up as lunch! I love the story of the sighting, as WS says, it really adds to the pics to hear the story behind them. Thanks again.

Ronnie

RMorr50912




Posts

: 539


Join date

: 2012-01-03


Age

: 48


Location

: Virginia, USA



Wonderful photos of the little Serval kitten and the narrative really brings them alive.

SM

Safari Maiden




Posts

: 3392


Join date

: 2010-05-05


Age

: 48


Location

: Midlands




---
Permissions in this forum:
You
cannot
reply to topics in this forum