Does anyone know why LW's Birthday did not show on the
Members Birthday bit at the bottom of the main page ???
Or did it and I (and everyone else) missed it ?

So sorry this is late LW but you deserve your greetings like everyone else gets.
I know you spent the day with your mum and had a good time with her and the Llamas, Alpacas etc etc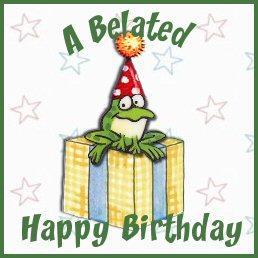 Doogs

Doogs

Moderator




Posts

: 10734


Join date

: 2010-05-14


Age

: 48


Location

: Aberdeen



Happy Birthday Littlewid. We hope you had a lovely day!!
Love from Anne-Marie, Chris, Joshua and Millie.

Anne-Marie1981




Posts

: 1089


Join date

: 2010-05-17


Age

: 36


Location

: Northamptonshire



I know why Doogs she kept

about it, so we did'nt miss it, it did'nt show at the bottom of the page, but as you say she's getting her
wether she wants them or not

Was'nt sure how many candles I needed to put on your cake LW so just to make sure there's enough
HAPPY BIRTHDAY FOR YESTERDAY
From Mrs S, WS, & Poppy

_________________
If I can make somebody smile, my day has been worthwhile
Thanks Doogs, AM & WS. Sorry I didn't mention it was my birthday. It doesn't appear on the home page because I suppose when I joined I mustn't have put it in my registration, then you forget about it until its your birthday and then I would feel cheeky shouting it was my birthday, so I suppose I just said nothing. Anyway, thank you for your messages, I did have a lovely day.......and WS, that is far too many candles my dear

but all those cakes have made me

littlewid-x-
_________________
LOVE ALL WILDLIFE

littlewid

Admin




Posts

: 10464


Join date

: 2009-12-28


Location

: West Sussex



Belated Happy Bday LW :)
hope u had a wonderful day :)

radhu




Posts

: 125


Join date

: 2012-02-26


Age

: 30


Location

: Bangalore,India




---
Permissions in this forum:
You
cannot
reply to topics in this forum