Page 4 of 4 •

1, 2, 3, 4

Within a minute of leaving my newly decorated 'tree' I had a visitor. Since I do not know the species yet, I will simply call him Mr Birdie. Or, it is like a big sparrow, so Mr Strong Sparrow could suffice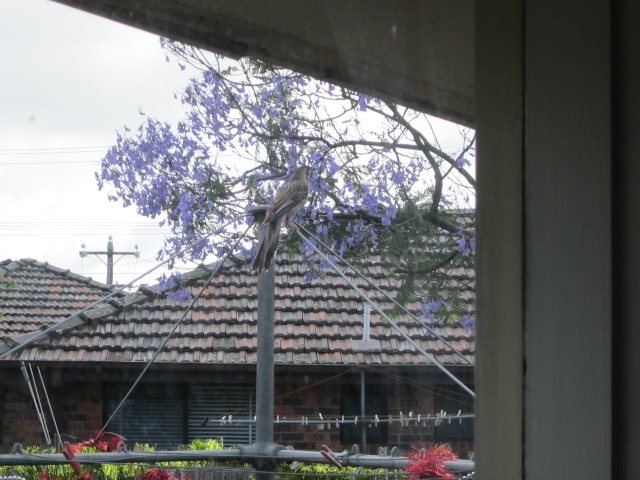 gregrowlerson




Posts

: 1733


Join date

: 2012-11-22


Age

: 37


Location

: Melbourne



I thing your Bird may be a Little Wattlebird Anthochaera chrysoptera Size: 26-33 cm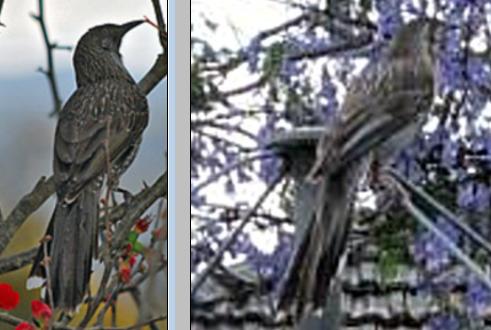 Follow this link for more info GR
http://www.survival.org.au/birds_little_wattlebird.php
WS

_________________
If I can make somebody smile, my day has been worthwhile
WS - i am impressed -
with the ID.
Great to see such a handsome bird, def not one we get in the UK.
I love that he's visiting your festive new tree GR
Lai

Laikipia

Moderator




Posts

: 16153


Join date

: 2010-05-13


Age

: 58


Location

: Cheshire



Ws, that's a definite
for you! I think you are spot on about this Wattlebird. It's lovely to be able to put a species name to it

"It has a very distinctive call, a bit like an old wooden cuckoo-clock (it imitates the ticking of the clock and also the cuckoo sound), which sometimes can go on for hours at a time."
I will have to listen out for it, and that way, when I hear it, I will kinda know what you sound like, hey Grandfather
No sightings since yesterday morning, although perhaps the decorations will scare him off for a little while


gregrowlerson




Posts

: 1733


Join date

: 2012-11-22


Age

: 37


Location

: Melbourne



Thought that might be the right one, its great to find out the names of Birds you do'nt know.
Dont think I did'nt clock the Grandfather comment. You could be Soooorry, the clock is ticking on payback time, and the

could soon swing this way
WS

_________________
If I can make somebody smile, my day has been worthwhile
If I keep making wise cracks at you Grandfather, then I'm sure I will be deservedly clocked at some stage. Payback for me is merely a ticking time bomb

gregrowlerson




Posts

: 1733


Join date

: 2012-11-22


Age

: 37


Location

: Melbourne



You hd better watch out for tht Bomb GR, it will go off with a HUGE tick I am sure
Brilliant spot on the bird WS, you really
littlewid-x-
_________________
LOVE ALL WILDLIFE

littlewid

Admin




Posts

: 10464


Join date

: 2009-12-28


Location

: West Sussex



Page 4 of 4 •

1, 2, 3, 4

---
Permissions in this forum:
You
cannot
reply to topics in this forum