i came across this story,thought of sharing
Dollar(t25), an aggressive male tiger of Rathambhore national park was also called Zalim (in Hindi that means cruel/grievous). People have found him chasing the vehicles, growling and ready to attack.
he does not enjoy the human presence and chases the vehicles out of rage if he is not in the mood to interact with them.
but today no one calls him Zalim, his name is taken with a lot of respect and affection after he adopted his female cubs after their mother died of infection
the two cubs (Bina 1 and Bina 2)born to Kachida and Dollar were four months old when Kachida (T5),their mother had an agonizing death due to infection,and the forest officials were concerned about the cubs as they were too young to take care of themselves, hence they decided to put the cubs in human care them but there were no trace of them,and camera traps were laid in an attempt to track them
Strangely the cameras recorded the images of the cubs with Dollar and he was seen protecting the cubs...
All the male tigers have an instinct to protect their cubs but what was surprising was he was even hunting for them and training his cubs with the necessary skills for survival ,
it is almost two years now since dad is taking care of them and now the officials have decided to relocate the the twenty-three-month-old female cubs, Bina-I and Bina-II to Sariska national park, as the two often stray out in the nearby resorts and villages to steal livestock
i was really surprised at the behavior of Dollar,strange but lovely story :)
http://www.ranthamborenationalpark.com/t-25.html
http://articles.timesofindia.indiatimes.com/2012-11-11/flora-fauna/35049575_1_tiger-relocation-sariska-tiger-reserve-tiger-population
http://indiatoday.intoday.in/story/tigers-do-change-their-stripes-and-how/1/228735.html

radhu




Posts

: 125


Join date

: 2012-02-26


Age

: 31


Location

: Bangalore,India



Hi Rhadu
What a great story, Ive never heard of this before either. I suppose it might have helped with them both being female although I'm not sure that would make a difference, just a thought really. But its great that Dad came through for them, and has taught them to hunt, and give them the survival skills to live on their own. Hopefully he will also pass on his dislike of Humans, that may help to keep them safe from poachers.
On that subject Rhadu I posted a good news for Tigers story that you'll enjoy in you have'nt seen it
http://wildaboutanimals.forumotion.net/t2095-good-news-for-tigers
WS

_________________
If I can make somebody smile, my day has been worthwhile
What an amazing story Rhadu, I have never heard of that before but Dollar has obviously done an amazing job with both cubs and it does make sense to have them translocated as he could end up mating with them. It was good to hear that he is a direct descendent of Machali, a special Tigress and maybe thats why he is such a good father. Lets hope when the girls are moved he does move on and find another female he can mate with and hopefully the girls will settle in their new territory.
Thanks for that story Rhadu and also the other links about the three of them. You have made a Tiger girl very happy

littlewid-x-
_________________
LOVE ALL WILDLIFE

littlewid

Admin




Posts

: 10464


Join date

: 2009-12-28


Location

: West Sussex



thanks for the link WS, am glad to know that the tiger population is increasing :)
@ yes LW , Dollar is the grandson of Machli :) Dollars father Jhumroo is Machis son born in the 2nd litter
he is Machlis Son in law as well

, he have cubs with Machlis daughter in the last litter,Sundari(t17 or Satara)
As you say some forest field staff also think Dollar is looking on to his daughters as potential mates, somehow i dont feel so as the two ladies already have a boyfriend :)
nway to be on a safer side it is better to relocate them to sariska NP!
i have known male tigers protecting their cubs, but Dollar have given us the first recorded evidence that fathers can play moms as well :)
he has taken his paternal instinct to the next level for his lil ones and that is truly amazing :)
he also proved that he is not a Zalim "cruel fellow" after all
let me share his pics as well[url=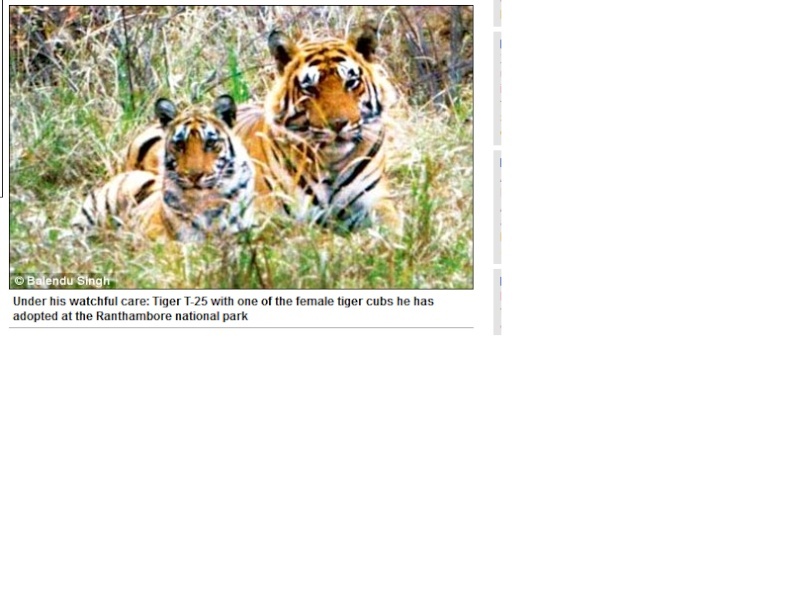 ]
[url=
]

radhu




Posts

: 125


Join date

: 2012-02-26


Age

: 31


Location

: Bangalore,India



Thanks so much Rhadu for the story and links. How totally amazing and wonderful, what a Tiger Dollar is - but then when you pointed out all the connections he has to Machli I'm not suprised he's a bit special because she was very special




Doogs

Moderator




Posts

: 10734


Join date

: 2010-05-14


Age

: 48


Location

: Aberdeen



What a wonderful story Radhu, thanks for sharing and I agree Doogs Machli was indeed very special.

Lai

Laikipia

Moderator




Posts

: 16153


Join date

: 2010-05-13


Age

: 58


Location

: Cheshire



This is such an inspiring story. Everyone must read this, especially those humans who heartlessly leaves their children starving to death. Perhaps they will need parenting advice from this tiger.

elizabethdennis




Posts

: 18


Join date

: 2012-12-10



I think a lot of parents these days could learn a lot from animals and the way they bring their 'children' up !!!!

Doogs

Moderator




Posts

: 10734


Join date

: 2010-05-14


Age

: 48


Location

: Aberdeen




---
Permissions in this forum:
You
cannot
reply to topics in this forum