Time for part 2 of my little story about the leopard.
A couple of days after our initial sighting of the leopard (see my post part 1) we decided to return to the same spot to see if there was still any sign of her. Our initial search proved fruitless, so my guide David decided to try an adjacent similar heavily wooded area with thick undergrowth. This time it was Kapeen, our spotter, who made the initial sighting. The leopard was not as before in the tree canopy but at ground level and moving. With the very dense undergrowth, there was no way we would be able to follow her so David working on his vast experience drove around to the far side of the thicket to an open area and parked up, hoping that he had anticipated the leopard's direction and intention correctly.
We waited for several minutes and then to our great relief we saw movement in the undergrowth with the dappled sunlight reflecting off her golden coat. She briefly halted before coming out of the dense bush and then proceeded to walk straight towards us. She was not in a hurry and stopped from time to time looking in either direction before walking straight in front of our vehicle and then quickening her pace headed for a nearby tree and although there was probably 4-5 metres of bare trunk easily climbed up into the branches and dense foliage and disappeared from sight.
It was one of those magical moments when everything comes together, the light was perfect, the sun was shining and this beautiful animal decided to pay us a visit!!
These are just some of the photos I was able to take, it was very difficult to decide which to include and which to leave out. To be cont.........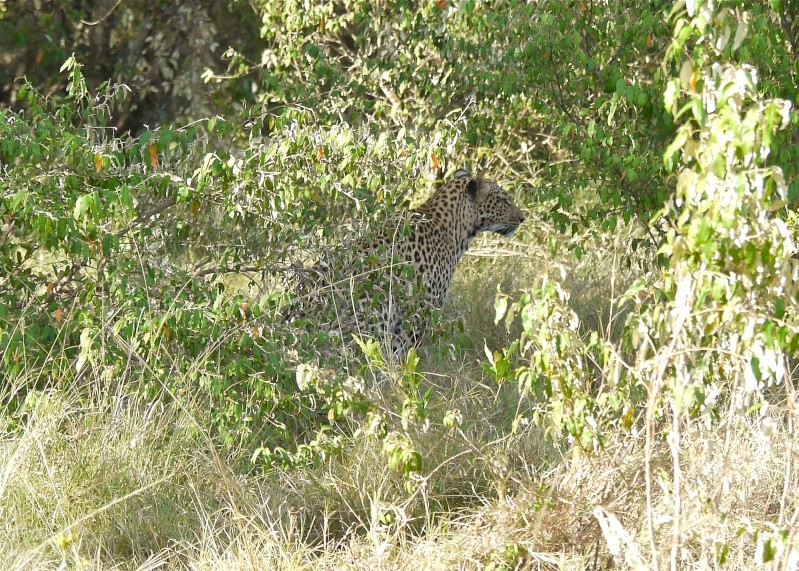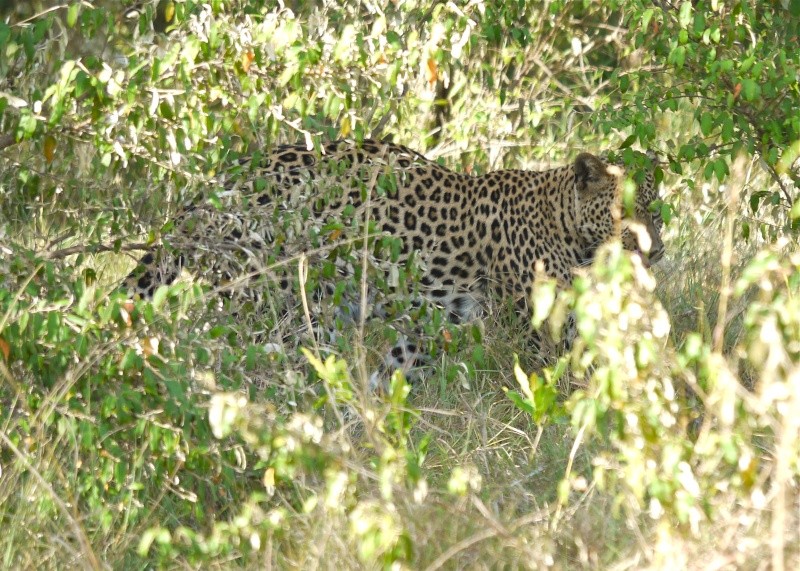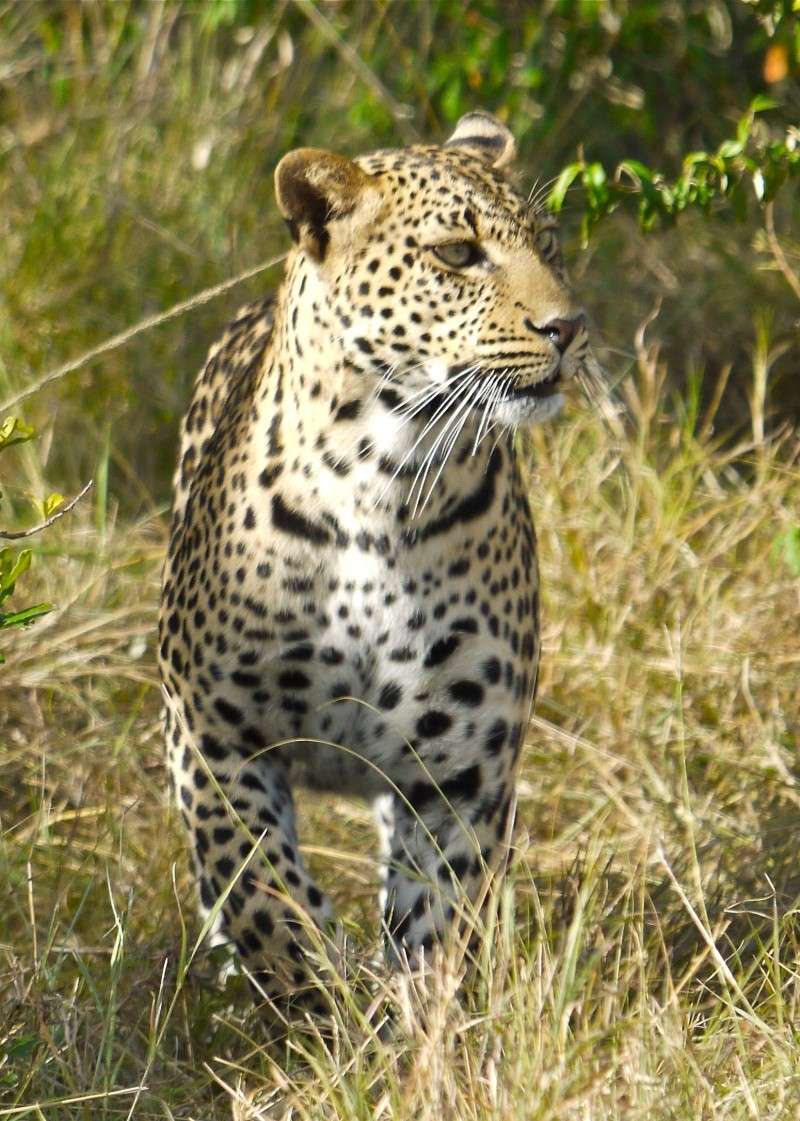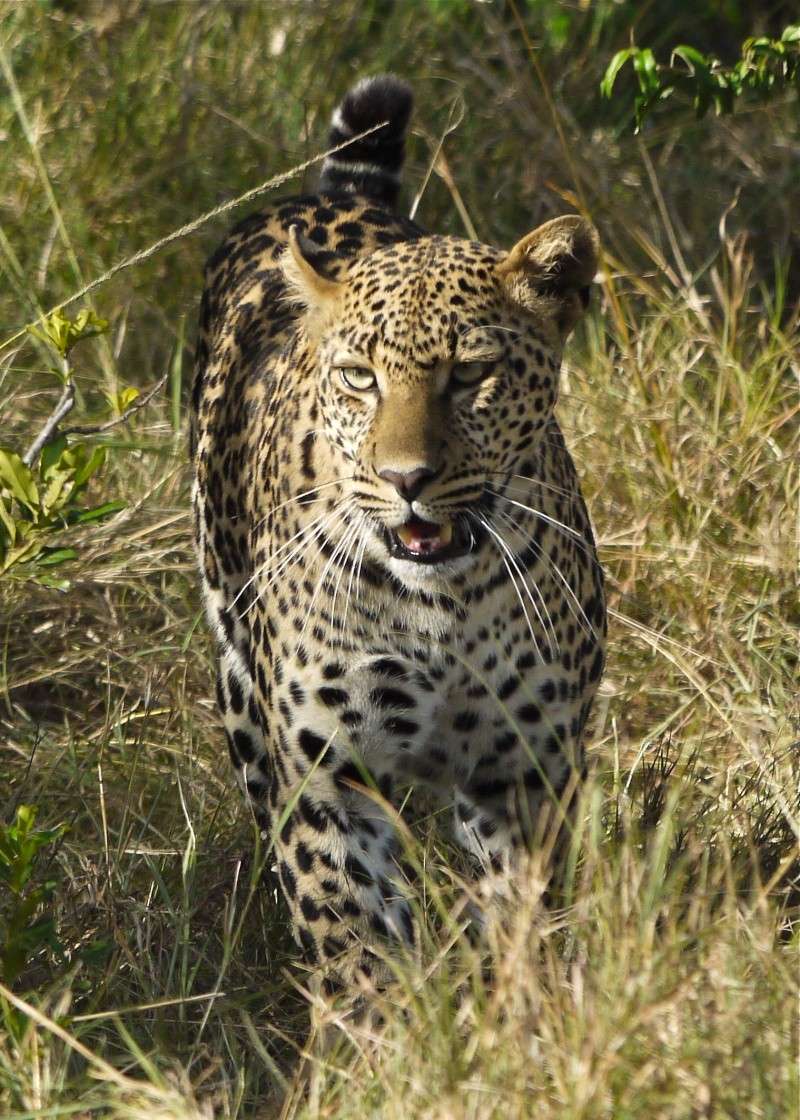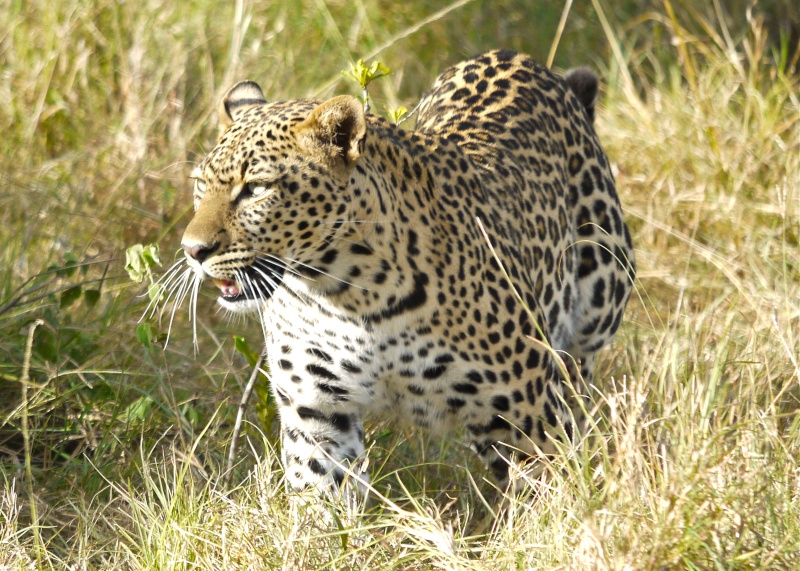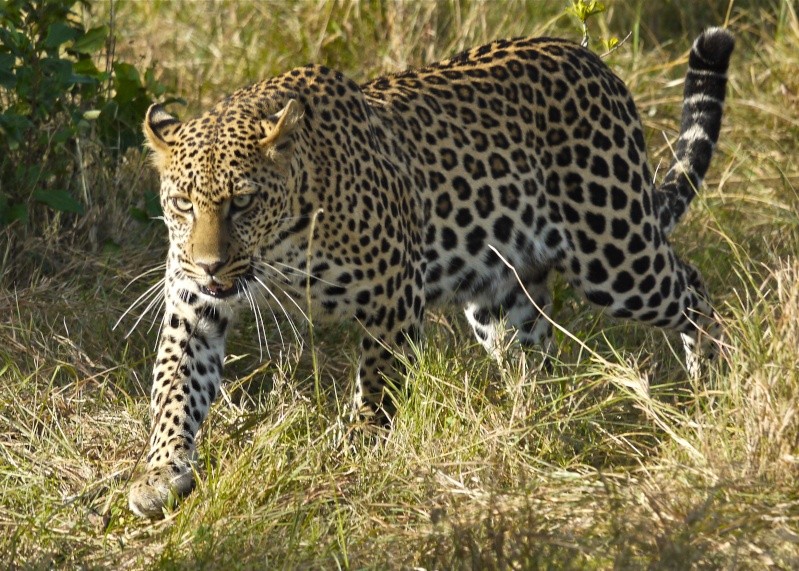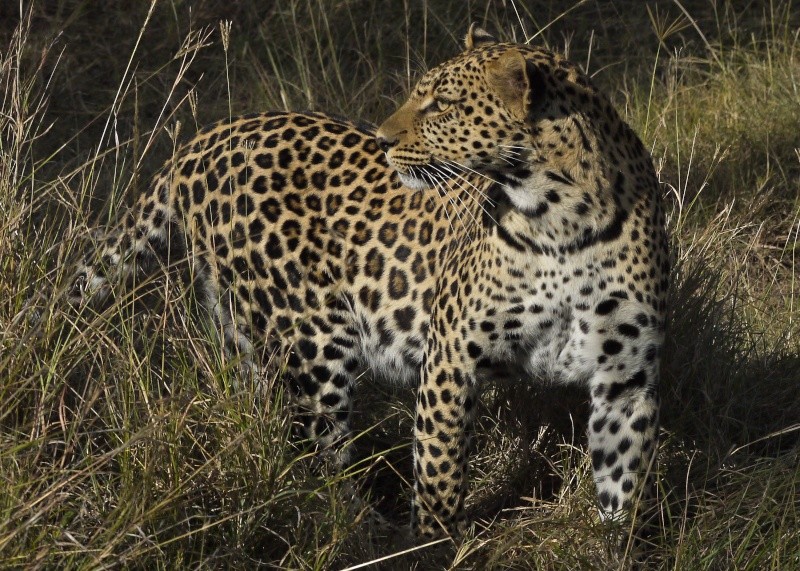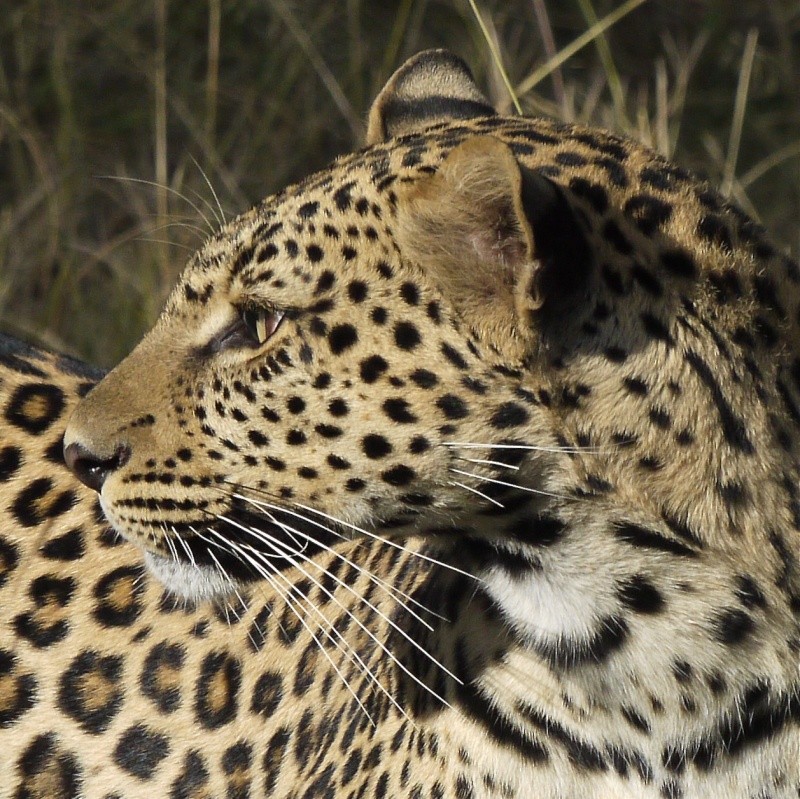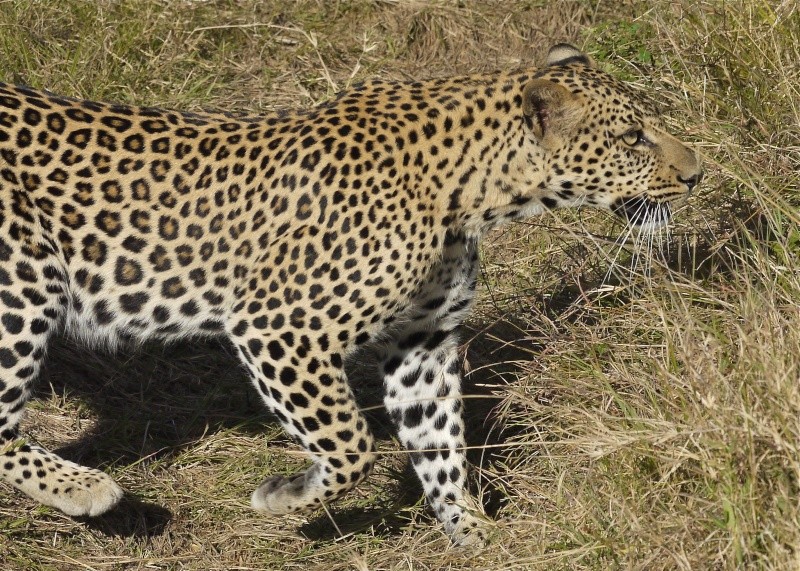 Safariman

Safariman




Posts

: 518


Join date

: 2012-06-27


Age

: 74


Location

: Buckinghamshire



Safariman those are just spectacular, magnificent, I am in awe of those pictures and you were right, the light was perfect, in fact if it had been darker it would have been hard to spot her in the first picture but the sunlight lets us see her but they are so perfect for hiding in the thickets aren't they.
The photo's are just amazing for identification aren't they,you have profile shots, full facial shots and the magnificent necklace, do David or Kapeen know who she is?
In photo's 3 & 4 her eyes look so focused on a target, I am assuming it wasn't you!!! but her eyes do look menacing. All I can say is if you had a hard time sorting out what to leave in and what to leave out, the ones you left out must be brilliant too.
My favourite is the one before the last one, she looks so gentle in that one and to me it's a perfect shot of her face and fur, it's wonderful.
Thank you so much Safariman.
littlewid-x-
_________________
LOVE ALL WILDLIFE

littlewid

Admin




Posts

: 10464


Join date

: 2009-12-28


Location

: West Sussex



Oh WOW Safariman you just get better, and better. They are all superb shots, I really cant pick a favourite one, but they will make fabulous screen savers. She really is a beautiful Leopard, and your photos really do her justice. Many photos are all about being in the right place, at the right time, but to actualy go out to find, and photograph the animal you've decided on really is a great achievement, and so satisfying. Great work by David, and Kapeen. I'd also like to say that the way you describe your adventure really adds to whole experience of seeing your photos. I know Lai will be thrilled to see these when she returns from the Mara
WS

_________________
If I can make somebody smile, my day has been worthwhile
What a amazing pictures Safariman and what a stunner of a leopard she is



We have been lucky enough to see leopard(s) every time we have been in the Mara but a few years ago we had the thrill of seeing Big Boy (mates with Olive a lot) out in the open and there was no other jeep about. We all got the best leopard pictures ever that year and I know how fantastic an experience it was for us so you must be tickled pink getting those wonderful shots.
With the light and closeness of the pictures there are a number there that would be worthy of putting on canvas, they would look fantastic.

Doogs

Moderator




Posts

: 10734


Join date

: 2010-05-14


Age

: 48


Location

: Aberdeen



Great story and pics. What an encounter!
So many terrific close up shots Safariman


gregrowlerson




Posts

: 1733


Join date

: 2012-11-22


Age

: 37


Location

: Melbourne



Too true WS - I'm thrilled to see Safariman's leopard photos, what a great selection and such a close and special encounter. I know Kapeen is a brilliant spotter and obviously David is a great driver. What a magical time you must have had.
On to part 3 ...............
Lai


Laikipia

Moderator




Posts

: 16153


Join date

: 2010-05-13


Age

: 58


Location

: Cheshire




---
Permissions in this forum:
You
cannot
reply to topics in this forum