Giant tortoises on the islands do not seem to be bothered by humans and are inquisitive and happy to let you walk passed them when they block the path. If they feel uncomfortable they put their head inside their shell until the threat has passed. They can live for more than 100 years and were badly hunted over the centuries so 3 species are extinct. Sadly Lonesome George was the last in his species and despite employing a Swiss zoology student to try and manually stimulate him there was no success.
No big lens needed this was on the path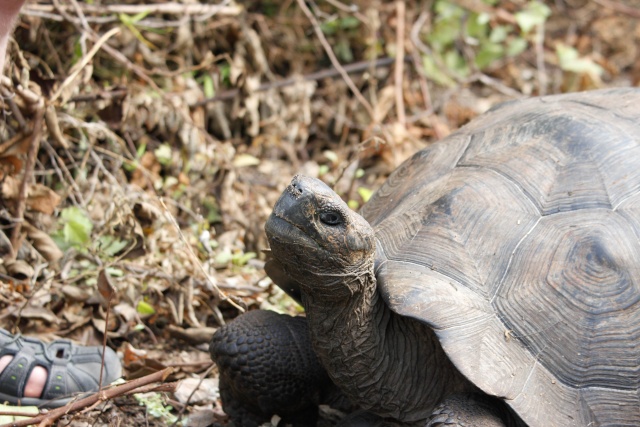 Eating happily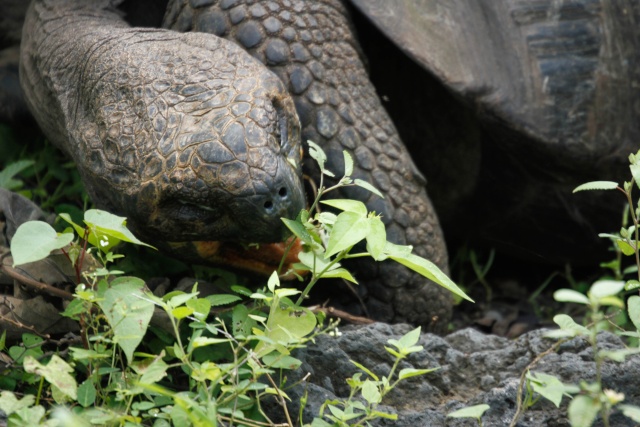 Causing a path block, such a beautiful shell
Charles Darwin Research station on Santa Cruz Island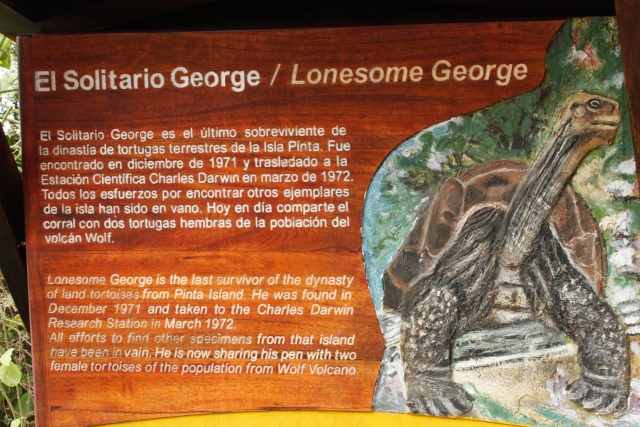 RIP Lonesome George last remaining Giant tortoise from the Island of Pinta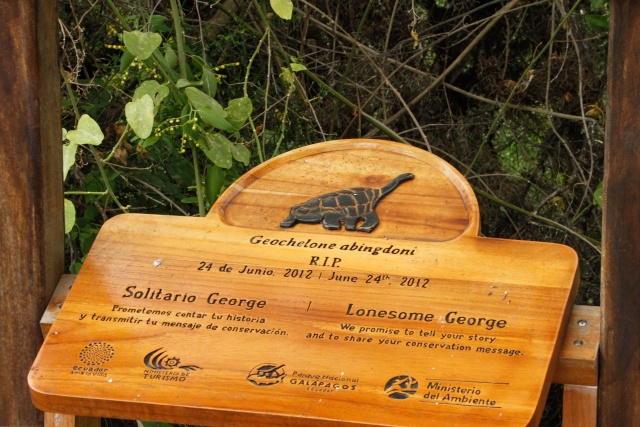 Diego an Espanola Giant tortoise
Meanwhile, the search was on for other Española tortoises worldwide.

It was known that a group of 13 Española tortoises had gone to the San Diego zoo in the 1930's, and it turned out that one was still alive: Diego.

Diego was sent back to the Galapagos in 1977, where he rejoined his fellow Española tortoises at the Charles Darwin Research Station. Diego had been well cared for at the San Diego zoo, which had actually managed to hatch Galapagos tortoise eggs in 1959.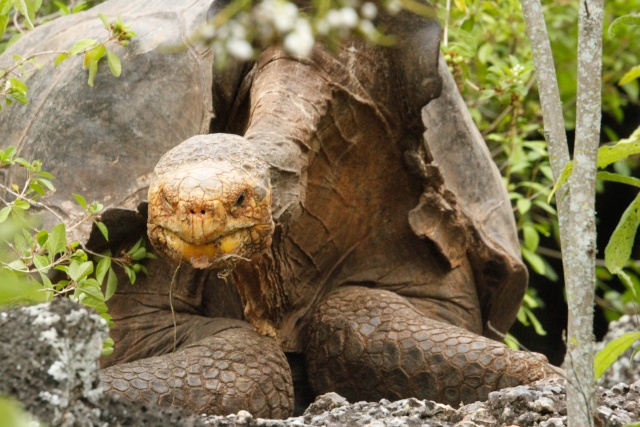 Since returning to Galapagos Diego has dedicated himself to the survival of his species. It is estimated that he has about 1,700 children!
As a reward for his services, Diego will be returned to Española Island sometime within the next year.

After nearly a century away, Diego is going home!
I really hope this happens
The babies are kept in different cages according to their ages and then released
Lai

Laikipia

Moderator




Posts

: 16153


Join date

: 2010-05-13


Age

: 59


Location

: Cheshire



Thoroughly enjoyed that Lai, I do love Tortoises and I used to have one when I was younger, much younger

, he was called Tommy of all things and we had him for years, until someone stole him, how cruel can you be, he was delightful.
The pics are wonderful and it was nice to see that George has a plaque to remember him by and what about Deigo with all those children

thats a lot of kids and yes, lets hope he returns home, he deserves it.He certainly looks like the king of Tortoises in those photos

littlewid-x-
_________________
LOVE ALL WILDLIFE

littlewid

Admin




Posts

: 10464


Join date

: 2009-12-28


Location

: West Sussex



Lovely photos again Lai. It's great to see the effort they are putting into conservation It was really sad when Lonesome George passed away, and lovely to see that they have plaque for him in remeberance. I think Diego has more than fulfilled his duties to his species, and deserves to go home, where I hope he'll be very happy.
Thanks for sharing your trip again Lai
WS

_________________
If I can make somebody smile, my day has been worthwhile
Thanks Littlewid and WS. Always a pleasure to share photos and you are so right about Lonesome George, he deserves to be remembered.

Lai

Laikipia

Moderator




Posts

: 16153


Join date

: 2010-05-13


Age

: 59


Location

: Cheshire



More wonderful photos and info Lai, thank you.
I am also really pleased to see that they have made sure that no-one will forget Lonesome George just a pity that they couldn't carry on with his species even through artificial insemination.
The babies look tiny compared to the adults !!


Doogs

Moderator




Posts

: 10734


Join date

: 2010-05-14


Age

: 48


Location

: Aberdeen



Thanks Doogs, and yes I agree they are tiny for ages, but then again if they can live for 100 years who needs to grow quickly?

Lai

Laikipia

Moderator




Posts

: 16153


Join date

: 2010-05-13


Age

: 59


Location

: Cheshire



Enjoyed seeing these pictures a lot Lai! Thanks

These look strikingly similar to the Aldabra Giant tortoise. I had seen those at the Madras crocodile bank and went back to my pictures to try and spot any difference but couldn't find any.. probably because my photos aren't so well taken

Must be some difference in their shells.

wilderness




Posts

: 37


Join date

: 2011-10-05


Age

: 25


Location

: India



Thanks Wilderness. I don't know anything about Giant tortoises so the whole experience was new for me. There seem to be several different species with different shell shapes but more than that I can't say

Lai

Laikipia

Moderator




Posts

: 16153


Join date

: 2010-05-13


Age

: 59


Location

: Cheshire




---
Permissions in this forum:
You
cannot
reply to topics in this forum