These pictures were sent to me by a friend. For the last few years she has had a Blackbird pair nest in a hanging basket on her shed where she is growing a tomato plant. She thinks its the same pair as she has a very small garden and she doesnt have a cat and as a result they are not at all wary of her pottering around doing her garden. In fact they come quite close to her while she's out there, she started hearing a lot of peeping coming from the nest and knew there must be babies in there but still kept her distance.
She managed to get this lovely picture when daddy bird came to the nest to feed mummy bird who was obviously looking after eggs or babies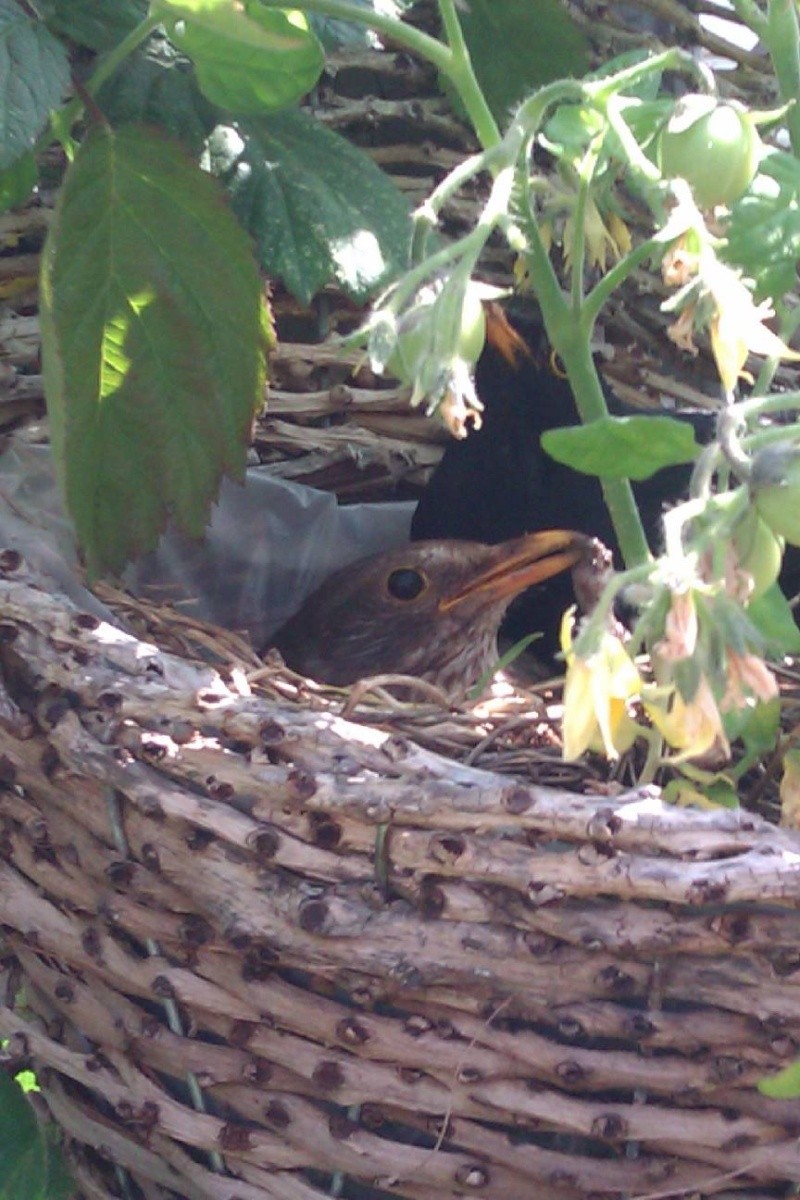 She didnt get too close as still managed to get within 4foot of them and they werent at all concerned of her presence
Last edited by princesspurplehippy on Tue Jul 09, 2013 9:04 pm; edited 1 time in total

princesspurplehippy




Posts

: 1090


Join date

: 2010-07-02


Age

: 43


Location

: Oxfordshire



She then noticed mummy bird flying away (she did come back) and while she was away she managed to get this quick pic of what she thinks are 5 babies. As the nest is only about 4 and 1/2 foot off the ground in the hanging basket she managed to get a good shot, she managed to take the pic before mummy bird came back and mummy bird was none the wiser.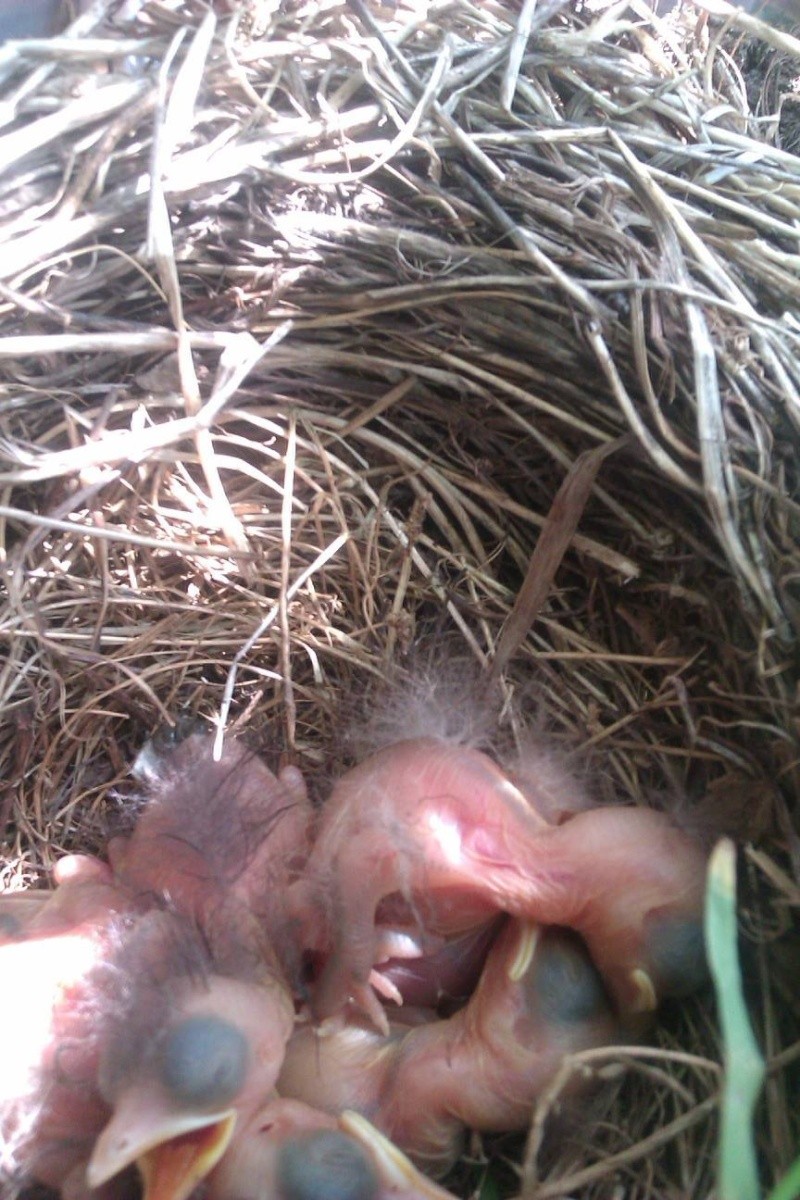 She has promised me she will leave them alone now but still keep an eye out for them to make sure they all grow up and not predated at all

princesspurplehippy




Posts

: 1090


Join date

: 2010-07-02


Age

: 43


Location

: Oxfordshire



How lovely is that PPH, its really wonderful to see nature happening right under your nose. They are lovely pictures and fingers crossed all the little chicks grow well and fledge ok. They do look strange without their feathers don't they, so vulnerable.

I have a pair of Collared Doves that I have posted about, they had two chicks a little while ago and they now have another baby, I think it may only be one this time. The too are not bothered by me or Nero being in the garden. I have a water bowl for mum and dad and yesterday Mum was walking on the table and drinking from the bowl.

It is such a nice thing to have birds unafraid of being around you and seeing their young grow to fledglings.

looking forward to your updates as and when you get them from your friend.

littlewid-x-
_________________
LOVE ALL WILDLIFE

littlewid

Admin




Posts

: 10464


Join date

: 2009-12-28


Location

: West Sussex



Thats great PPH, how lovely to have a nest in your garden, we did have one in the last place where we lived, and there was 5 babies in that. It will be lovely to hear how they go on, thank your friend for the news, and pics

WS

_________________
If I can make somebody smile, my day has been worthwhile
How wonderful to have that nest in your garden, your friend is very lucky PPH. What an unusual place to build a nest but it obviously works for them as it seems they have returned from last year

 little family of Blackbirds


Doogs

Moderator




Posts

: 10734


Join date

: 2010-05-14


Age

: 48


Location

: Aberdeen




---
Permissions in this forum:
You
cannot
reply to topics in this forum