Tiger hunting in South Africa? How low can they go?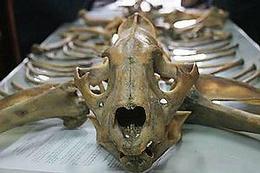 Two tonnes of tiger bones were seized in Vietnam in 2009. Credit © Viet Nam Environmental Police.
Canned tiger hunting in South Africa
July 2013. According to the CITES database, from 2007 - 2011 South Africa exported (Or re-exported) 19 tigers 'trophies', 7 tiger skins, 2 tiger bodies and 151 live tigers!
Trophies
Quite why and how tiger trophies are exported from South Africa is anyone's guess, though there have long been rumours that hunting outfits in South Africa have been offering tiger hunts. One of the licences for a tiger trophy was actually declared as a 'Hunt trophy' with the specimen being 'taken from the wild'. This trophy was exported to Pakistan. Additionally, two more of the trophies were 'taken from the wild', though not declared as hunting trophies (what other sort is there?) and the rest of the 'trophies' having been bred in captivity and privately owned.
Aside from the trophy to Pakistan, of the rest, 3 went to Lebanon, 1 to Austria, 2 to Norway, 6 to the UAE, 1 to Qatar, 1 to Poland and 2 more to Pakistan. That sounds about right.
If this is true, there can be no such thing as a wild tiger hunt in South Africa, so the hunt must have been a canned hunt. IE, a tame or semi-tame tiger in a restricted, fenced in area
Read More
http://www.wildlifeextra.com/go/news/tiger-hunt.html
WS

_________________
If I can make somebody smile, my day has been worthwhile
Thanks for that and the link WS. Truly shocking and disgusting and sadly canned hunting in SA surely does exist.

Lai

Laikipia

Moderator




Posts

: 16153


Join date

: 2010-05-13


Age

: 58


Location

: Cheshire



yes totally disgusting! i have read that they do that for lions ..but sadly another big cat too in the list

and the worst part of killing the animal u breed is like very hand which raise you is goin to kill you! which is sad

but i think legally it is banned in SA now

cause its the lions that bring the tourism industry to flourish, no lions means no money

radhu




Posts

: 125


Join date

: 2012-02-26


Age

: 31


Location

: Bangalore,India



Hi Radhu nice to hear from you again  

Sadly Canned Hunting is still not banned in SS. If you look at the home page and click the link, you will find it's a thriving industry unfortunately. There are actually more Lions on ranches, and canned Hunting farms in SA than the total number of Lions in the wild in Kenya, and SS combined
WS

_________________
If I can make somebody smile, my day has been worthwhile
I am not sure how I missed this post in the first place, so i'm glad you came back on to it Radhu. I agree with your sentiment that the hand that raises you is also the hand that helps to kill you and that is very sad and disturbing.
Sadly Canned Hunting is not banned in South Africa, it should be but it isn't, hopefully you have been able to take a look at the link WS put up on the home page, that will show you how rife it still is and what is trying to be done about it.
You are right, it is the Lions and the tigers that bring tourism into the countries and it would be so nice if these animals were given the respect for what they bring to the country and not looked at as what can they bring as a dead commodity.

littlewid-x-


_________________
LOVE ALL WILDLIFE

littlewid

Admin




Posts

: 10464


Join date

: 2009-12-28


Location

: West Sussex



Sad! i wonder how Govt can tolerate such inhuman sports!

hope itll b banned soon!

it is so disturbing , cannot estimate the extend of trauma the mother and her cubs would have when they are separated and hunted down like this

radhu




Posts

: 125


Join date

: 2012-02-26


Age

: 31


Location

: Bangalore,India



I pray too Radhu that canned hunting will eventually be banned for good, it is one of the most distressing things that can happen to such magnificent creatures, their lives are worth so much more.
I don't think we can really gauge the extent of the trauma the mothers and cubs must go through with the separation, it is just heart breaking and the way the animals meet their end is just despicable.

I hope todays march has raised the awareness to a new height. I have been thinking of all the Lions and Tigers and other animals like the rhino that are used for these sick acts of extreme cruelty.

littlewid-x-
_________________
LOVE ALL WILDLIFE

littlewid

Admin




Posts

: 10464


Join date

: 2009-12-28


Location

: West Sussex




---
Permissions in this forum:
You
cannot
reply to topics in this forum