_________________
If I can make somebody smile, my day has been worthwhile
That looks another good cam WS and great to see the lions. The cams have been a little redundant just lately, I think we all run out of time to keep an eye on them which is a shame as we miss out. I am going to try and make a personal effort to try and look at them more.
Thanks for the link to this one WS.

littlewid-x-
_________________
LOVE ALL WILDLIFE

littlewid

Admin




Posts

: 10464


Join date

: 2009-12-28


Location

: West Sussex



Yes I have'nt had much time lately to check on them either, but I had a quick look round yesterday, and I've got some good news on The Lady of Loch Lowes, and a great update on Bonny & Clyde from Petes Pond, which I will put on their own threads

WS

_________________
If I can make somebody smile, my day has been worthwhile
Thanks for this WS. Sadly I'm the same with time and checking the cams, not to mention our internet connection
  I wish I could spend an afternoon catching up with them all as they are all such fun and so interesting.
Lai

Laikipia

Moderator




Posts

: 16153


Join date

: 2010-05-13


Age

: 59


Location

: Cheshire



Just had a chance to look at this webcam and although there was nothing around whilst they were panning apart from a lot of birds (not sure what from that distance) this looks like another great cam to try and follow.
When I watch these cams it always make me smile, I love not only the wildlife but also the sounds that you can hear.
Just a little info on the place, hope you don't mind WS.
WildEarth is happy to return to Tau Game Lodge in the Madikwe Nature Reserve in South Africa. Tau was one of the web's original waterhole cameras more than a decade ago.

The waterhole in front of the main lodge is very active throughout the day. There is abundant wildlife; herds of elephant regularly come for a drink or a bath, lion are regularly seen and a variety of other animals species including giraffe, zebra, kudu, warthog come and visit here.

And for those times no mammals are around the many bird species will keep you entertained. The area around the lodge boasts over 200 species!

Our zoomies are experts in finding all creatures, great and small.

  then this handsome waterbuck appeared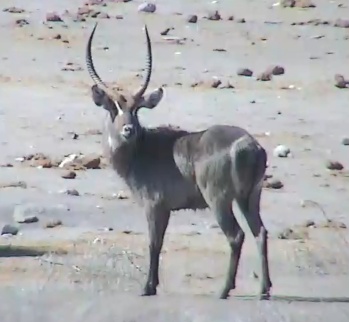 Lai


Laikipia

Moderator




Posts

: 16153


Join date

: 2010-05-13


Age

: 59


Location

: Cheshire



Of course I dont mind Lai, it's great you've found some info about Tau. I was given the tip about Tau from one of the members of Petes Pond chat, as it was so late I only had time to get the link to the Cam. Lovely to see the Waterbuck. I love listening to the sounds as well, even if I'm not watching I very often have my laptop on at night, and listen to the sounds in the background even if I'm watching TV, it's like being in your lodge listening to the sounds of Africa outside

WS

_________________
If I can make somebody smile, my day has been worthwhile
That's a neat idea WS.  I might try that too, close my eyes and think I am in Africa, what a cool thought

Lai

Laikipia

Moderator




Posts

: 16153


Join date

: 2010-05-13


Age

: 59


Location

: Cheshire



A big Male Lion at Tau Game Lodge to day
The Lion appears at 1min 30secs into the Video


WS

_________________
If I can make somebody smile, my day has been worthwhile

_________________
If I can make somebody smile, my day has been worthwhile

---
Permissions in this forum:
You
cannot
reply to topics in this forum