A group of us visited WWT Slimbridge last weekend and were lucky enough to be allowed to visit Sir Peter Scott's house.  He was the founder of WWT and clearly a really passionate and amazing person.
http://www.wwt.org.uk/about-us/history-of-wwt/our-founder-sir-peter-scott/
Littlewid did ask if I had taken any photos and I did take a few on my mobile so not brilliant but here they are.
You'll recognise this panda.  He was also a founder of WWF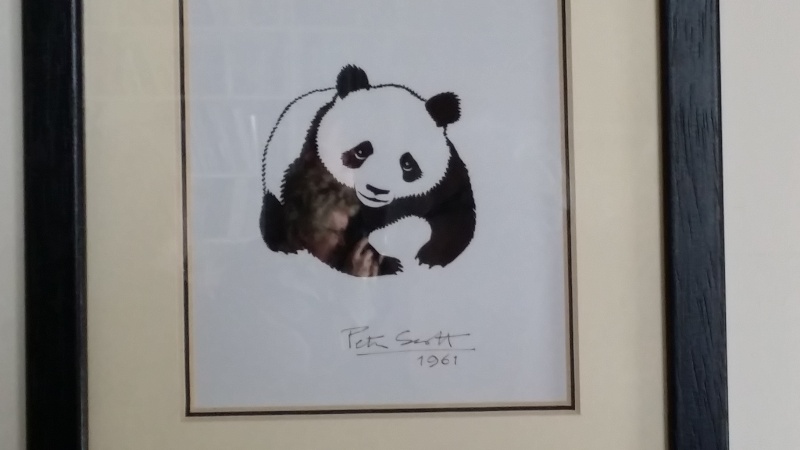 Rotten pic which is a shame as it was a beautiful painting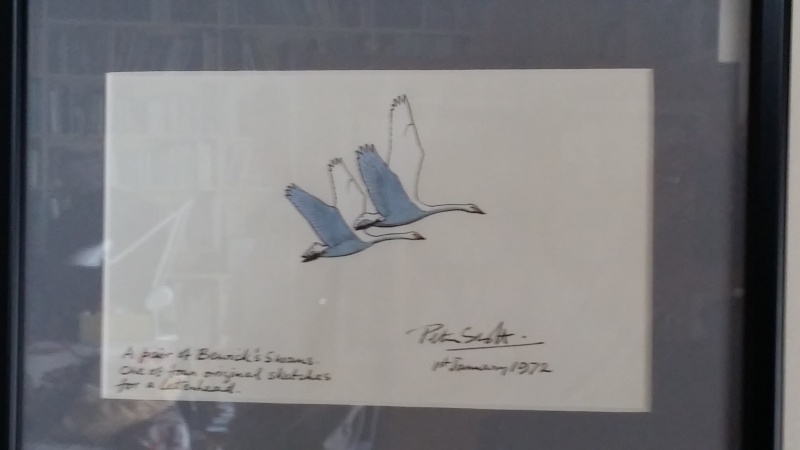 He identified each and every swan and listed them in this book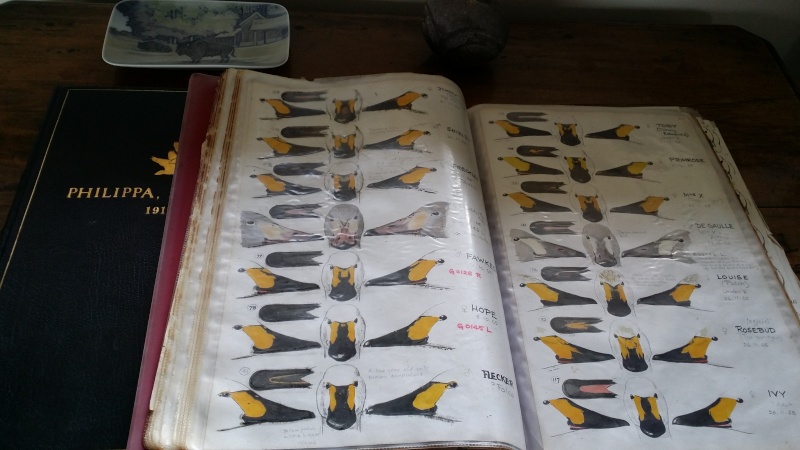 All his artwork on the walls.  He was working on the painting on the easel when he died so someone else finished it.
It was such a rare treat to go in and totally inspiring to see his work.  What a view he had from his window too!
Lai

Laikipia

Moderator




Posts

: 16153


Join date

: 2010-05-13


Age

: 59


Location

: Cheshire



  Thank you so much for those Lai. I looked at them on my phone yesterday and enlarged the pictures, mainly soI could read all the swans names. How wonderful that they all got named and he knew each one individually, that's so special and I loved the names he gave them. I also like the little tray/bowl in the picture of the swan book.
The house looks packed with glorious pictures and paintings, it must have been so much to take in during one visit but how amazing that you actually got to go inside his house, i'm a tad envious there  

The Panda is recognisable for sure even without the WWF, such a statement that Panda picture presents. He was an incredible man and I loved that his father asked his mother to get him interested in wildlife rather than sports but he must have had it within him to be able to do all that he did.
I love the sketch of the Bewick swans that was one of four sketches for a letter head, its a wonderful painting isn't it and I am a fan of the Swan.
Thank you for sharing those Lai. I was only saying to my mum today that some visits to Arundel WWT are now in order now that it has dried up a bit and Spring is springing  

littlewid-x-
_________________
LOVE ALL WILDLIFE

littlewid

Admin




Posts

: 10464


Join date

: 2009-12-28


Location

: West Sussex



  Littlewid. It was packed and really very special, we were so lucky and what a talented man he was. I love that the swans had names rather than numbers, its very charming and appealing.
Our local WWT is Martin Mere and it's not that local but we'll be visiting soon for sure as it's a lovely day out and there's always a lot going on.
Lai

Laikipia

Moderator




Posts

: 16153


Join date

: 2010-05-13


Age

: 59


Location

: Cheshire



Thanks for the photos Lai. Must have been lovely to visit Slimbridge, I remember seeing a programme about Scott, and how he started the drawings of the Swans, and how each is one is drawn, to show its identifying marks, and each one is named. Apparently that still goes on today. You can definitely recognise the Panda as the WWF symbol.

WS

_________________
If I can make somebody smile, my day has been worthwhile
I've always wanted to visit Slimbridge, its looks like a lovely place to visit

princesspurplehippy




Posts

: 1090


Join date

: 2010-07-02


Age

: 44


Location

: Oxfordshire



It is PPH. If you get the opportunity do try and get there. There's so much to see and so many hides. We were lucky to see the Kingfishers from the hide as well as all the regular birds coming to their feeders. You could sit and watch from the hide and they would be right in front of you, brilliant for pics  

Lai

Laikipia

Moderator




Posts

: 16153


Join date

: 2010-05-13


Age

: 59


Location

: Cheshire




---
Permissions in this forum:
You
cannot
reply to topics in this forum