Hi Littlewid,
As promised a few wild tiger pictures for you from our India trip

We visited India back in 2009 our trip involved time in Pench, Kanha, Bandhavgarh & Panna National Parks.
We started our trip in Pench (its wildlife is said to be the inspiration for Jungle Book), we saw lots of wildlife but no tigers during our visit. We moved onto Kanha (my favourite Indian National Park), where on our first morning we saw a Sloth Bear, the bear was right next to our vehicle and as I was videoing the bear I told my husband not to bother taking any pictures (the sun was only just rising and the lighting was very poor)... as the bear moved away into the bamboo and out of sight I looked down to the camera and released I hadn't pressed record!!! I was gutted... fortunately, within about 30 minutes this was virtually forgotten when we heard that a tiger had been spotted. We happened to be driving along the track as the Mahouts appeared and we got our first sighting of a real wild tiger!
Here's the video:
And here is a picture of him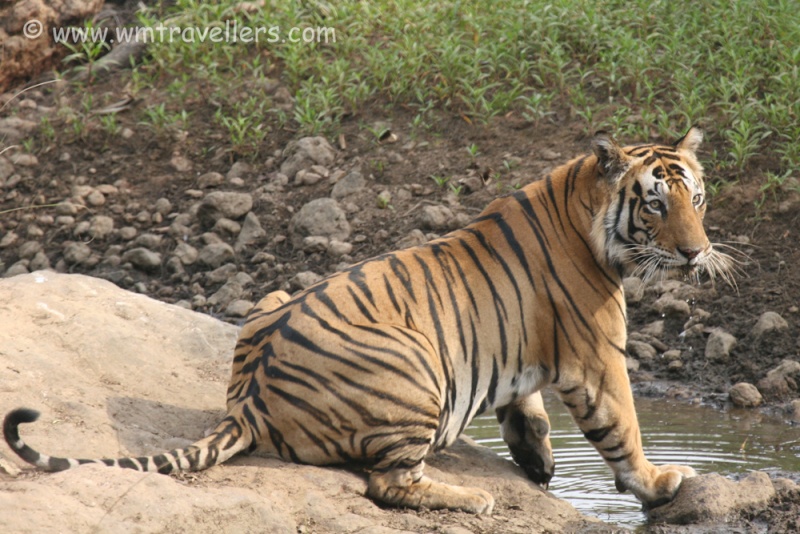 I loved Kanha because it has so many different animals, as well as the sloth bears & tigers, we saw wild dogs, gaur, different types of monkeys, different types of deer, so many birds and a leopard! Its a large park so you can get away from other jeeps quite easily and experience the wildlife in peace.
Here is another shot of a tiger in Kanha...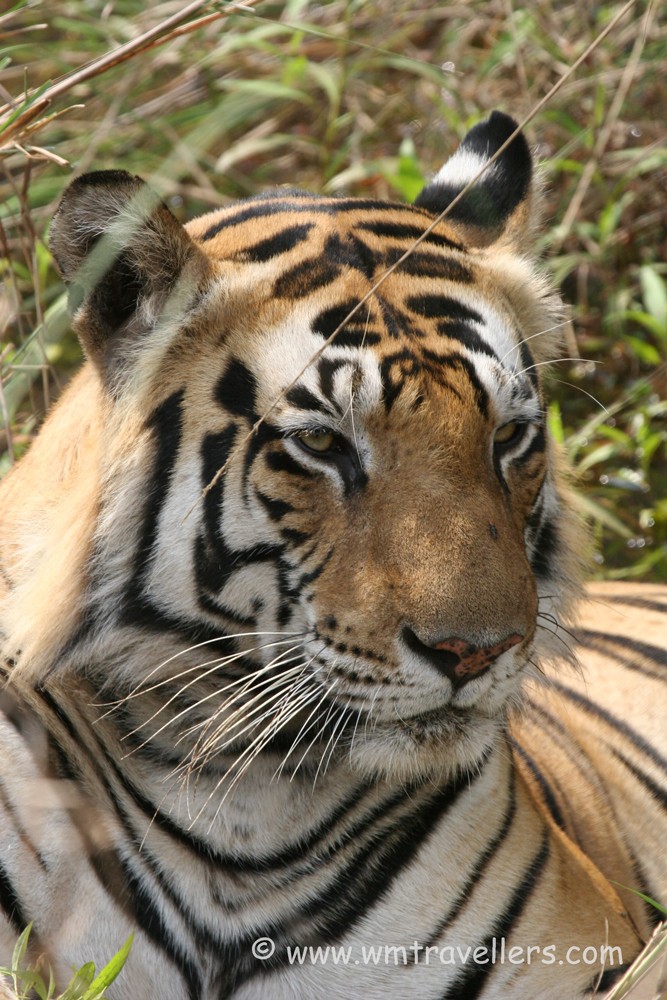 After Kanha we moved to Banhavgarh where we saw several tigers including these two brothers...
Bandhavgarh, was very different from Kanha (much busier) but we did get an amazing experience when we spent 20 minutes riding on the back of an elephant following a tiger through areas that a safari vehicle could only dream of going!
We finished our national park tour in Panna, where they had lost their tigers due to poaching. Controversially they had recently transferred two females to the park, but other than their pugmarks we did not see them. But we did see an amazing array of birds and other wildlife including another sloth bear that ran across the road in front of us (no pictures again!)
The trip really was magical!
Thanks very much Liz for your 'tiger' account, interesting reading.

How lovely you got to see some Sloth Bears, Wild Dogs etc etc and a wide array of birds. But how totally wonderful you did get to see the elusive tigers. Your photos are brilliant and I especially like the closae up of the one taken in Kanha



LW will love these

Doogs

Moderator




Posts

: 10734


Join date

: 2010-05-14


Age

: 48


Location

: Aberdeen



Thanks Doogs, it was an amazing trip. There was so much wildlife to watch & photograph there was never a dull moment. And after we saw the first tiger (I of course cried) I was able to relax and enjoy it all. Until then I was so worried we might have spent all that money and come away with no orange stripes to show for it! We met many people that were on their second and third trips having not seen any tigers on their previous trips. That's why we spent four nights in both Kanha & Bandhavgarh giving us a good chance to be lucky!
Don't worry about

that's what us girlies do - I did exactly the same in the Mara last year when we saw Olive's daughter Saba - it was the first time I had seen her and it was my first visit after her wonderful mum had died only a few months earlier, I was rather emotional to say the least !!!

You were lucky, there are many people who pay a lot of money to see the tigers and dont

10 out of 10 to some of them coming back 2or 3 times to try and see them, must have cost them a fortune !!!



Doogs

Moderator




Posts

: 10734


Join date

: 2010-05-14


Age

: 48


Location

: Aberdeen



Oh yes brilliant photos

, and video. The Tiger is also my favourite big cat, I just love the power, and majesty they exude. To be honest I don't think I would have got any photos at all, I would have been shaking with excitement to much at seeing them. Shame you didn't get any shots of the Sloth Bear, but he's in your memories, and thats a good place. It looks, and sounds as though you had a wonderful trip, thanks for sharing your photos, and experiences with us WMT
WS

_________________
If I can make somebody smile, my day has been worthwhile
Ooooooo Laaaaa Laaaaaa how special are those pictures, they just reinforce why Tigers are my favourite big cat. You really are a good photographer aren't you WMT.........when you have the camera going
The size of those paws in the first picture are amazing and he is so handsome isn't it. The portrait photo is spectacular and the one of the two brothers is brilliant, I love the way he appears to be looking at you, what a shot!!!!!
You could hear and feel the excitement in the video of the appearance of the Tiger, the cameras clicking had me smiling, I would have been just as excited, squealing with delight.......what an experience for you, just magical.
Isn't it a shame that Tigers are having to be imported to make up for the loss of Tigers. I so wish there was more respect for Tigers and an honest understanding that a dead Tiger can do nothing for you, they deserve so much more.
I have a happy picture of you sitting a top an elephant watching Tigers......how cool is that......I may be a tad

with envy........but happy for you at the same time.
I am one happy girl this evening
and really grateful for you posting these pictures and stories. It's a shame you missed capturing the Sloth Bear but at least you saw two of them and you have that memory forever. I think they are lovely bears.......so if you go again.......please press record
Thanks once again WMT.......i'm still smiling

littlewid-x-
_________________
LOVE ALL WILDLIFE

littlewid

Admin




Posts

: 10464


Join date

: 2009-12-28


Location

: West Sussex



So glad I could brighten your day. It's really nice to be able to share some of our experiences with people who appreciate how special these animals are

We are just about to book a trip to Sri Lanka for next March... hopefully I will be able to make up for my Indian Sloth Bear mistake if we manage to see a Sri Lankan one!
WMT what wonderful photos and a great clip. Lucky you to have seen tigers, they are just magnificent.
Lai

Laikipia

Moderator




Posts

: 16153


Join date

: 2010-05-13


Age

: 58


Location

: Cheshire



Thanks Lai, we were very lucky with our sightings and it's a trip we certainly won't forget


---
Permissions in this forum:
You
cannot
reply to topics in this forum