So here are a few photos of our 2 barn owl chicks (well of course they aren't really ours but they are nesting in our box near our house so ...  

 )
This is the first year they have used this box, so really exciting to see.  Last week one evening the Barn owl people came to check them so we went with them, they also brought someone along who can ring birds.  The parent flew off as we approached but is back again so no worries there.  Inside sadly only 2 chicks, there were originally 3 eggs.  Did the oldest one eat it?  No one is sure.  They were weighed, measured and ringed, none of which hurts them and they lie completely still playing dead. The smaller of the 2 was about 15 days old.  They may come back to check them again in a few weeks, here's hoping they do and I take my camera not my mobile for the photos!!!
What really made my day/week/month was that I was able to hold a barn owl - absolutely gorgeous little things  

 Pete didn't get a photo of me with the chicks so I am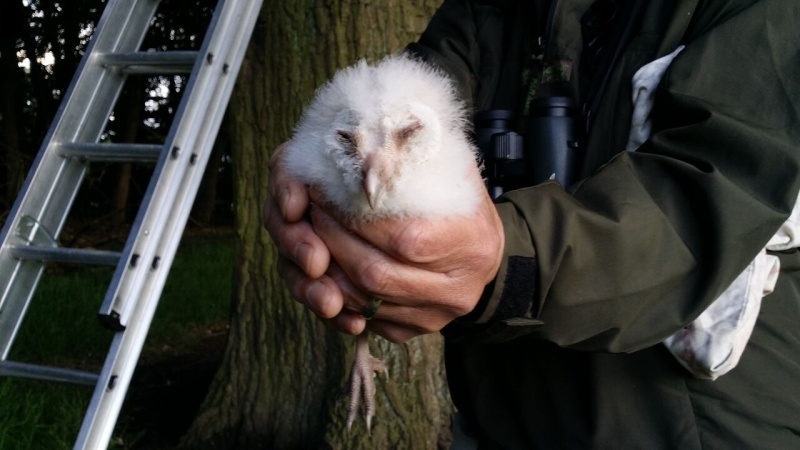 You can really see the difference in size that a week or more makes
We really hope they both survive and the parents can find enough voles to feed them. More later ...... I hope
Lai

Laikipia

Moderator




Posts

: 16153


Join date

: 2010-05-13


Age

: 59


Location

: Cheshire



I went to the dentist today for a check up and whilst I was waiting I had a quick check on here and clicked on this post Lai.......so there I was in the waiting room looking at these two gorgeous Barn Owls with a huge grin on my face.......I'm sure the other people in there must have thought I was reading a funny joke because my whole face was alight.......Phil had to call me twice before I took any notice of him

How sad for you that Pete didn't take your photo but how wonderful that you got to hold them, that must have been so exciting, I bet they were quite light?
I would call them my owls too and fingers crossed they do come back to check on them so you can hopefully hold them again and get some more pictures.
It is amazing the difference a week makes, the size is very noticeable isn't it, lets hope the little one gets fed as much as the bigger one. Did they sex them as well whilst they were there?
Shame about the third one but I suppose it does give the remaining two a much better chance in life and yes lets hope the parents catch plenty of voles for them to eat.
Fantastic post Lai and great pics as they were from your phone........Ooooooo I do love owls
littlewid-x-
_________________
LOVE ALL WILDLIFE

littlewid

Admin




Posts

: 10464


Join date

: 2009-12-28


Location

: West Sussex



Thanks Littlewid. I hope the dentist went well and not too much pain

They couldn't sex them yet so hopefully when they come back they will be able to. They weighed nothing at all, just little fur/feather balls

Lai

Laikipia

Moderator




Posts

: 16153


Join date

: 2010-05-13


Age

: 59


Location

: Cheshire



The dentist was totally painless Lai, it was just a check up

Looking forward to more up dates on the little weightless fluff balls
littlewid-x-
_________________
LOVE ALL WILDLIFE

littlewid

Admin




Posts

: 10464


Join date

: 2009-12-28


Location

: West Sussex




---
Permissions in this forum:
You
cannot
reply to topics in this forum