As you know the other week Emma, Tom, Lara, Kian and myself went to Port Lympne Wildlife Park. None of us had been before but had read so much about the Aspinall Foundation that we were really keen to go. It's near Hythe in Kent and luckily Tom offered to drive which is good as I have no sense of direction even with a sat nav!!!! it took us just over 2 hrs to get there but boy was it worth it; I thought Whipsnade was lovely, big and open but it's nothing compared to Port Lympne. Here the animals are kept as naturally as possible, ie there is a giraffe house but its really used for overnight, there isn't a kind f pen for you to view the animals, they are wandering in natural vegetation with proper trees and its just like they are wandering somewhere in Africa, so no branches hung up for them to feed off, they are nibbling at actual trees.
They have Water Buffalo that for enrichment they are now allowed to wander free on the road, its a new thing and they are just getting used to their freedom; obviously if you walk around the park you can't walk next to them as that would be too silly but on a private safari drive you are driving with them walking next to you or in front of you, so they dictate the pace you are being driven at, again its just how I imagine it would be on safari. There is also a Kudu and he is free to range from one side of the road to the other. The Wildie boys have a huge area of open range and again it's saturated with natural trees and bushes and they have a wonderful waterhole that is shared with Zebra, Hippos, Ostrich, numerous birds and of course the English Rabbit and as Kian pointed out Crows and Pigeons.
There is also and array of Primates but no chimpanzee but there are Gorillas which my heart did a little thump over......well a big thump actually as I love them. The primates have wonderful spaces and one is totally free, well apart from a tiny electric fence that is so hard to spot but they live solely in the trees, there's no brinigng them in for bed. There are a couple of areas for the Gorillas, an open area with small housing that they can come into and then a huge area that also has a massive indoor enclosure, so much bigger than London ZSL and to be honest although Doogs and I marvelled over the Gorillas at London, these seem so much happier and livelier as well and there were also juvenilles and one was such a hoot......annoying everyone and tipping the straw out of all the beds, such an adorable little fellow.
They have two Snow Leopards a male and a female but it was breeding time and they had two house in their space but sadly they were not out and about all day and even if they had been it would have been so hard to spot them as again it was a habitat so suited to the snow Leopard......I  can see you but you can't see me kind of space.
There is a lovely Cheetah and again if she hadn't been sitting near the fence I would never have spotted her, lots of tall grasses and trees for her to hide and relax.
They concentrate on conservation of the Barbary Lion, now these were being quite elusive but again their enclosure is just perfect for them, I did catch a glimpse of the male but its not a good shot at all but again it just goes to show that if you see them then great but they are not on exhibit which I actually like, anyway I suppose again its a bit like a safari, if you see them then wonderful but if you don't, try again the next day.
The Tigers are Amur Tigers and well, talk about keeping them in habitat that is just so right for them, it was perfect, you will see this from a shot I have o them on a platform but you can just see the amazing space they have, I was so lucky that the day we went they were just sunning themselves on this great platform.
They have a shop there but again its not in your face for selling loads of stuff to make you spend, it has nice things but its a money making market if you know what im trying to say. The little eateries are also small but cater quite well and they do have a BBQ going for all the meat eaters but again they are not trying to rip you off or make it all about spending money.
Its such a peaceful place as well and the walk around the park is lovely, lots of natural flowers and trees and birds and bees. It takes about three hours to walk the park but they also have huge old safari trucks with open sides that also go around the park at fifteen minute intervals to give you a lift if needed as it is very hilly and the tracks are just like dirt roads really. Anyway when we arrived we spotted the personal safari drives for £70 for an hour.......the best thing we could have done as this is how we managed to get up close and personal with many of the animals. It's a Jeep with open sides and side bench seats. You have your own personal ranger and the information they share is just mind blowing. The safari is where you go that you can't walk through so its an amazing experience to go off the main track of the park, honestly we were all so excited and of course you can leap from one side of the jeep to the other to get your photos........I discovered Emma leaps quicker than me and has no shame in sticking her head and hand in front of my lense to get her shot, even when we were on the move and I thought she may sit still she was bouncing around like a Gazelle so most of my pics are on the move and snap before all I came home with was lots of Emmas head and hands but it was so funny and she did get some amazing pictures and videos. I do have some nice shots but not many but to be honest I was just drinking in the experience and to see the Hatton family having such a great time was all I needed really.....memories are a fantastic thing.
They do overnight stays in African tents or huts overlooking the waterhole, you get arrival drinks, a night safari with the rangers who have worked in Kenya and South Africa so with your sundowners they regale you with their stories, theres an evening meal and then the next day, breakfast another day time Safari and then you can sty in the park all day and they handle all your luggage, so that is what we are now looking into as long as they are not fully booked, so whether we go before the kids go back to school or a weekend in September I will have to let you know. It has also inspired us to try and sort out going on Safari or real but lots to sort out there and the timings but you will surely hear about that.
Better post some pics and stop rambling, im sure I have missed loads out but it was such a day and so packed with wonderful sightings its hard to tell it all.......here we go then pics and not very good ones......but at least Emma's head isn't in them all !!!!
Kian at the start of the Safari drive
We had only just set off but because our ranger said she had a blanket if we needed it......guess who needed it straight away???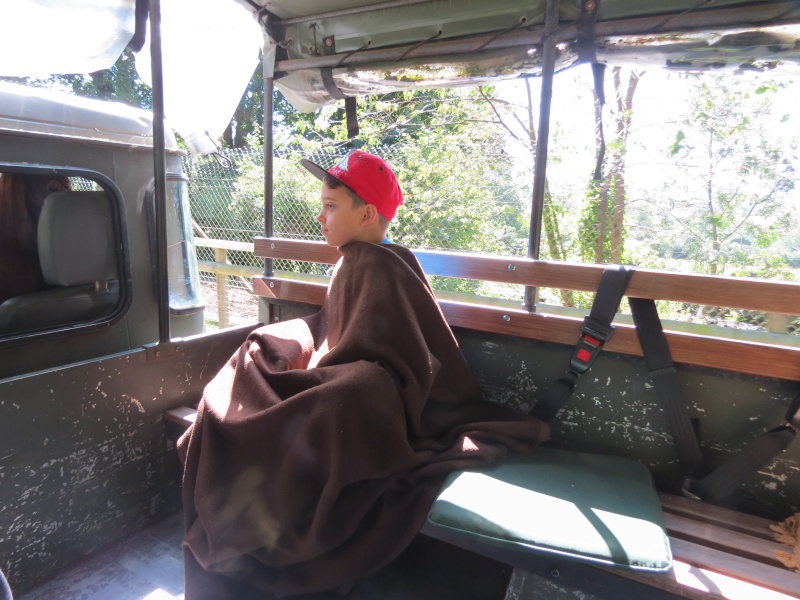 Tom trying to look all calm and not like an over excited school boy
Little Miss Cool Lara.....at nearly 13 you have to be chilled although just after this she was also jumping from side to side and photographing like mad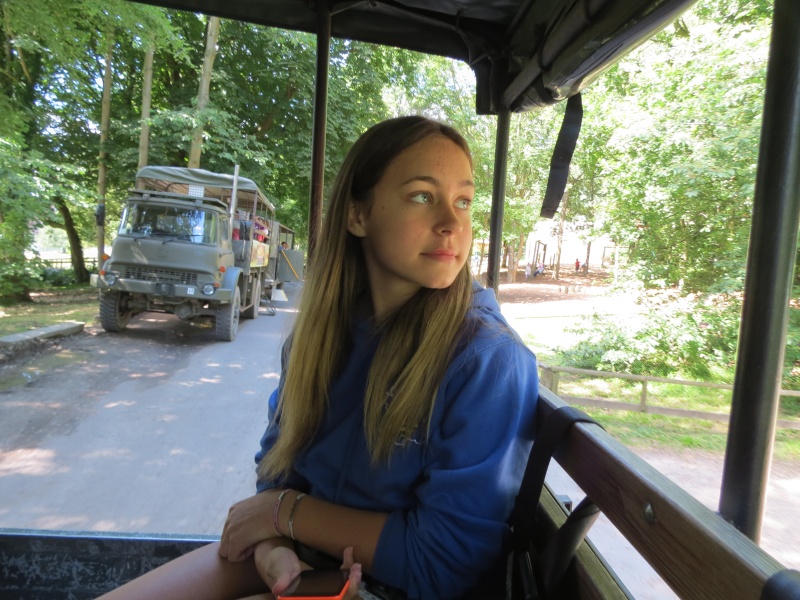 Our first encounter....Water Buffalo walking at the side of us
The only Rhino without Emmas head in the shot!!!
This lovely Kudu was not far from us, so beautiful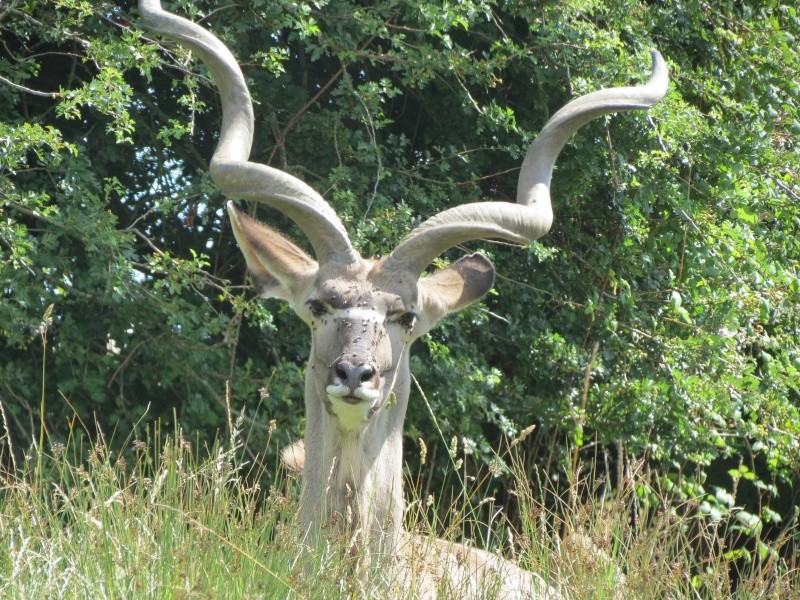 Gorgeous Cheetah, as you can see she is right at the fence and I was trying to blot that out to just get her so a little off focus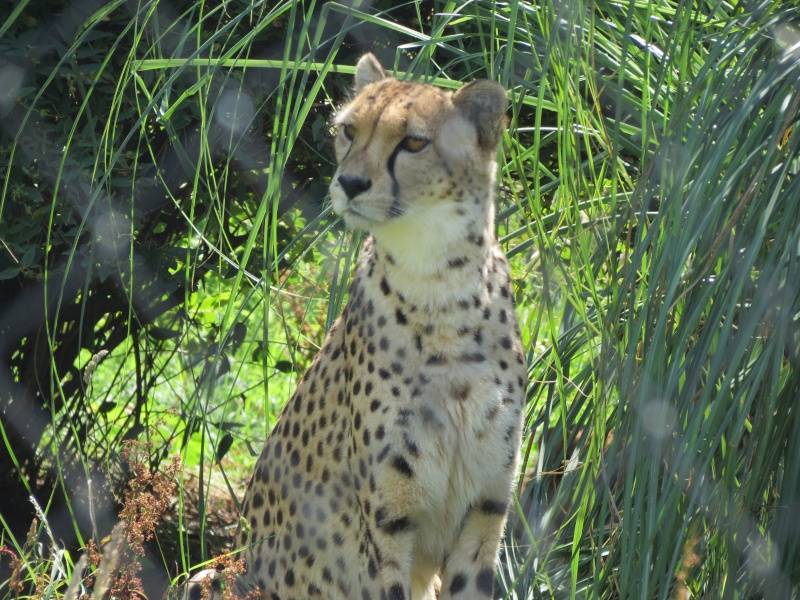 A few Giraffe pics, this was amazing as they came right up to the side of the Jeep and they are known to stick their heads in...to be so close was magic.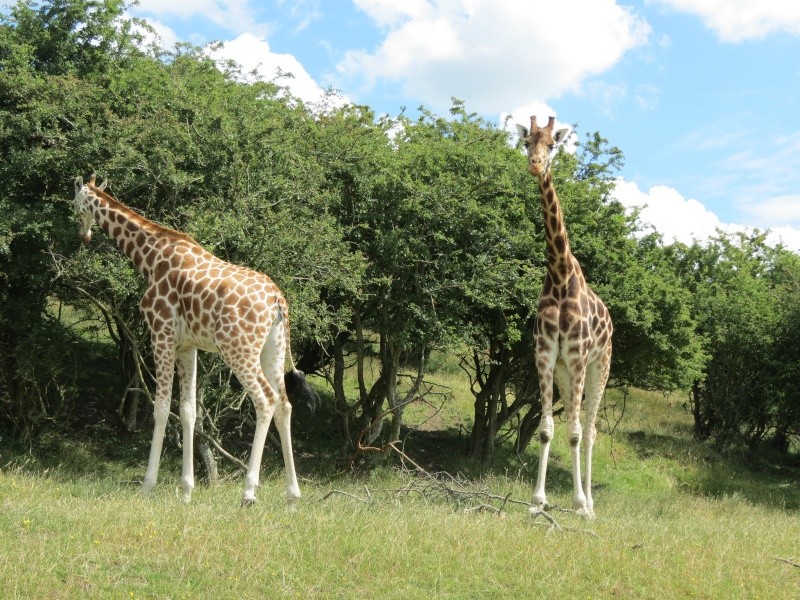 Emma & Giraffe
Wildie Boys from a distance and a moving Jeep....but no Emma !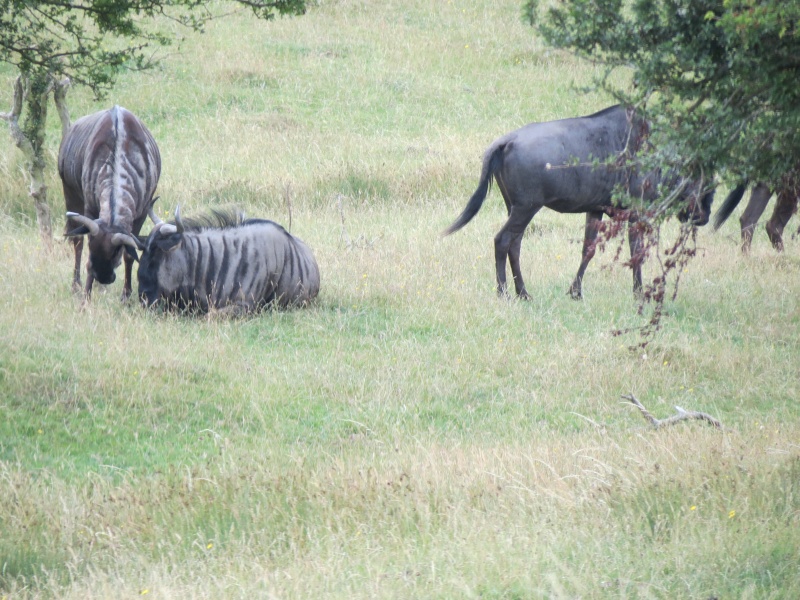 The Silver back thought Emma was giving me a B*M deal !!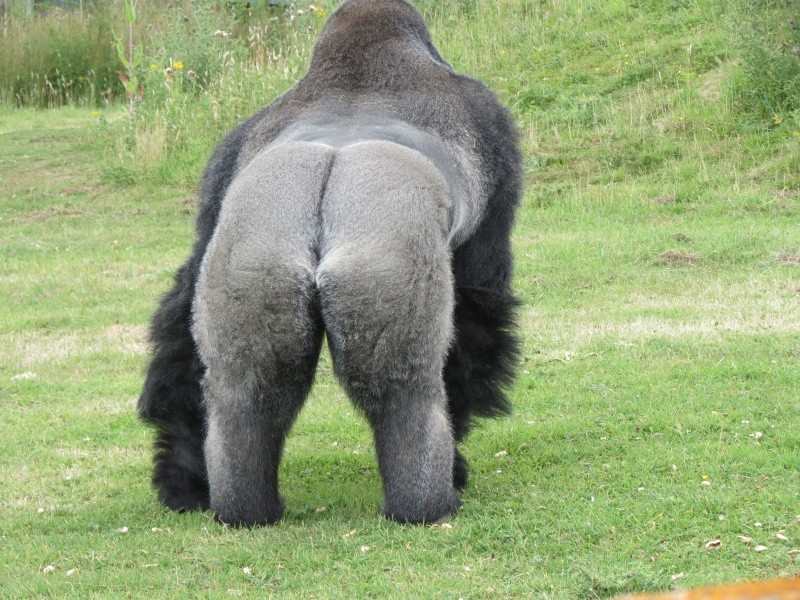 This ones taken from inside the enclosure
The Waterhole....this was a bit of a bumpy ride so not a good pic but its an amazing waterhole
Don't bother me i'm eating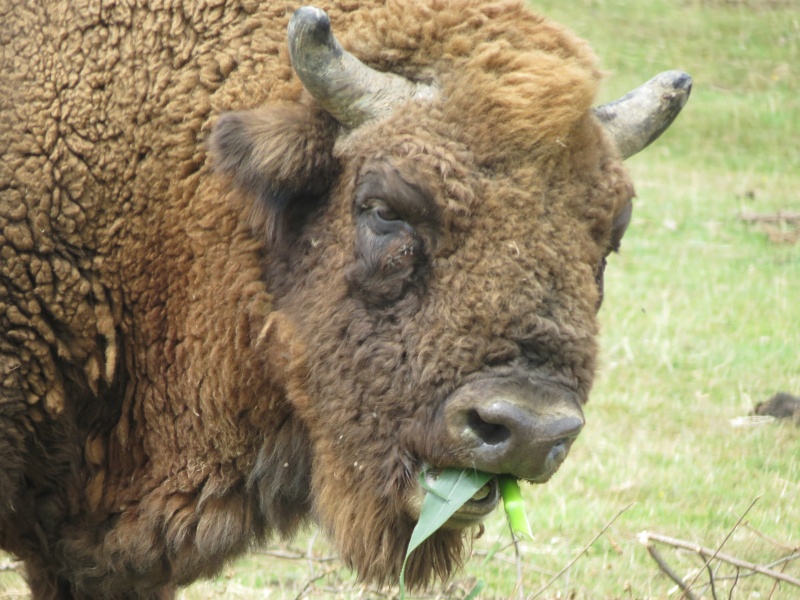 Zebra hiding in the distance but \I think you could be on Safari with this pic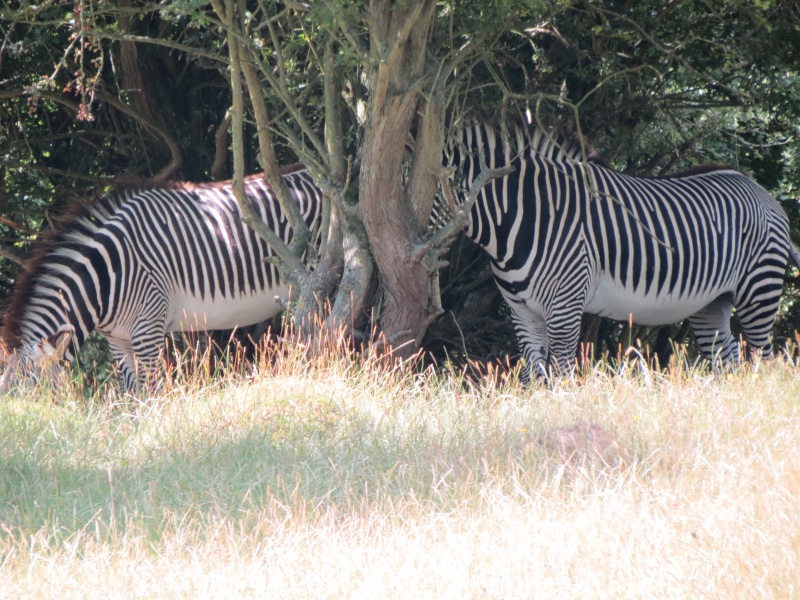 The Elusive Barbary Lion.....not a grand pic at all but as I said that's ok by me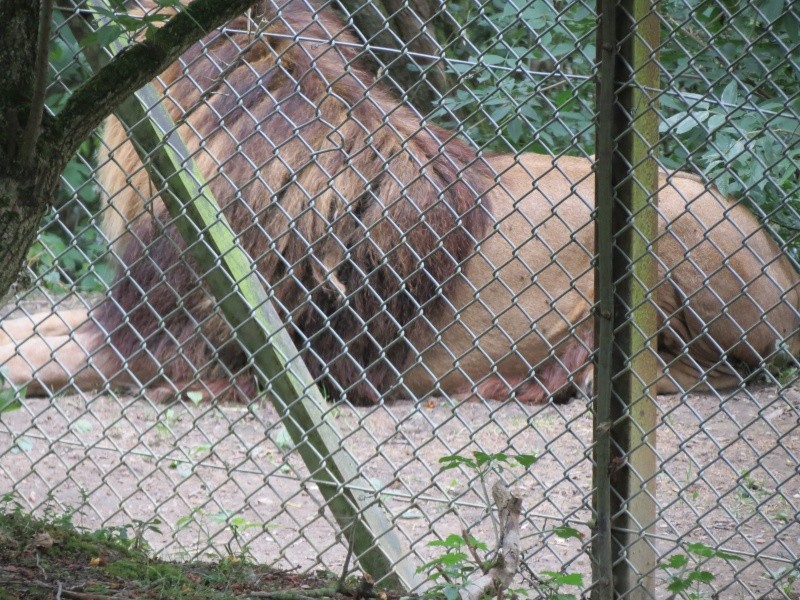 Amur Tigers - just look at where they live and where they can go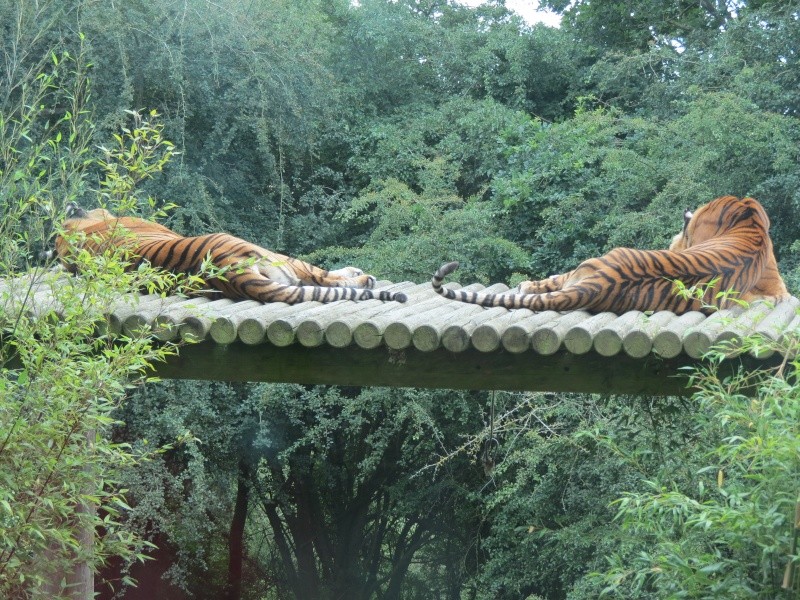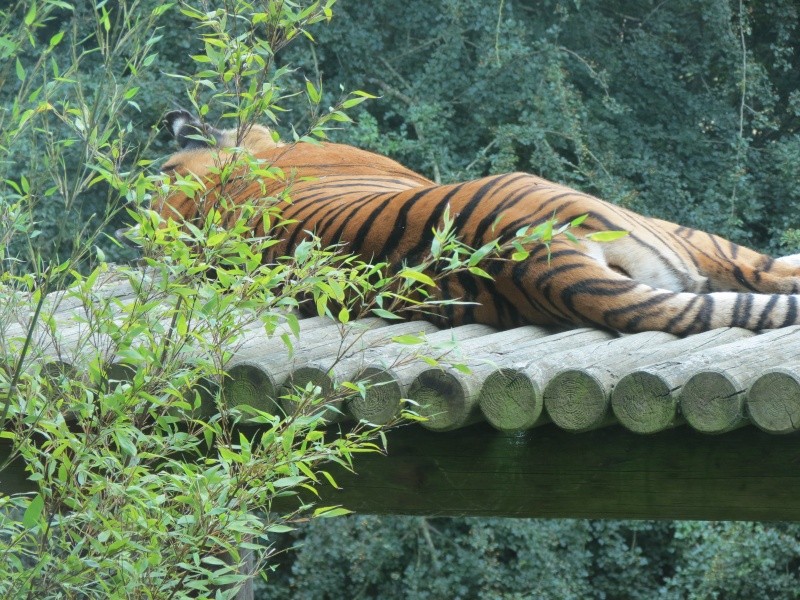 Not safe to be let loose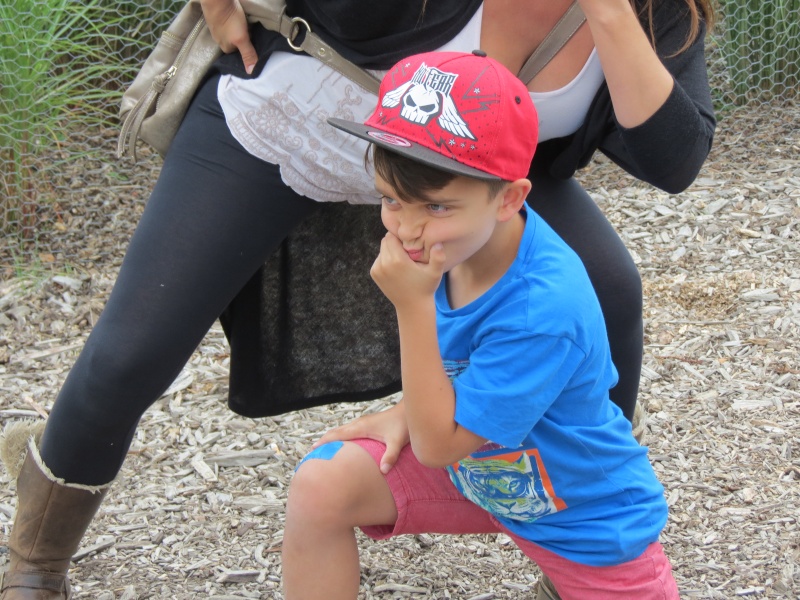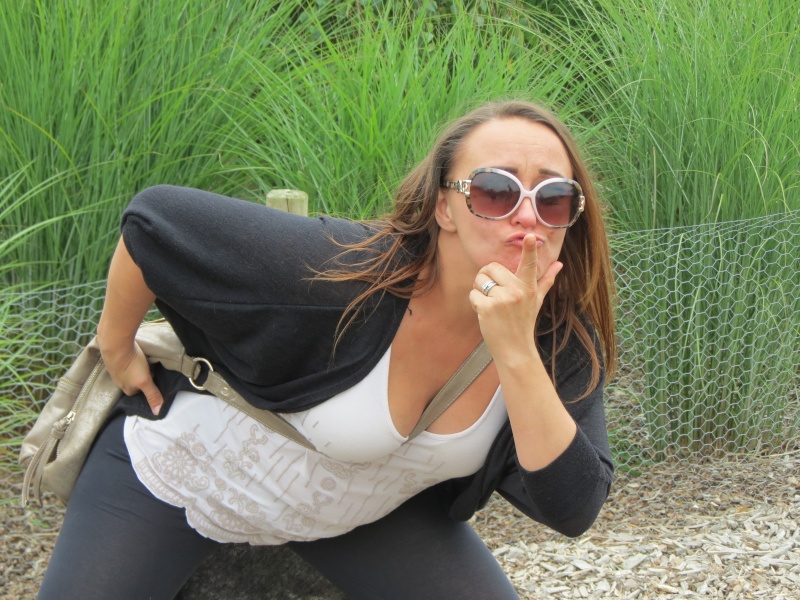 What do you mean i'm frightening the animals!!!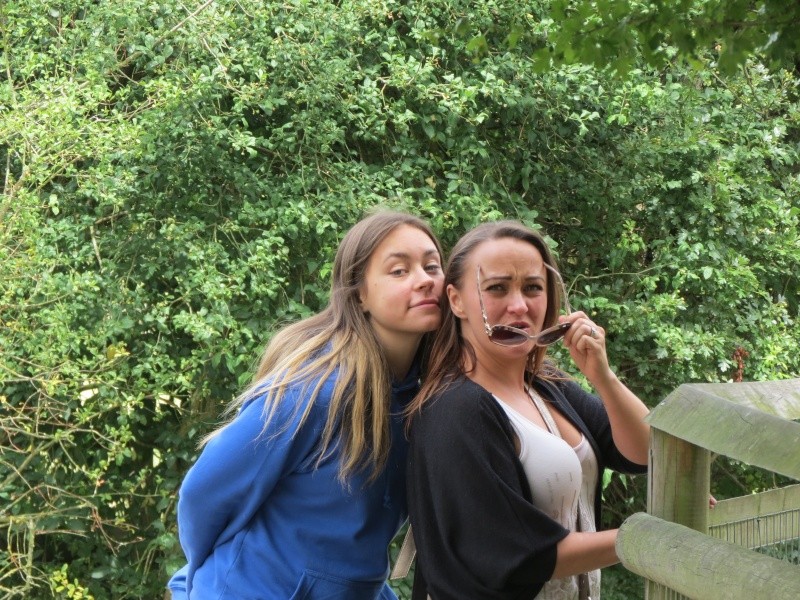 That's all Folks

littlewid-x-
_________________
LOVE ALL WILDLIFE

littlewid

Admin




Posts

: 10464


Join date

: 2009-12-28


Location

: West Sussex



It really sounds, and looks a wonderful place to visit LW. The habitats they have created seem wonderfully suited to each species, and it looks like they have put a lot of thought into developing them. Sometimes you really don't need photos to remind you of what was obviously a wonderful family experience, and the memories will stay with you long after the photos have faded. Having said that you have some great shots of the animals, thanks for the Amur Tiger ones my favourite cats as you know.

at the Silverbacks bum
It looked really good to go on the safari drive round it, and to get so close to the animals, also great to see the Cheetah. Hopefully the Snow Leopards were mating, and will increase the gene pool. and numbers. We'll have to get CC to look at this she'll love it.
Thanks for sharing LW
WS

_________________
If I can make somebody smile, my day has been worthwhile
What an amazing place Littlewid. I have never heard of it but it looks really fantastic. A proper amount of land for the animals and what a great collection of wildlife. I love the idea you can stay, what a brilliant way to try out a safari and see if you enjoy it. You definitely did the right thing getting a personal safari guide, and I bet you all really enjoyed your day.
Your photos are great
I love the curious giraffe and of course the wildie boys
It looks like you had a brilliant day out and had lots of camera practice, although I agree it's lovely to just sit and watch and just enjoy without the pressure of taking photos

Thanks for sharing and let us know when you are going back ..............
Lai

Laikipia

Moderator




Posts

: 16153


Join date

: 2010-05-13


Age

: 59


Location

: Cheshire



It looks as if you all had a great family day out at Port Lympne LW. Like Lai although I had heard of it ,I knew nothing about it. There is nothing quite like getting up close and personal with wildlife. especially when there is nothing between you.
Some great photos of the wildlife both two and four legged!!! You have not forgotten how to use your camera. Giraffes are very photogenic as they are always curious and willing to look at you. The park seems to have a great variety of animals from all parts of the world, I can understand why you want to go back.
Thanks for sharing.

SM

Safariman




Posts

: 518


Join date

: 2012-06-27


Age

: 75


Location

: Buckinghamshire



Thank you all for your lovely comments. It truly was a fantastic day and the park is so well thought out and planned and you can tell the animals come first with everything.
What did amaze me was that most of the rangers were female and also the keepers. I saw one male ranger and one male keeper who gave the talk on the Gorillas......maybe the men had the day off???
They also have a pack of 20 Painted dogs, we could see some of them running around but not close enough to get any good shot and on the safari we weren't allowed too close as the team of vets were with them giving health checks but from what I could see they all looked so incredibly healthy and that's quite a large pack and they had a wonderful space.
There was also caracal but they were lying sleeping in the tall grass and all you could see was ears.

There was a male elephant but he was being relocated as part of a breeding program and they were trying to crate train him but he has taken so long to train that another male was used for breeding but he is still being relocated and they will get more elephants once he has gone to sire his young calfs. I love the fact he has never been forced into the crate, it's all in his own time and a lot of patience on the keepers part.
The park is divided into the Asian experience and the African experience but you cant spot the divide, it's just by knowing which animal belongs where, its all very clever.
Glad you enjoyed the photo's and of course I will let you know when we go back.......not too long I hope

littlewid-x-
_________________
LOVE ALL WILDLIFE

littlewid

Admin




Posts

: 10464


Join date

: 2009-12-28


Location

: West Sussex



Great to see you getting out and about LW!

Really enjoyed the giraffe photos; excellent camera work, and of course the supermodels of the savannah do the rest. That watering hole shot is a nice one too, even if WS and I might often prefer ours to have different liquids and birds

Must have been a little disappointing to miss out on seeing the snow leopards, although like you suggested, being leopards, even if you could see them you probably couldn't!
That one night stay over at the park sounds like a good idea
I'm sorry if this first trip was a little dull though. That Emma just seems far too introverted

GR

gregrowlerson




Posts

: 1733


Join date

: 2012-11-22


Age

: 37


Location

: Melbourne




---
Permissions in this forum:
You
cannot
reply to topics in this forum