The Red-billed Quelea is a small, rather dull, unprepossessing bird of the Weaver family. Its one claim to fame is that, while only found in sub-Sahara Africa, it is the most abundant bird on the planet. At certain times of the year particularly just before the rains and when it breeds, it gathers together in great flocks of upwards of a million birds. The Quelea is normally a seed eater and is hated and feared by the African farmer as the huge flocks can decimate a field of cereal in minutes leaving behind total desolation. They breed in huge colonies of up to 10,000 pairs, building small nests in suitable trees and managing to raise their young from nest to fledging in 21 days. Although a considerable number are lost to predators such as snakes, lizards and other birds, they breed in such numbers that the losses are insignificant.
I was staying at Offbeat Safaris' Meru Camp in Meru National Park, Kenya in late October 2010 and the rains were due at any time. I had seen several small flocks of 50-100 Queleas during my game drives, but as the week progressed the flocks started to increase in size first to several hundred and then to several thousand. The flocks would alight on an area of bush or grass to quickly feed before all moving off in unison in search of more food. The noise was incredible with the flapping of thousands of pairs of wings sounding like a jet plane taking off.
On our afternoon game drive following a track beside the Mutundu River, reduced to little more than a stream at the end of the dry season, we were suddenly engulfed by Quelea. They need to drink twice a day, early morning and late afternoon and this was their afternoon time to drink. For the next 15 minutes we watched with increasing disbelief as a continuous avalanche of birds all descended on the river to drink all within a 50 metre stretch of river. Each bird would land very briefly take two or three sips of water before flying off, others settled on the river bank or hovered just above the water waiting their turn to drink before flying off to find their roost for the night. There hardly seemed to be any space between the birds as they expertly manoeuvred at incredible speed to drink and move on. The noise was almost overwhelming with so many pairs of beating wings. A conservative estimate probably put the numbers at well over 100,000 birds all in one flock. It was almost impossible to take any photographs as one did not know where to aim or focus and shooting into the sun did not help. I just pressed the shutter and hoped! The photos sadly do not reflect the the awesome feeling of being surrounded by so many birds. I was incredibly lucky to witness one of natures wondrous phenomena, something I will never forget.
Safariman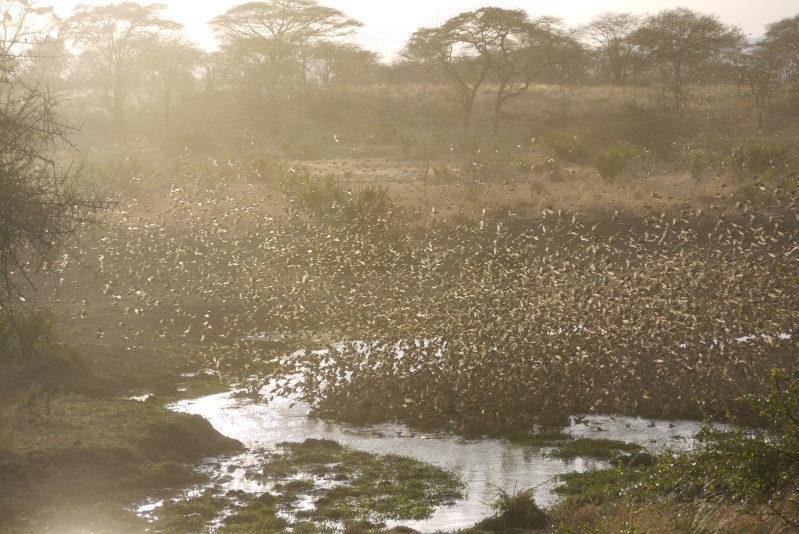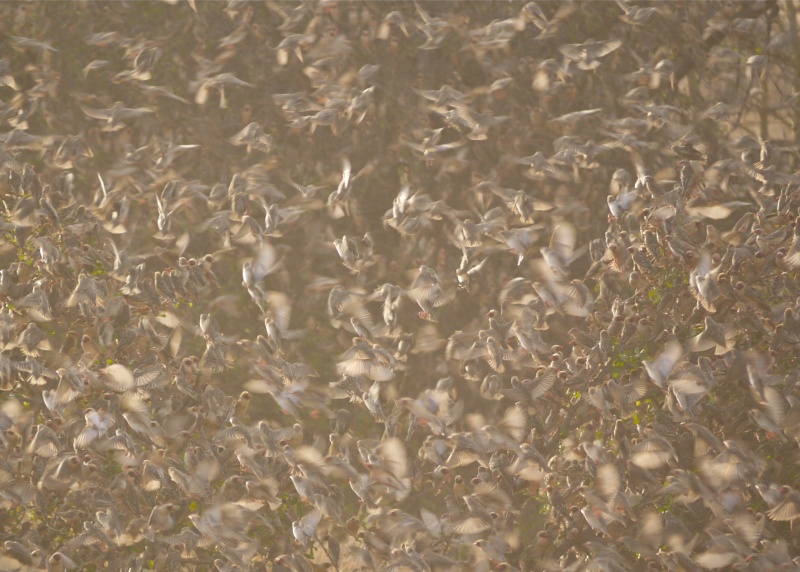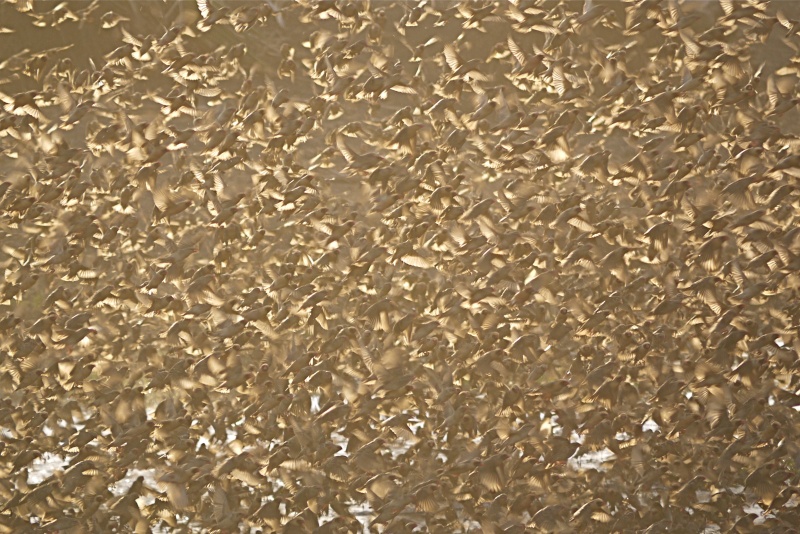 Safariman




Posts

: 518


Join date

: 2012-06-27


Age

: 75


Location

: Buckinghamshire



Oh My Lord Safariman tht must hve just been magical, I would have loved to have seen that and to hear it must just be something else indeed, what a spectacle and how lucky were you to see that. Your photo's are incredible, I know you say it was just really aim and shoot but those are stunning photos and although they don't convey the noise they do convey the spectacle that ws unfolding in front of you. That last picture is really like spot the space betwen them......there is no space, it really is phenominal as you say.
They are not bird I am familiar with but I surely wont forget them now and I love the first picture which shows off their red beaks and also the story behind the photo's.
The 4th picture would make a wonderful card and the last picture would be a brilliant complicated puzzle for bird lovers.
Thanks so much for sharing them

littlewid-x-
_________________
LOVE ALL WILDLIFE

littlewid

Admin




Posts

: 10464


Join date

: 2009-12-28


Location

: West Sussex



What a fantastic sight to see, and experience Safariman, I've seen videod, and photographed Starling murmerations, and thought Wow the number of Birds, but they pale into insignificance compared to the numbers there. I have seen Quela on the TV, but to have actualy been there, and seen it must have felt awesome. Thanks for sharing the experience, and photos
WS

_________________
If I can make somebody smile, my day has been worthwhile
Holy moley - that's a lot of birds

No wonder the African farmers don't like them !!!
Lovely shots Safariman and loved the info you attached with them. Maybe they don't reflect the awesome feeling of being surrounded by so many birds' but we certainly get the impression from your photos and info that it would be incredible. You are very lucky to have witnessed that and no wonder you will never forget it


Doogs

Moderator




Posts

: 10734


Join date

: 2010-05-14


Age

: 49


Location

: Aberdeen




---
Permissions in this forum:
You
cannot
reply to topics in this forum