Page 2 of 2 •
1, 2
Doogs. Nail biting story from Margot and a tricky one indeed. Interesting comments on the event as well.
For me I would intervene but in reality the very next day the same thing could happen and no vehicles may be around so what is right and what is wrong?
Tough one
Lai

Laikipia

Moderator




Posts

: 16153


Join date

: 2010-05-13


Age

: 62


Location

: Cheshire



I think they were definitely wrong to interfere. It was nature at work not humans. Once we start interfering where do you draw the line. If I like buffalo do I get my guide and driver to try and stop a pride of lion attacking a buffalo!!! We cannot pick and choose which animals we interfere with on an emotional basis. It is sad to see cubs of predators killed as I saw for myself recently with lion cubs. It is also sad to see a newly born impala or gazelle being chased and killed by a cheetah but that is what happens in nature. As a tourist I go to observe and photograph not to interfere, I am sure I could of got some fantastic photos if I had asked my guides to do certain things!! As you say Lai the same thing could happen the following day. If you are not careful you end up by removing the cubs the moment they are born, rear them in safety and then release them when they are adults, that way you ensure none are lost. The Mara is not a theme park although some people like to treat it as one; it is a wild environment which some of us are lucky enough to visit and observe and I want to keep it that way.
Rant over.

SM

Safariman




Posts

: 518


Join date

: 2012-06-27


Age

: 78


Location

: Buckinghamshire



Rant, no Safariman, factual and correct.  I know it is wrong to intervene but just sometimes you think you wish you could.

Lai

Laikipia

Moderator




Posts

: 16153


Join date

: 2010-05-13


Age

: 62


Location

: Cheshire



Certainly a difficult one, I agree it's not correct to interfer in animal to animal exchanges which is emotional for those there at the time, but as SM says people are there to observe, and see wildlife as it is, unless human actions have caused the problem. My only caveat to that now is that some species are in danger through problems caused by mankinds activity, so if the numbers have dropped so drastictly through our actions, is it perhaps right to intervene to try to get numbers back up.

WS
On my recent trip to Kenya and the Mara, I was lucky enough to catch up with Malaika and her 4 cubs. They all looked to be in the best of health and doing very well. The cubs are now almost as big as mum but with the vestiges of the mantle still showing.
I have added a couple of photos but will be posting more plus a video on the members safari section when I start that post!!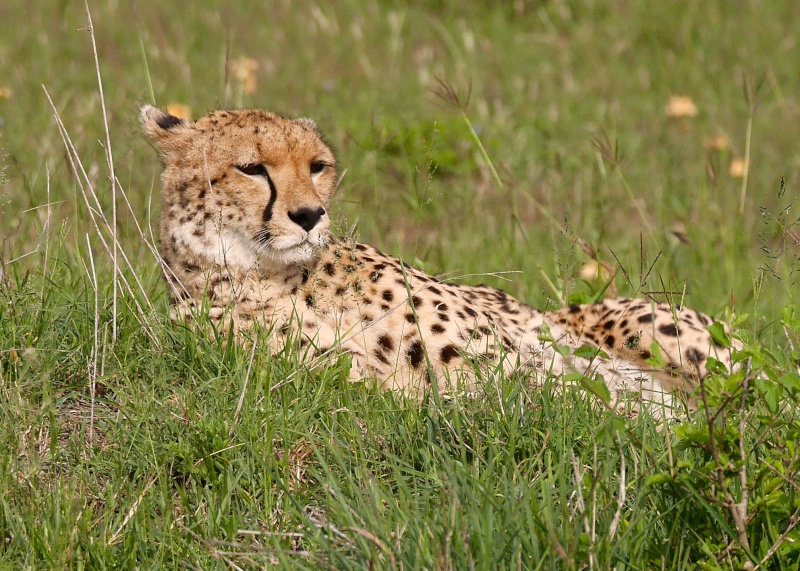 Malaika relaxing on a termite mound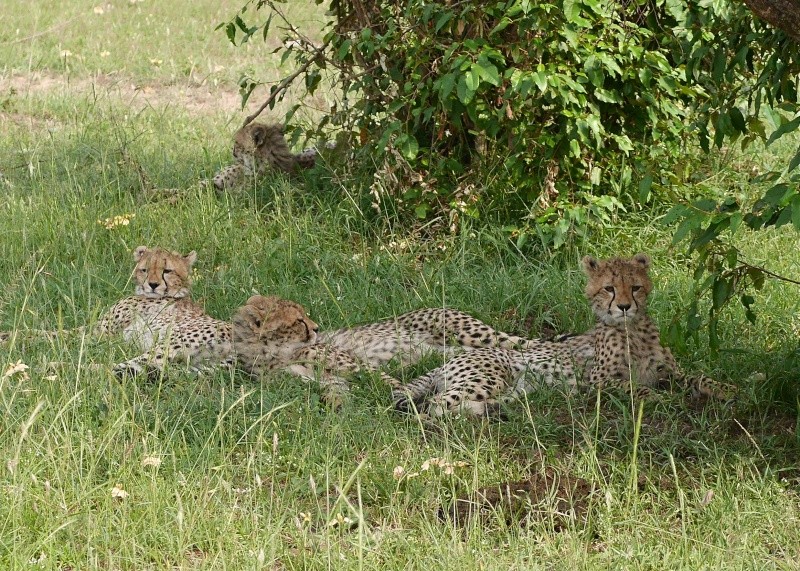 The 4 cubs relaxing in the shade
SM

Safariman




Posts

: 518


Join date

: 2012-06-27


Age

: 78


Location

: Buckinghamshire



Awww they are brilliant SM - they all look so chilled, relaxed and beautiful
 

She really has done a terrific job in bringing these little ones up, such a shame she lost that last one not long after we got back but to still have four at the age they are now is just fantastic

Doogs

Moderator




Posts

: 10734


Join date

: 2010-05-14


Age

: 52


Location

: Aberdeen



Thanks for the update, and photos of Malaika, and the Cubs SM lovely to know they are doing so wee, and she has done such a great job of keeping them safe up to now, lets hope she gets them through to independence
WS
Not sure if I should post this on here or my safari thread; however as it concerns Malaika I thought it would be best on this thread as a continuation.
I was lucky enough to meet up with Malaika and her 4 cubs (3 male, 1 female) again on my trip to the Mara in June. She has done a fantastic job in keeping them all safe and well as they must be now around a year old.
The video shows them all, mum included, having fun with a dead overturned tree trunk in the early morning. We spent some time watching them before they decided to chill out closer to our vehicle. After a while Malaika got up and headed towards our vehicle and then casually, using the spare wheels as support, climbed on to the roof!! She has been doing this for sometime and now the cubs are starting to follow her lead. To try and curb this behaviour the Reserve Authorities have decided to fine any guide KS10,000 (about £70-00) if they are caught with a cheetah on their vehicle!! After taking a couple of quick photos of my new best friend, David my guide started banging on the side of the vehicle to try and get her to come down; it took some time before rather reluctantly she jumped down and wandered off. There were a couple of other vehicles close by and as soon as Malaika had jumped onto our vehicle they quickly moved some distance away.
There have been a lot of often very ill informed comments on social media, probably from armchair critics, saying it should not be allowed and should be stopped. However it is easier said than done. None of the guides encourage the behaviour and if the cheetah did not feel comfortable, it would not do it. They realise that the vehicle and its content are not a threat and are not food and seem to enjoy using the mobile termite mounds as another toy to play with. The only way to stop it would be to ban any vehicle from being within 100 metres of a cheetah which would be impossible to do or alternatively, instead of fining the guides, fine the cheetah!!!
Cheetahs have been jumping on vehicles in the Mara and using them as lookout points for many years as was shown on  Big Cat Diary with Kike and Jonathan Scott!! Only a few do it but obviously cubs follow their mums, while the vast majority simply ignore the vehicles. It was a great experience resulting in some interesting "selfie" photos.





SM

Safariman




Posts

: 518


Join date

: 2012-06-27


Age

: 78


Location

: Buckinghamshire



for sharing Safariman, that was a lovely clip of Malaika and her cubs having fun. You are so right about armchairs critics! Cheetahs will do what cheetahs will do and if a vehicle is a vantage point so be it - Johnnie S was always having fun with Kike on BCD
Lai

Laikipia

Moderator




Posts

: 16153


Join date

: 2010-05-13


Age

: 62


Location

: Cheshire



Brilliant video SM, thanks Wow they have grown. A wild animal will only do what it wants to do, and I see no harm at all in them using vehicle roofs, they have been doing it for years, as we have seen with JS on BCD as Lai said, to them its just another vantage point a termite mound on wheels, and if it enhances their chance of spotting prey more to the good. Cheetahs need all the help they can get with the numbers so low. Thanks for sharing SM
WS
Page 2 of 2 •
1, 2
---
Permissions in this forum:
You
cannot
reply to topics in this forum