To start the New Year off and after much soul searching!!! I decided it was probably best to tell this tale in 3 parts.
This would avoid posting too many photos in one go and thus preventing viewers of this thread falling asleep through sensory overload and also to allow me time to remember what happened!! (At my age a necessity)
As on my previous visit to the Mara North Conservancy in June, I was staying at Piers Winkworth's Offbeat Camp and he very kindly provided me with the same brilliant guide and spotter, David and Kapeen. In June I only had one brief sighting of a leopard and that was at night, so on this visit David and Kapeen were anxious to make up for the omission of leopard photos from my photo gallery.
On the second morning of my stay, we set off early heading for Leopard Gorge. Although made famous by BCD, on my earlier visit I had been somewhat disappointed by Leopard Gorge. It is just a short single track with rocky outcrops either side leading to a dead end which necessitates a 3-pint turn to exit. It is not in the Masai Mara Reserve, being part of what is now the Mara North Conservancy and therefore can only be accessed by vehicles from the Mara North camps.Although giving the appearance of being ideal leopard territory, I think the chances of encountering a leopard there are quite slim. There are too many hyena around and lion are also frequent visitors which is not good news for leopards and their cubs. Our visit was fruitless (as were all my other visits) so we headed off to what David considered a more likely spot which was a heavily wooded area with dense thick undergrowth.
After several minutes of slowly driving around what appeared to me to be an impenetrable barrier, David suddenly stopped and he and Kapeen with broad smiles on their faces both pointed into the thicket and said "Leopard!!". "Where?' said I,not seeing anything. "There!!" they said again pointing into the dense mass of trees and foliage. It took a couple of minutes and a great deal of patience on their part to finally enable me to see what they were looking at. It was indeed a leopard, perfectly hidden and well camouflaged by the dense foliage relaxing on a branch leopard fashion.How they spotted it I do not know, to me it was invisible. David then spent the next half hour carefully moving the vehicle back and forth without disturbing her (she was a female) to try and enable me to get a clear shot of this beautiful apparition. Most of the time I was trying to shoot through thick foliage which made focusing the camera very much a hit or miss affair but with a lot of patience and David's driving skills the results turned out quite well. Luckily there were no other vehicles around to disturb us except for a short time just before we left when we were joined by the other Offbeat vehicle who we had radioed about our find.
For me it was a great morning's drive but a couple of days later it would get even better........to be cont.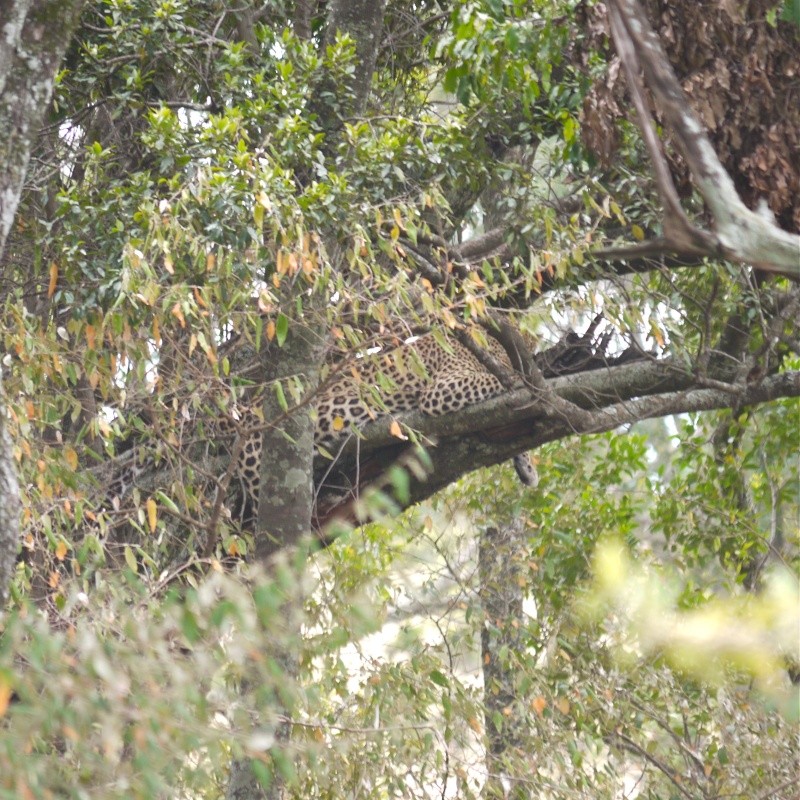 Spot the leopard? Our first sighting.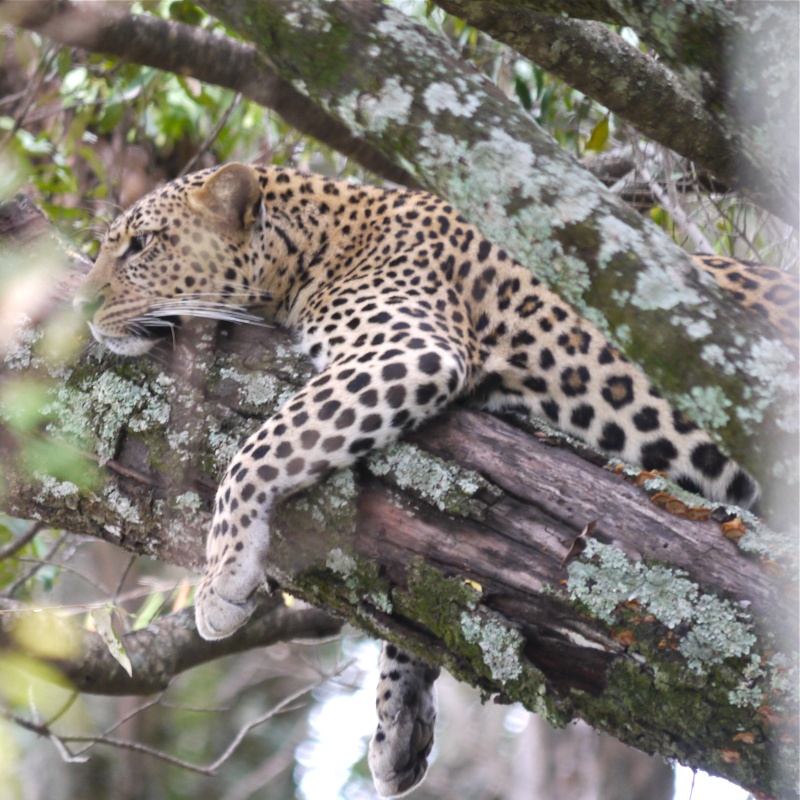 Safariman

Safariman




Posts

: 518


Join date

: 2012-06-27


Age

: 75


Location

: Buckinghamshire



You've surpassed yourself this time Safariman. I'm not surprised the Leopard was so hard to see. Doogs posted this link about how difficult it is to spot an animal in its natural habitat
https://wildaboutanimals.forumotion.net/t2087-spot-the-animal
and that first shot of yours proves it. Leopard Gorge brings back memories, according to Jonathan Scott, and others it was one of the favourite areas of Zawadi/ Shadow, I think the last time she was seen was in that area. Maybe Lions, and Hyenas have moved into there in the last year or so, I dont know. She's a beautiful Leopard Safariman, and as you say in typical Leopard pose. Your photos certainly do her justice, great shots, just got to wait for the next two parts. Then remember this bit, as you say at my age thats a necessity for me as well
Thanks Safariman
WS

_________________
If I can make somebody smile, my day has been worthwhile
What a beautiful leopard Safariman, and what sensational pictures you were able to take! Your leopard find must certainly have been worth the wait!
Thanks for the story also, and now we have more pics and stories to look forward to. Yay!



gregrowlerson




Posts

: 1733


Join date

: 2012-11-22


Age

: 38


Location

: Melbourne



Interesting what you've said about Leopard Gorge Safariman, I always imagined it would be better too !
Your story and pictures indicate just how good the guides/spotters can be at finding animals whilst on safari, it's sometimes amazing what they spot and where they spot it. Totally know the feeling of them telling you where the animal is and you still can't see it at first - they have very good eyes !!
Lovely pictures of this beautiful girl, I could look at leopards all day, especially like the last one you posted

That was lovely find so if the next installment is better I now can't wait to hear / see what happened in a couple of days time


Doogs

Moderator




Posts

: 10734


Join date

: 2010-05-14


Age

: 49


Location

: Aberdeen



Safariman, how could we ever get bored with your stories and photo's....never. Again we have been given a real treat, I love your build up to getting the photo's and they truely are wonderful and it is amazing how the trackers spot the Leopards as they are so brilliant at hiding themselves as your first picture shows. She really is a gorgeous Leopard and so worth the eye strain to see her and thn to finally capture those glorious pictures and I can't wait for the 2nd & 3rd installments

It must be lovely to go back and have the same guides as before and especially ones who are just so good at what they do. I know spotting wildlife can be unpredictable but having David & Kapeen must give some amount of assurity that you will get to see some magnificent sites.
I too was as surprised as WS about Leopard Gorge as in BCD it was the place that Saba really rated but it may just have been because it was Shadows hide out and I don't recall a mention of so many Hyena at that time and also on the TV it looked a fairly large area, goes to show that times change where animals make their home and also how deceptive somewhere can look on camera.
I hope you have now remembered part 2 for us Safariman
littlewid-x-
_________________
LOVE ALL WILDLIFE

littlewid

Admin




Posts

: 10464


Join date

: 2009-12-28


Location

: West Sussex



Safariman - loving part 1 and the photos .............. off to find part 2
Lai

ps I am determined to catch up with Piers and Kapeen on our next safari.

Laikipia

Moderator




Posts

: 16153


Join date

: 2010-05-13


Age

: 59


Location

: Cheshire




---
Permissions in this forum:
You
cannot
reply to topics in this forum