Photos of some of the other wildlife I came across on my trip to the Mara last Dec.
"Ha Ha Ha, good joke, now tell the one about the wildebeest that tried to cross the river"
Two overfed crocs. on the banks of the Mara River.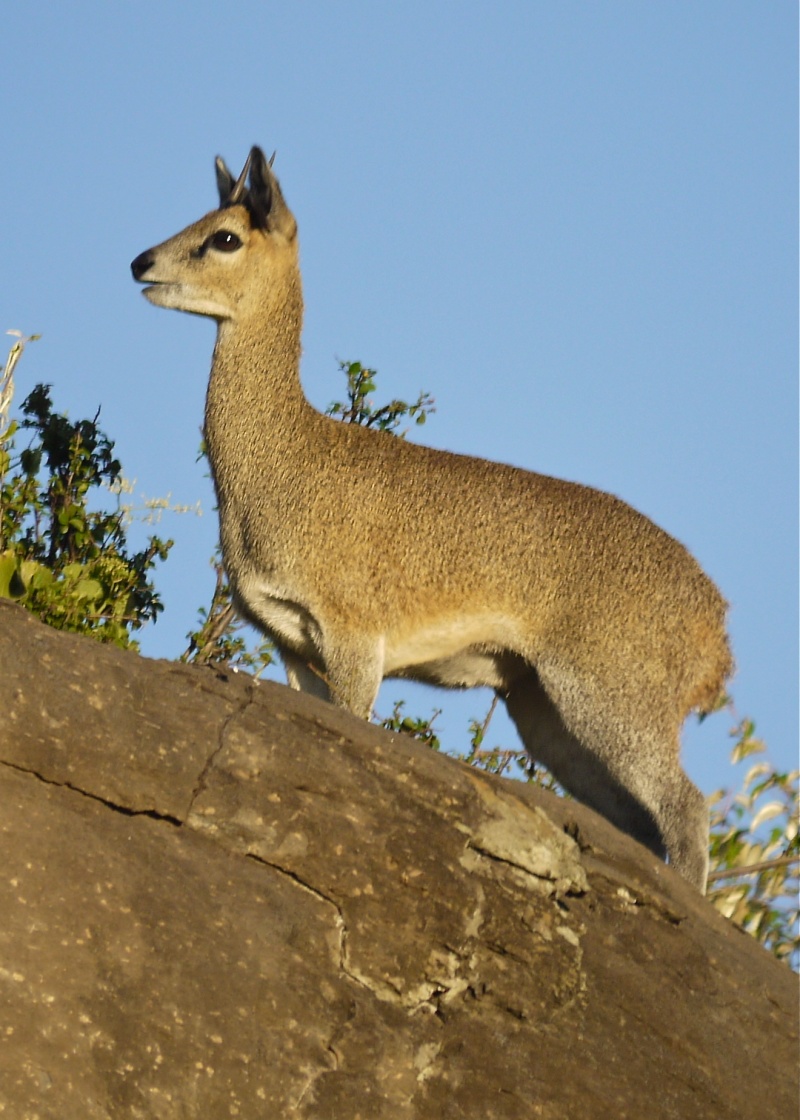 Male Klipspringer, an unusual sighting for the Mara as they are normally only found in very rocky areas.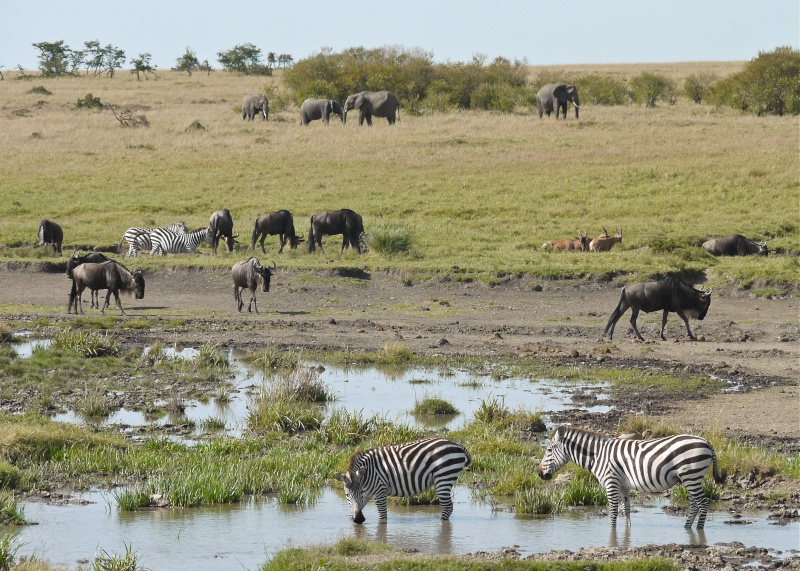 "At the waterhole" the amazing variety of wildlife that can be seen existing peacefully together.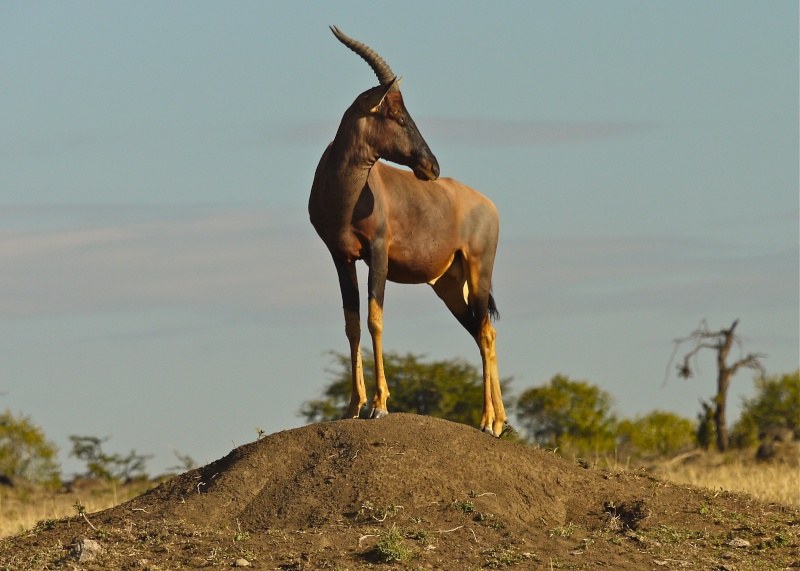 "Master of all he surveys", a topi antelope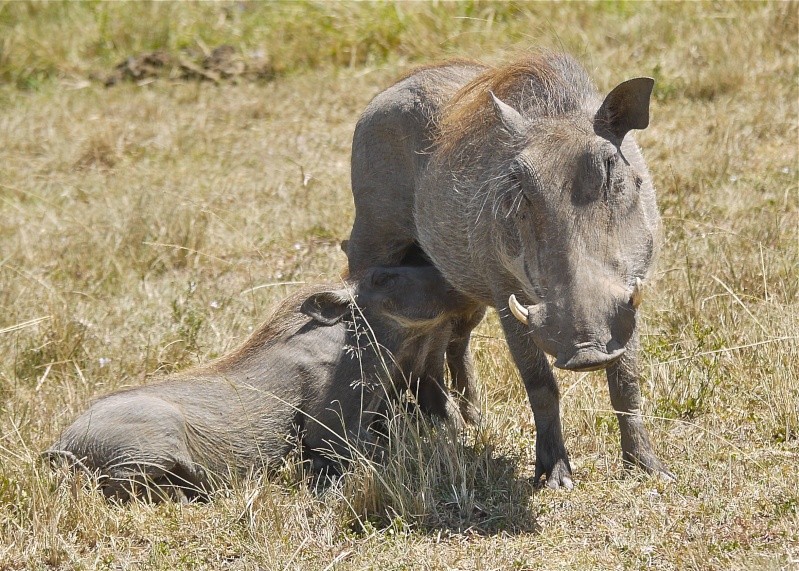 A warthog with a rather large youngster still suckling!!
The latest in hippo headwear. A green fascinator with matching earring which will be all the rage at Ascot this year!!
A spotted hyena with a guilty secret!!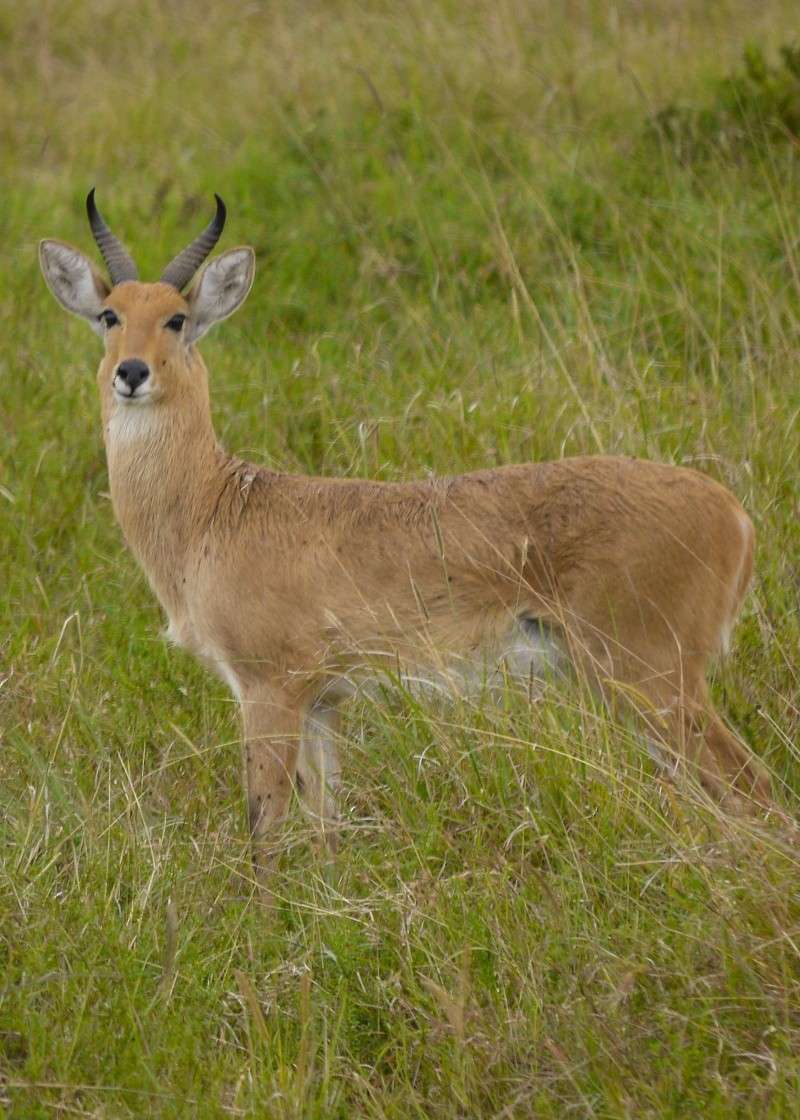 Bohor's Reedbuck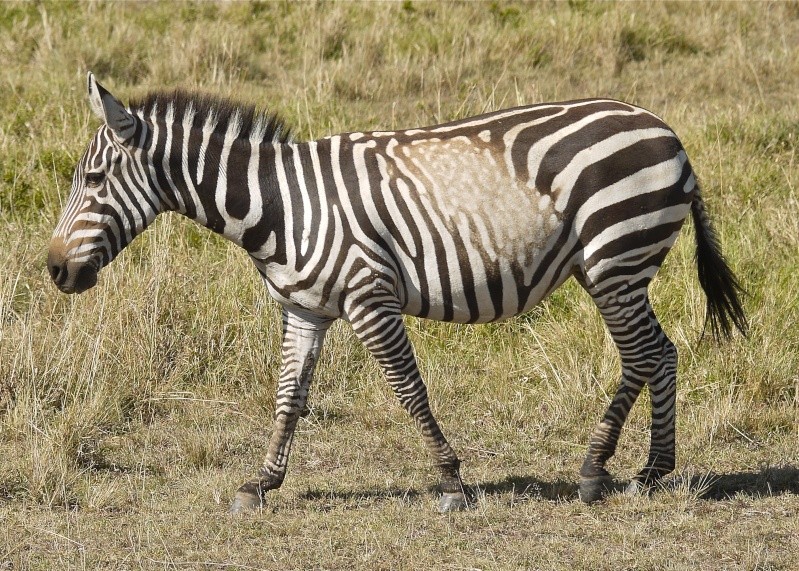 Always remember to read the label on your best clothes before putting them in the washing machine!!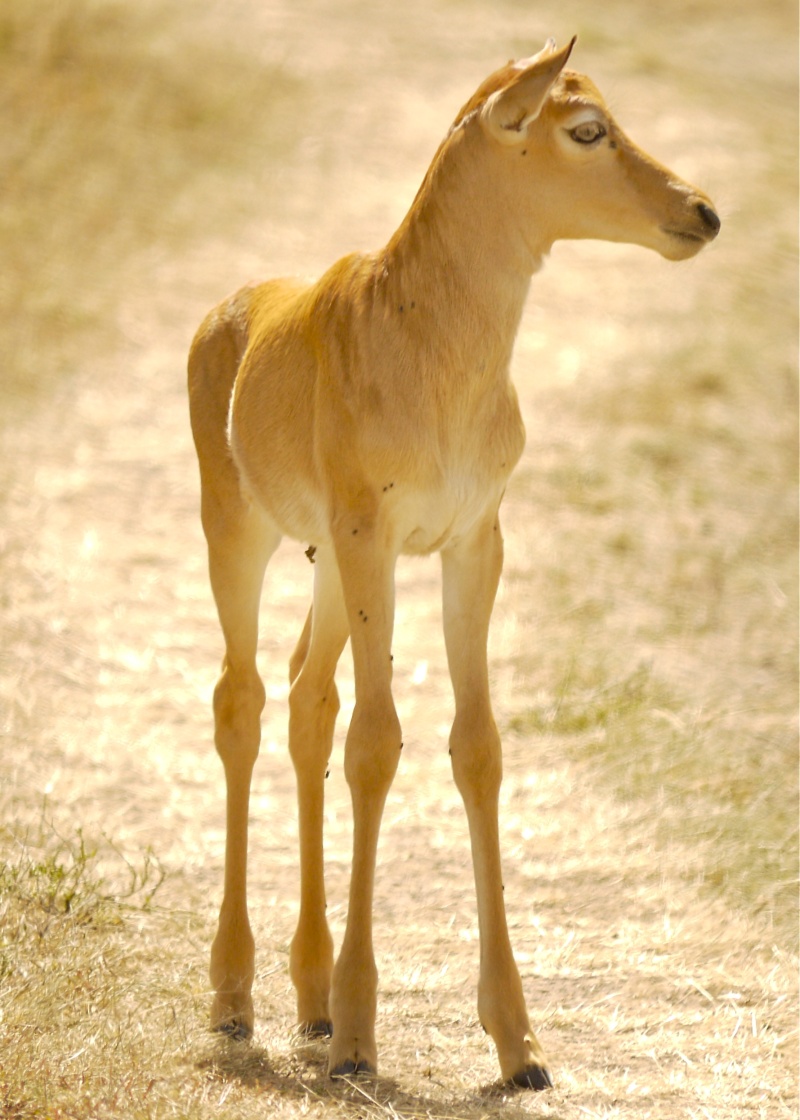 A brand new baby topi.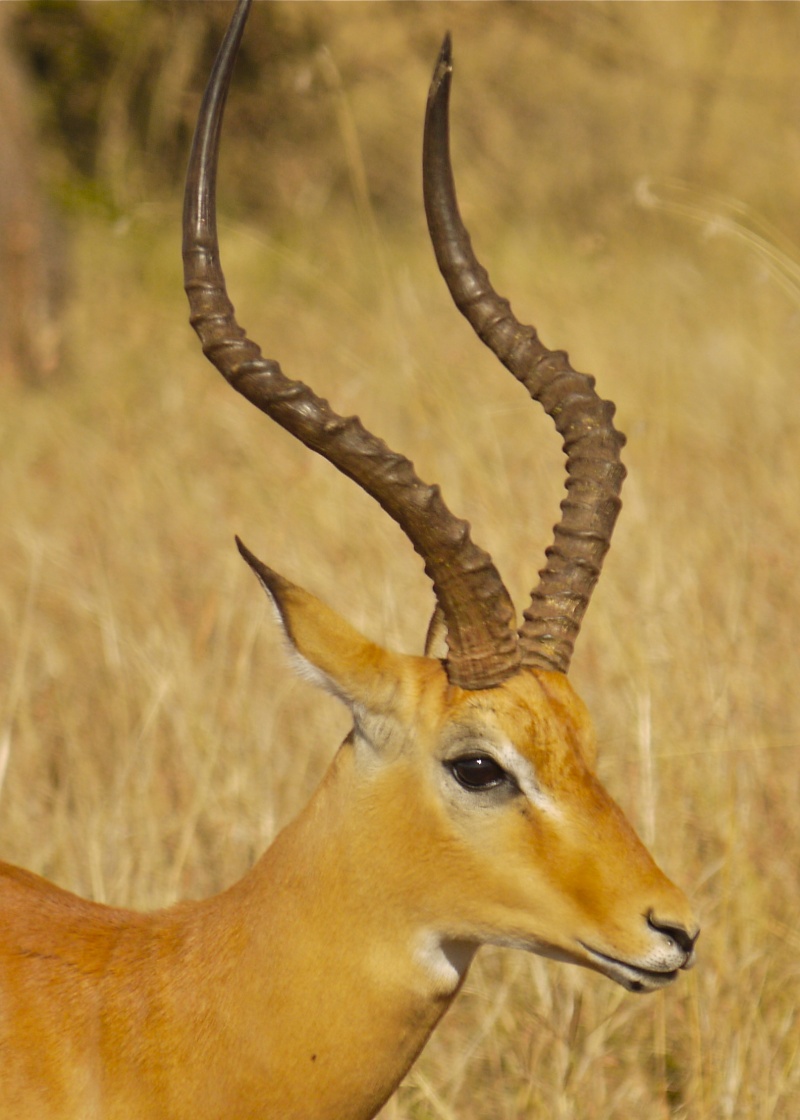 The magnificent horns of a male impala
A kongoni antelope
Safariman

Safariman




Posts

: 518


Join date

: 2012-06-27


Age

: 78


Location

: Buckinghamshire



Safariman and thanks for sharing your photos with some great comments as well.
The klipspringer surely is unusual for the Mara but how lovely to have seen one. I love Topi's with their amazing markings, such beautiful colours and so majestic looking standing on a mound. The hippo with it's hat is great and the hyena really does look as though it has a guilty secret!
Great selection and thanks. Another trip planned yet?
Lai

Laikipia

Moderator




Posts

: 16153


Join date

: 2010-05-13


Age

: 62


Location

: Cheshire



Brilliant again Safariman I just showed Mrs S the Hippo, and Croc pics and she
really great comments
. I also love the other photos of the Klipspringer, I did'nt know they were unusual in the Mara, and also the Topi.
Just noticed the Zebra, and thw washing machine comment. The Hyena is certainly guilty no trial needed.
Thanks Safariman you've really cheered us up today, and we needed it after our Cras head gasket blew, needed to smile, and you did it
WS
Thanks Lai, with the weather as it is I feel the need to get away now but it will have to wait until at least June. Not sure where, I can't make up my mind whether to return to Kenya and stay at either the Mara or Meru with Offbeat or try somewhere different. I have been thinking of returning to Zambia and possibly visiting the Lower Zambezi National Park, somewhere I have never been to. I have just heard that BA are adding another flight to Nairobi leaving on Sunday evening arriving Nairobi Monday morning; it gives another option now that Virgin no longer do the route.
WS the Klipsringer is the Afrikaans name for "Rock Jumper" and that is what it does. Its feet have been developed to allow it to stand on its toes similar to a ballet dancer on points and this helps it to balance on very rocky terrain. Its normal habitat is the high rocky cliffs and escarpments rather than the East African plains. The one I saw was close to camp in a fairly remote little visited valley and was something my guide David wanted me to see, so I was very lucky as the sightings are rare. I have posted a couple of pics of Klipspringers I saw in SA showing their specially developed feet and also their typical habitat.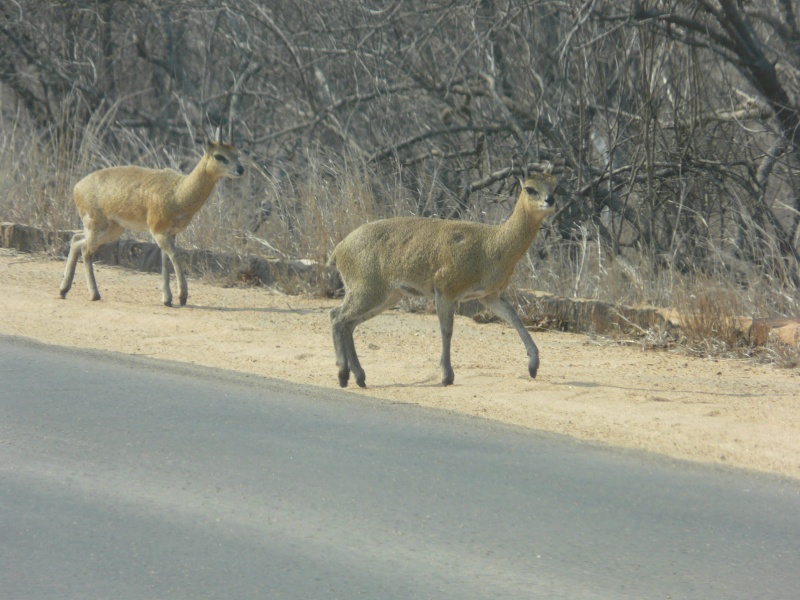 Safariman

Safariman




Posts

: 518


Join date

: 2012-06-27


Age

: 78


Location

: Buckinghamshire



It's wet and windy here today Safariman so those pictures are a joy to see. I especially love the Hippo pic and the comments are brilliant, that fascinator and earrings may catch on you never know......fashion has it's oddities! I think the Hyena's secret is out there for all to see very clearly
the Warthog is rather large to still be suckling, I wonder if that was mums only hog and thats why its still allowed to suckle? The Zebra, had he been lying in dust or something? if not thats very odd! The Klipspringer kind of reminds me of a Llama and it really does look like a Ballet dancer on point.
Great pics Safariman and sounds like you have a big decision as to where to go next
littlewid-x-

littlewid

Admin




Posts

: 10464


Join date

: 2009-12-28


Location

: West Sussex



A difficult decision Safariman. I love Kenya but sometimes feel I need to get out of my comfort zone of visiting there
Having said that we've been to Zambia twice now and really loved it, I think I love life along the river so much that it is a great place to visit. Only problem is BA don't fly daily.
Good to know about BA adding another flight , with Virgin dropping the Nairobi route it's a pain.
We're having a change next year and going to Namibia, as long as it's Africa I love it
Let us know when you decide
Lai

Laikipia

Moderator




Posts

: 16153


Join date

: 2010-05-13


Age

: 62


Location

: Cheshire



's aplenty Safariman!!! Your comments even manage to outdo the wonderful pictures. So very witty and
resultant! Croc, warthog and hippo commentary was terrific, but even bettered by the zebra for mine; such a marvellous observation, as it really does look like something went horribley wrong with its outfit in the wash!
Lai, a woman from my work went to Namibia last year and had a great time, even making a great booklet of photographs from her adventure with animals aplenty! And for me I remember seeing a little about the country and its landscape on an episode of Wildest Africa, and I'm sure you will have a great time. There is so much desert there, but yet still so many creatures survive and thrive. Will be a fascinating trip for you.

gregrowlerson




Posts

: 1733


Join date

: 2012-11-22


Age

: 41


Location

: Melbourne



What lovely, varied photos Safariman. That newborn Topi was just adorable
Also really liked your waterhole picture with the variety of animals therein.
Good to hear BA have added another flight to Nairobi, we are travelling with KLM this year for the first time so it will be interesting to see what they are like as we've never travelled with them before.

Doogs

Moderator




Posts

: 10734


Join date

: 2010-05-14


Age

: 52


Location

: Aberdeen



Thanks for the information on the Klipspringer Safariman, something else I've learnt on WAA. Your photos really show the foot construction, and as you say ballet like really tip toes.
WS
---
Permissions in this forum:
You
cannot
reply to topics in this forum