Laikipia

Moderator




Posts

: 16153


Join date

: 2010-05-13


Age

: 60


Location

: Cheshire



 WOW she looks sooooooo happy and settled there Lai but yes I must agree she does rather resemble a Dalmatian, what a spotty tummy, is that normal for greyhounds? Anyway, she looks delirious in that photo, such a huge smile and it is great to see her rolling around and having fun and being so settled now. 
That kind of seems like Rosies official Welcoming to the forum with her own thread so 
 to WAA Rosie   

littlewid-x-
_________________
LOVE ALL WILDLIFE

littlewid

Admin




Posts

: 10464


Join date

: 2009-12-28


Location

: West Sussex



Now that looks like one very happy Dog Lai, and well spotted about the Dalmatian connection
Rosie really deserves a WAA Frame Award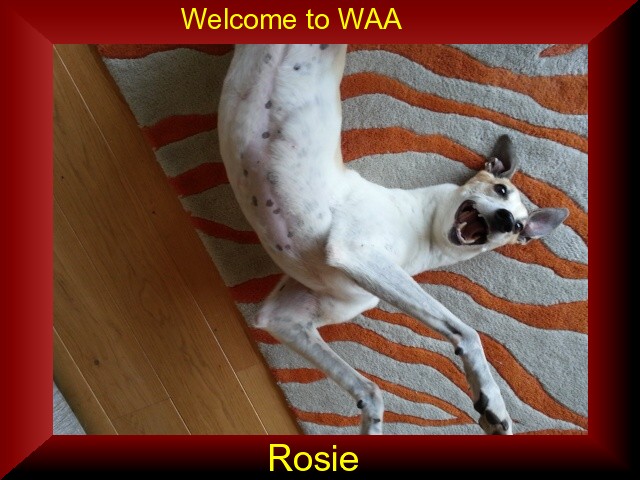 WS

_________________
If I can make somebody smile, my day has been worthwhile
 Littlewid and WS and I love the frame award, thank you - she looks pretty special in it WS.
I don't know where that spotty tummy comes from at all, Penny didn't have one, so I shall have to wait until Kip joins us to see what hers is like.
Lai

Laikipia

Moderator




Posts

: 16153


Join date

: 2010-05-13


Age

: 60


Location

: Cheshire



Brilliant Lai, she is adorable and looks well happy

Doogs

Moderator




Posts

: 10734


Join date

: 2010-05-14


Age

: 49


Location

: Aberdeen



 Doogs. She's a bid of a mad maggot to be honest, but very lovely. She suddenly gets the mads and nothing can stop her so it's best done outside but mostly starts inside and her feet go from under her like a cartoon character (wooden and stone floors don't help)
Having said that we absolutely love her to bits
Lai

Laikipia

Moderator




Posts

: 16153


Join date

: 2010-05-13


Age

: 60


Location

: Cheshire




I love it when dogs do that, Ali used to do it and Syd also does it, just makes you crease up laughing at them 


 
You are lucky to have her and she is very lucky to have you all

Doogs

Moderator




Posts

: 10734


Join date

: 2010-05-14


Age

: 49


Location

: Aberdeen



Thanks Doogs.  she is surely a special greyhound
Lai

Laikipia

Moderator




Posts

: 16153


Join date

: 2010-05-13


Age

: 60


Location

: Cheshire



Lovely new thread and pic Lai, and wonderful frame work WS :-)

I see a little of Bella in Rosies face and smile xo

gregrowlerson




Posts

: 1733


Join date

: 2012-11-22


Age

: 38


Location

: Melbourne



Thanks GR. I may try at some point to get a clip of her getting the mads but video and me just don't get along

Lai

Laikipia

Moderator




Posts

: 16153


Join date

: 2010-05-13


Age

: 60


Location

: Cheshire




---
Permissions in this forum:
You
cannot
reply to topics in this forum