At work we have a lovely pond, it's about half way up the main corridor and it's always a stopping point for visitors and staff as well. The attraction is we have a colony of Penguins that reside there and they are really entertaining, especially as they are fairly large Penguins and they take all the seasons very seriously and dress accordingly. For safety reasons you can't get out to them so we have to admire them through the glass doors and windows but they do love everyone to stop and say hello to them and the children especially love them.
As we are now in the height of Summer they have dressed suitably for the weather and they are having some fun. I managed to get these clips of them on my mobile today.
The Life savers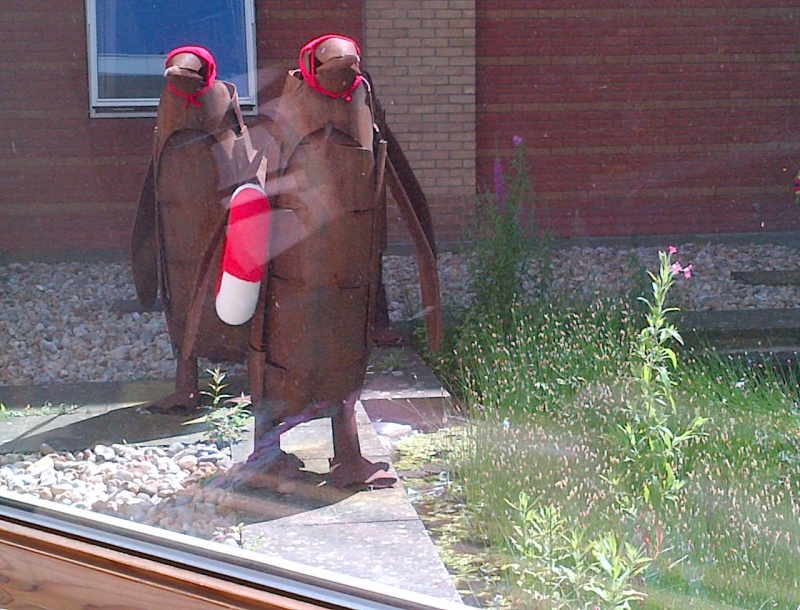 Fishing for Crabs while the rest of the girls catch up for a natter and admire each others sun hats and eat their ice creams
The Fisherman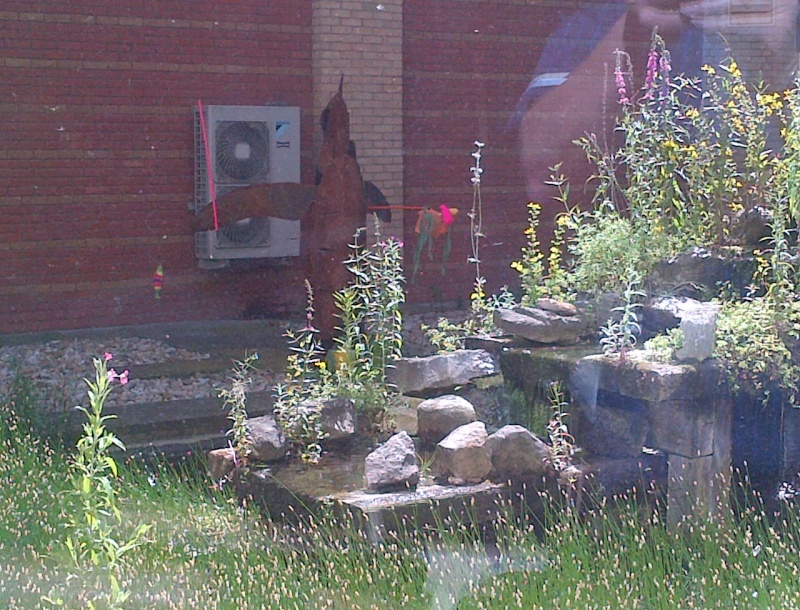 Time for a picnic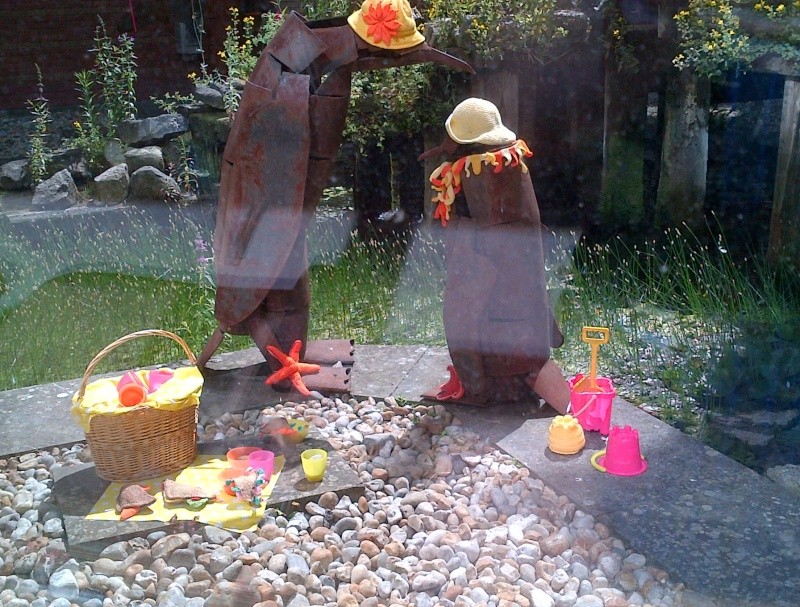 They seriously get up to all sorts this colony of Penguins, when it was snowing they all came dressed in their hats, scarfs, gloves and brought their sleds with them and one even had a go at skiing! they are always there to cheer you up and they are always getting up to something.
I reckon every hospital should have a large pond with fish and it's own colony of Penguins
littlewid-x-
_________________
LOVE ALL WILDLIFE

littlewid

Admin




Posts

: 10464


Join date

: 2009-12-28


Location

: West Sussex



 Thats fantastic LW, I bet the patients really enjoy seeing them, and it makes smile, and laugh. I bet it also makes them forget their problems for a little while, and helps them relax. What a brilliant idea, no wonder your Hospital got Foundation status. I think it deserves a WAA
 award
Thanks for posting them LW really made me smile tonight
WS

_________________
If I can make somebody smile, my day has been worthwhile
  and
  what a brilliant idea and such fun for everyone to see whilst visiting the hospital. I agree WS a WAA award for sure.
Thanks for taking the pics and sharing Littlewid.
Lai

Laikipia

Moderator




Posts

: 16153


Join date

: 2010-05-13


Age

: 60


Location

: Cheshire



Thanks WS & Lai.
Everyone really loves those Penguins and they do give so much fun and conversation and they are a real relaxer when visiting the hospital from the young to the elderly, it does take their minds off why they are there for a bit and it gives them a story to tell family and friends.
I do work in a lovely hospital and it has always been so very patient orientated, they definitely come first in our place and so it should be.
I wonder how they will be dressed next time............


littlewid-x-
_________________
LOVE ALL WILDLIFE

littlewid

Admin




Posts

: 10464


Join date

: 2009-12-28


Location

: West Sussex



  can't wait to find out Littlewid. How often do they change them? Someone has a great sense of fun and adventure and definitely deserves a huge
  for thinking of the idea.
Lai

Laikipia

Moderator




Posts

: 16153


Join date

: 2010-05-13


Age

: 60


Location

: Cheshire



It depends whats going on either in the news or the weather Lai or if its Christmas, Easter etc but I reckon if this weather lasts they may be like that for a few weeks yet. Next time they change I will take some more photos of what our Penguins are up too
littlewid-x-
_________________
LOVE ALL WILDLIFE

littlewid

Admin




Posts

: 10464


Join date

: 2009-12-28


Location

: West Sussex



That would be brilliant Littlewid, and thanks we'll all really look forward to the penguins and what they are up to.

Lai

Laikipia

Moderator




Posts

: 16153


Join date

: 2010-05-13


Age

: 60


Location

: Cheshire



I will definitely be on Penguin watch Lai
littlewid-x-
_________________
LOVE ALL WILDLIFE

littlewid

Admin




Posts

: 10464


Join date

: 2009-12-28


Location

: West Sussex




 - thanks Littlewid
Lai

Laikipia

Moderator




Posts

: 16153


Join date

: 2010-05-13


Age

: 60


Location

: Cheshire




---
Permissions in this forum:
You
cannot
reply to topics in this forum