Tuesday 5th November 2013 - PM
We arrived from Nairobi mid-morning to the Olkiombo Airstrip in the Mara where Vincent picked us up, it was good to see him again.  The camp is literally 1 minute from the airstrip so not far to go.  After our welcome we were allocated our Family Tent, wow.   It was 3 different tents all joined together, one for mum & dad with a double bed, one in the middle with chairs/settees for lounging about and one for me which had 2 x single beds
  It was huge but perfect for our set up, we were together but I had my own space/privacy.  Lunch was at 12.30pm then we headed out on our first drive at 3.30pm.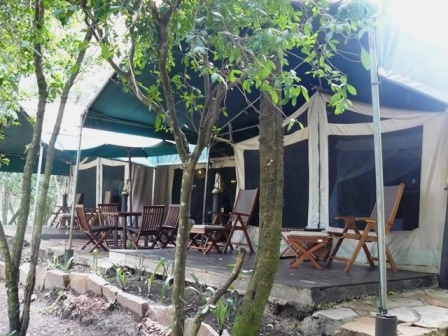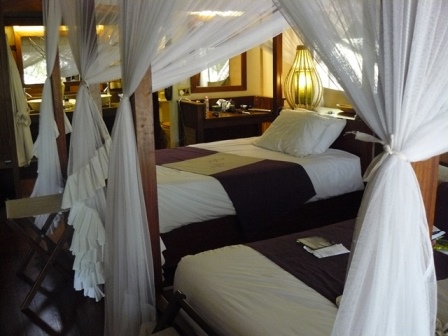 This was our first time at the Mara in November and we were pleasantly surprised at the amount of zebra & wildebeest that were still about, it really was lovely to see.  Reading reports on our return it would appear that there was more of them than usual so we were very lucky.  On a daily basis I kept a note of what we saw when we were out over and above the frequently seen Thomson Gazelle, Impala, Zebra, Wildebeest, Topi with lots of young (this is the time of year for them), Hartebeest (again a lot with young), Eland and Warthog, which are in abundance throughout  the plains.

That afternoon we saw a family of elephants who were grazing both down at the water's edge and also up on the plains they had a couple of little ones in the group.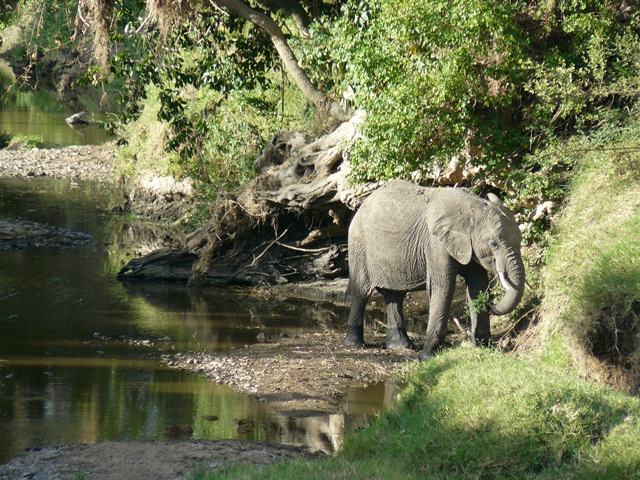 Late in the afternoon we came across a couple of mating lions and another male who we believe belonged to the Ridge Pride, we came across these lions on a number of occasions throughout the week.  We stayed with lone male for a while and you can clearly see the difference in light between the two photos.  We were treated to him calling on the rest of his Pride, a male lion calling right in front of you is such a wonderful sound.

Doogs

Moderator




Posts

: 10734


Join date

: 2010-05-14


Age

: 52


Location

: Aberdeen



 Doogs that looks like a great setup no wonder you enjoyed it, and also your Mum & Dad, it's good that you were all together, but also had your own space's at the same time. Lovely to see the Elles with the little ones, and so quick after your arrival. Now the male Lion that's a big
 for me, that must have been fantastic to just sit there, and hear him roaring. I still remember watching BCL at 1-00am in the morning, and there was a close up of a Male just roaring, and roaring, it made the hair on the back of my neck stand up, and just looking at your photo did it again.
Thanks for putting that on Doogs, but do'nt stay up till gone midnight to do it, you'll be getting over tired
WS
WS it was totally amazing just sitting watch that boy calling out, it's a sound that goes right through you but in a lovely way
 and yes it really does make the hairs on the back of your neck stand up
 

The time ran away with me last night . . . . promise I'll be earlier tonight

Doogs

Moderator




Posts

: 10734


Join date

: 2010-05-14


Age

: 52


Location

: Aberdeen



  wow Doogs your family tent looks very plush, they certainly give you style dont they and make you very comfortable, it all looks very inviting.
Brilliant that you saw so many animals and that they were there in abundance, you obviously arrived at the right time. That male lion is spectacular and I would love to hear a male lion roar in the wild and not just on tele, it must bea fantastic experience. One thing though, the side on picture of him, he looks as if he has a bump on his side, it looks like an old wound,is that the case do you know or is it just a bump on his skin?
Also seeing two lions mating
 wasnt it you who had seen lions mating before as well?
Sounds as if your first day was really animal packed and a great start to your safari.
Thanks so much for stopping up and posting but WS is right, dont stay up and tire yourself out
littlewid-x-

littlewid

Admin




Posts

: 10464


Join date

: 2009-12-28


Location

: West Sussex



Pleased to see you have got started on your posts, it is always difficult to take the plunge and decide which photos to post particularly when you have taken so many. I am never sure which photos people might like and which they might not as all the photos are very special to you but not necessarily to others!!
The tent looks great, more and more camps seem to be developing family tents so that family can stay together especially if there are children who might be a little scared of the night sounds. As you say the Mara was teeming with game and the migration is still continuing even now. Lovely photos of the male roaring, they certainly make you sit up and take notice when they start.
Looking forward to the rest of your diary as and when you have time to post.

SM

Safariman




Posts

: 518


Join date

: 2012-06-27


Age

: 78


Location

: Buckinghamshire



  Doogs, lovely to read about the start of your safari and to see your wonderful photos. Family tents are a great idea, strangely Pete and I shared with Ali once at Rekero and it was the same set up  
I'm so pleased you've started ...........................  
  and really look forward to more.
Thanks for sharing.
Lai

Laikipia

Moderator




Posts

: 16153


Join date

: 2010-05-13


Age

: 62


Location

: Cheshire



Great to see that you've started your holiday postings Doogs. I will endeavour to do a proper catch up when I have time.
Elephant and lion pics are looking wonderfully crystal clear; dare I say that they're almost at a Safariman snappy level?  
GR  

gregrowlerson




Posts

: 1733


Join date

: 2012-11-22


Age

: 41


Location

: Melbourne



Similar topics
---
Permissions in this forum:
You
cannot
reply to topics in this forum