Due to the camp being so busy we were joined in the jeep by a couple (Dan & Lauren) who were on their honeymoon, they would be with us until the end of their morning drive on the Friday.  I will admit we were not too happy at first as we've never had to share with anyone else but they were a lovely couple, we all got on well and thankfully they 'got' what a safari is about – some people think it's like a zoo and expect to see a different animal every 5 minutes or so !!
Saw our lions from the night before in the same spot.  Not far from them a Ridge Pride lioness had two cubs stored in a den across the river bank.  They looked to be about 6 weeks old, I got one picture of them but it wasn't great they were tucked in well and were not keen to come out to play.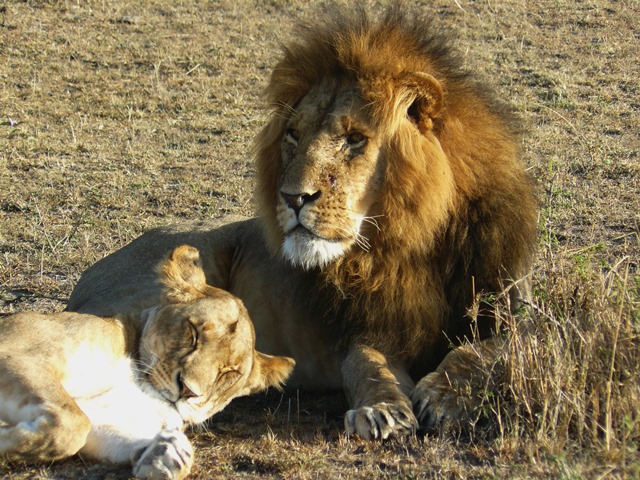 We saw another family of elephants this time with a few little ones, they were very cute.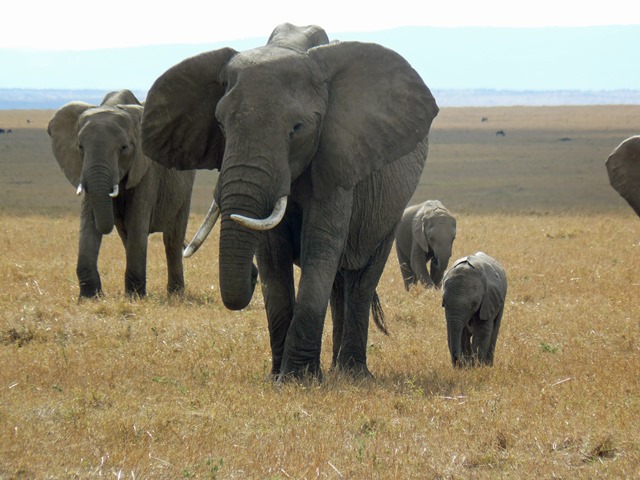 After that the majority of our morning was spent with cheetah mum Alama and her two cubs who are about 9/10 months old (male and female I believe).  We watched as they stalked a warthog but were unsuccessful in making a kill when they finally went for it.  We followed them for a while and got some nice shots when they stopped to drink from a pool of water.  It was also lovely to watch the two siblings playing together.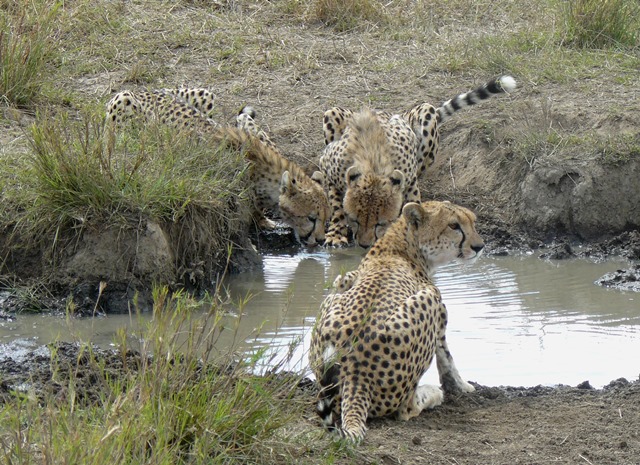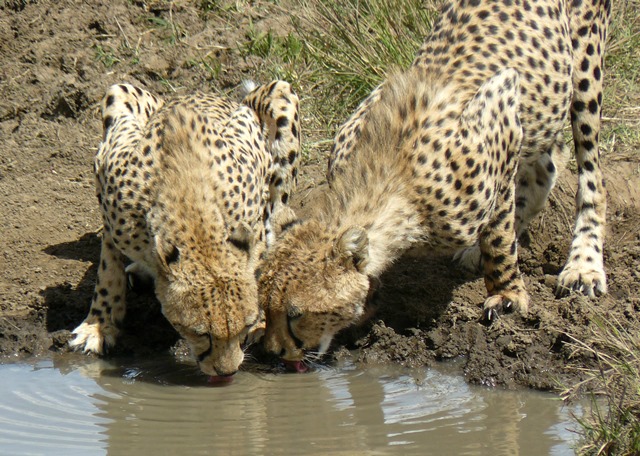 Doogs

Moderator




Posts

: 10734


Join date

: 2010-05-14


Age

: 52


Location

: Aberdeen



  loving the male lion and lioness picture Doogs, she looks so settled by him doesnt she, its a truely touching picture. He has a little wound on his face doesnt he, it looks as if its healing well but to me it definitely looks like a wound. Is he the only adult male in that pride do you know?
That little baby ele is just so gorgeous, its a fantastic picture, you must be really pleased with it. It must be wonderful to see a family of elephants, there is just something so magical about them.
Your photos of the cheetah family are spectacular, especially the last one, it looks as if you were sitting right in front of them, its beautiful.
Shame you couldnt get a clear picture of the younger lion cubs but at 6 weeks old very sensible of mum to keep them quite well hidden, better to be safe than sorry.
It must be odd to have to share your jeep and guide with a couple you dont know and didnt expect to have along for the ride but great that you all got along ok and that they understood being on safari meant you see what you see and not what you always expect to see. I am sure with you and your mum and dads experience of going on Safari you all made it more exciting for them.
Looks like day 2 was another great day for you. Thanks for sharing.
littlewid-x-

littlewid

Admin




Posts

: 10464


Join date

: 2009-12-28


Location

: West Sussex



Some more great photos Doogs. I also saw lions mating, must be that time of year!! I managed to get some photos but not sure if I should post them on WAA as I would not want to offend anybody but the pics are quite tasteful!! You managed to get some really good photos of the cheetahs drinking, I am always trying to get shots of the big cats when they are drinking especially if you can get their reflections in the water but I am rarely successful.
I did not see many elephants as it would seem that a lot of them had disappeared to try and find food as the Mara was so dry and barren.
Keep the photos coming.

SM

Safariman




Posts

: 518


Join date

: 2012-06-27


Age

: 78


Location

: Buckinghamshire



Now I have to be honest here, we saw this 'couple' on a number of occasions throughout our trip but when we were in their company they never actually 'got it on' - mostly I must say due to the fact that the lioness was
 She does call the shots in these matters as to when and where the action happens, perhaps they were at the latter stage of mating when they don't do it so frequently.  Some of the best 'mating' shots I ever got were on our very first trip back in 2006, taken in Samburu - this sequence of shots shows you just how things change in the mating world of lions !!!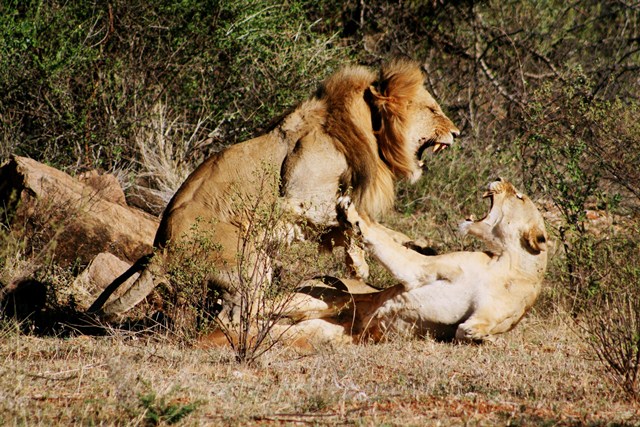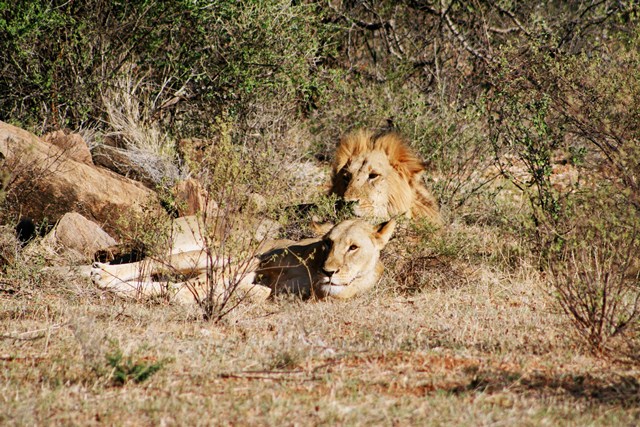 Thank you for your comments SM
  Oooh your mating lions sound very intriguing SM, go for it, post them !!!  There are a couple of my cheetah shots that have quite good reflections, I also like to try and get any big cats drinking as it's quite unusual.  Strange that you didn't see many eles
 

LW, they do look good together don't they
   Yes he did have a scar on his side and also on his face, I presume it's just part and parcel of being a male lion - mating can be very rough so perhaps our lioness biffed him at one point !!
   I don't know exactly how many lions are within The Ridge Pride but there are a large number of them and he was usually not far away from another lion so that's two older males at least.   Little eles are just so adorable, their little trunks incredibly cute

Doogs

Moderator




Posts

: 10734


Join date

: 2010-05-14


Age

: 52


Location

: Aberdeen



 Doogs those are some gorgeous shots and the first one shows what power and ferocity both the Male and Females have, very
 and you are right, doesnt the mating ritual and body language change, its fascinating.
As there were two older males you saw, I wonder if he is the dominant one and yes maybe he was biffed by the lioness!
Safariman you should post your mating pics, I dont think they would offend anyone, so dont worry about it.
littlewid-x-

littlewid

Admin




Posts

: 10464


Join date

: 2009-12-28


Location

: West Sussex



 Doogs wonderful shots, of the Male, and Lioness in the first just relaxing together. Then the ones of a Male, and Female mating it's amazing how the Female truns , and snarls after each copulation, then they do it all over again. Lovely to see the Elephants with their young, and I love the Cheetah photos, it must be really difficult to get the photos with reflections especially in daylight. I've managed to get quiye a few good ones on the web cam at Petes Pond at night tome when the moons out, but the lighting is entirely different in daylight.
Safariman by all means put your mating photos on, this is a wildlife site, and all your showing is what animals do naturaly. That sort of thing is educational, and can be seen at any Zoo, Wildlife Park, or even in fileds in the Countryside as people, and family's drive round, so no problem.
Thanks for the photos, Doogs, and commentary
WS
  Doogs.  More wonderful photos and some lovely cheetahs, eles and lions especially.  I'm glad sharing the vehicle was okay, you never can tell I imagine and have to hope you are all on the same wavelength!
Lai

Laikipia

Moderator




Posts

: 16153


Join date

: 2010-05-13


Age

: 62


Location

: Cheshire



"some people think it's like a zoo and expect to see a different animal every 5 minutes or so !!"
I can imagine myself being like a boy travelling in the backseat of the car with the regular "Are we there yet?" pestering with my patented "Where are the leopards?" every five minutes  
Especially liking those cheetah pics Doogs. As Safariman said, the photo of them drinking is a superb snapshot  

gregrowlerson




Posts

: 1733


Join date

: 2012-11-22


Age

: 41


Location

: Melbourne



Similar topics
---
Permissions in this forum:
You
cannot
reply to topics in this forum