Page 2 of 2 •

1, 2

A good idea Safariman but I love to wander about with my sundowner and so we have to pick a safe ish area

The only animal that stops me from my sundowner is a leopard - and that being my favourite big cat is worth the sacrifice

Lai

Laikipia

Moderator




Posts

: 16153


Join date

: 2010-05-13


Age

: 59


Location

: Cheshire



A few miscellaneous photos from our 3 nights at Ekorian's Mugie
Jackson's Hartebeest (Kongoni) - camera shy and endangered in the late afternoon
A lovely ele late afternoon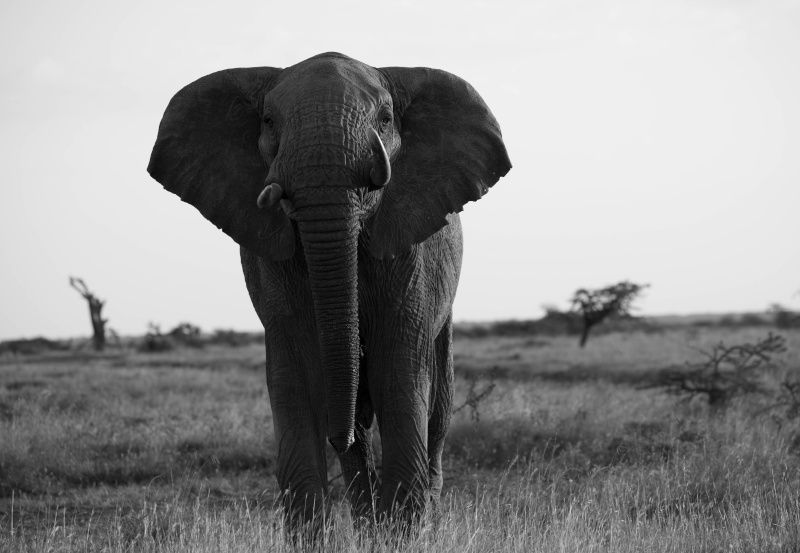 I have no idea about butterflies but this one was so beautiful in the garden at Ekorian's Mugie
In the garden a Lilac Breasted Roller was coming in to land - I tried each morning to get them in flight but never succeeded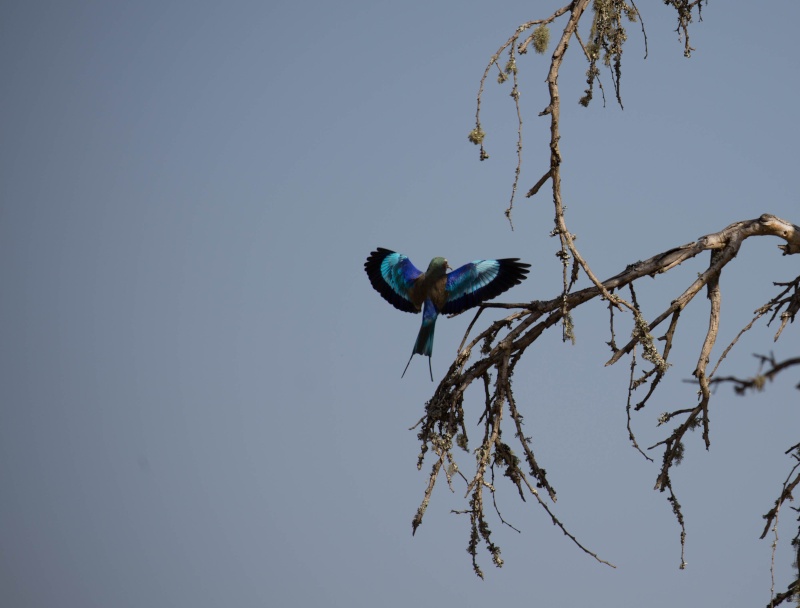 Still one of my favourite birds - Lilac Breasted Roller sitting in the tree in the garden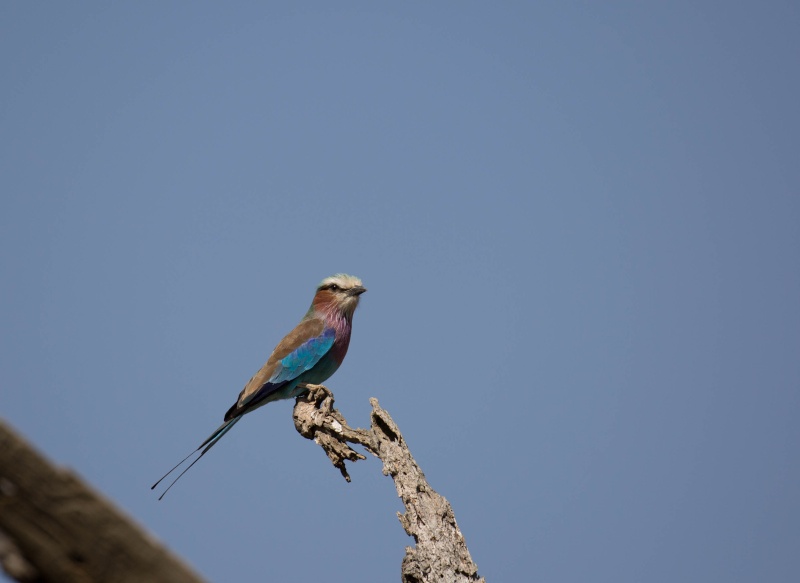 Rock Agama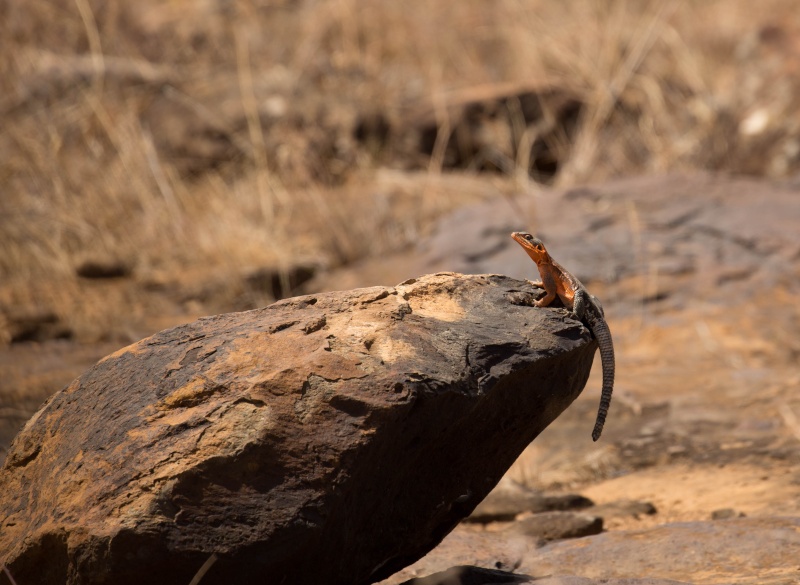 I can't resist showing another of the lioness yawning  

And for a change in black and white - ending her yawn
That's all for now - onto Sarara Camp next ....

Lai

Laikipia

Moderator




Posts

: 16153


Join date

: 2010-05-13


Age

: 59


Location

: Cheshire



as usual wonderful photos, videos and stories Lai. Ekorian's Mugie's Camp sounds lovely and like SM I've never heard of The Mugie Sanctuary so thanks for all the information about there.

Amazing amount of lions that are there which is great for the tourists being able to see them easily enough. Great pictures, the cubs faces are adorable, glad to hear nothing came of that lioness's and the male stalking the other pride. For the light fading you managed to capture some great shots



Lovely to watch the videos of lion cubs playing, you can literally sit for hours watching them and never get bored it's an amazing thing to witness 'live' !

Love the other photos you have also posted, great capture of the Roller

and that Butterfly is just beautiful, lovely clear image.



Doogs

Moderator




Posts

: 10734


Join date

: 2010-05-14


Age

: 49


Location

: Aberdeen



Thanks Doogs, glad you enjoyed them all and I so agree watching lion cubs playing is as good as it gets

Lai

Laikipia

Moderator




Posts

: 16153


Join date

: 2010-05-13


Age

: 59


Location

: Cheshire



Finally we moved to Sarara, our favourite camp of all up in Namunyak conservancy.  Namunyak means 'Blessed' in Samburu and it is a beautiful place with an abundance of wildlife.  This year the rains had failed so the whole area is very dry which means everything comes to camp to visit their waterhole.  
I thought I would start with wild dogs - Sarara is the only place I have ever seen them and so it was with huge enjoyment that outside our tent, number 4, early two mornings running that we saw them.  We'd decided to breakfast in camp and to enjoy tea and biscuits sitting outside our tent.  Tent 4 has it's own little waterhole and as Sarara is so dry everything passes through on it's way to the larger waterhole in front of the camp.  I got up before sunrise and found the buff family lying outside some in the water and some just chilling, they moved off and then the wild dogs visited, followed by the eles and of course the warthogs.  The bird life is stunning and we really got into birding with our wonderful Samburu guide Robert who is an excellent birder

Pete was asleep in bed when he got a large whisper from me 'dogs quick'  he leapt up but missed them and so did I with the camera but I saw them, happily they came back after 20 minutes and we both saw them.  We only saw 3 but they are probably denning up the hill behind our tent which is so exciting.  Day 2 same thing, Pete sleeping me up at sunrise, cameras ready and sitting watching the world go by when a rustle in the bushes and 2 dik dik come flying passed with a dog in hot pursuit - no chance of a photo as they shot passed but again 'Pete dog in pursuit of dik dik' Pete gets up and there is nothing to see  

 but after 20 minutes or so all 3 dogs return looking hot after the chase and come to the waterhole where they are very relaxed and not at all bothered by us watching them from our verandah.  They sauntered off after about 10 minutes.
Needless to we were so lucky, no one else saw them as Tent 4 is the end tent so we felt really privileged and of course can't wait to return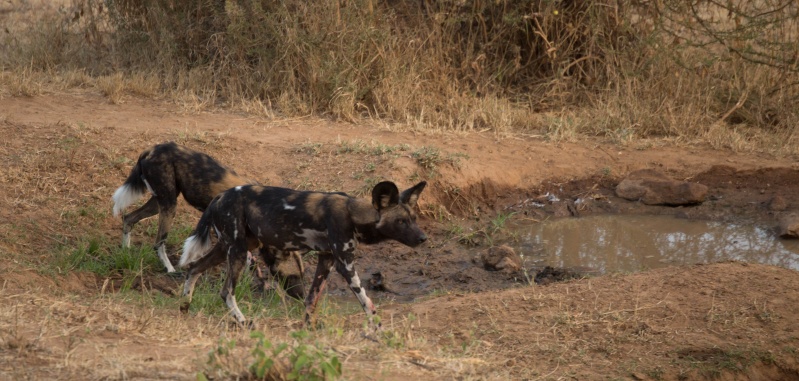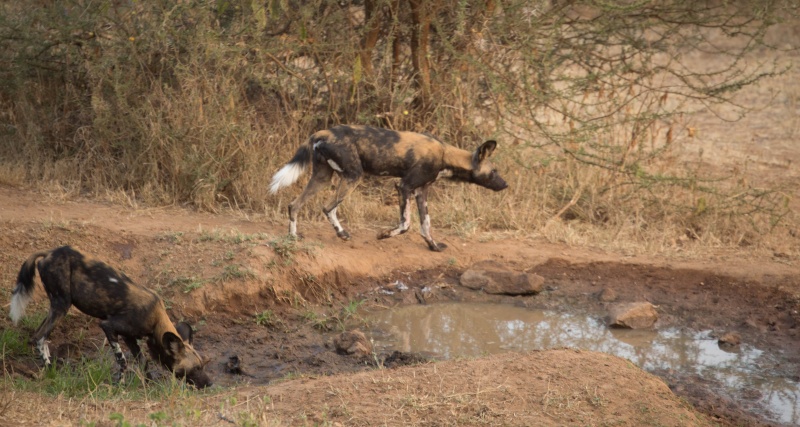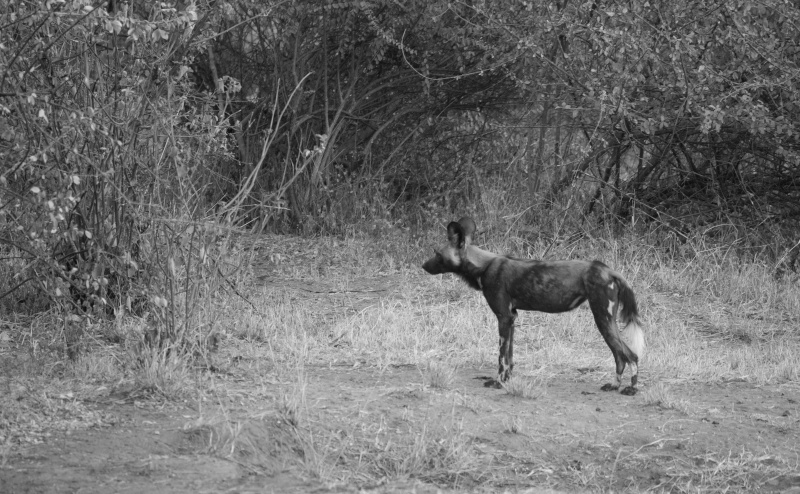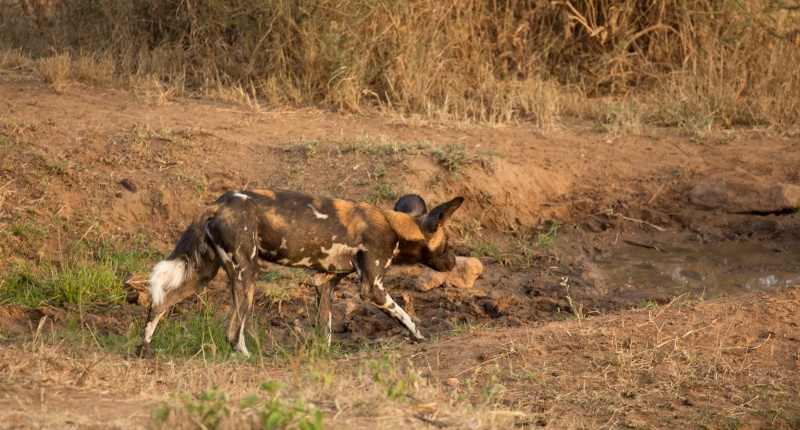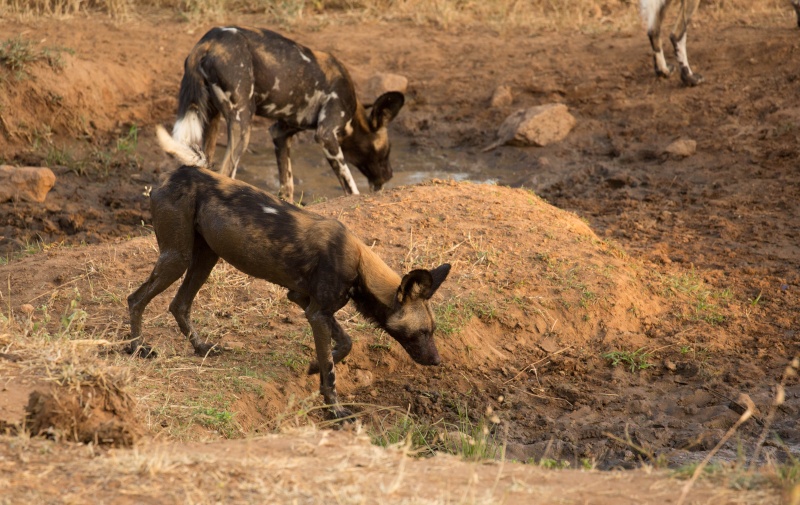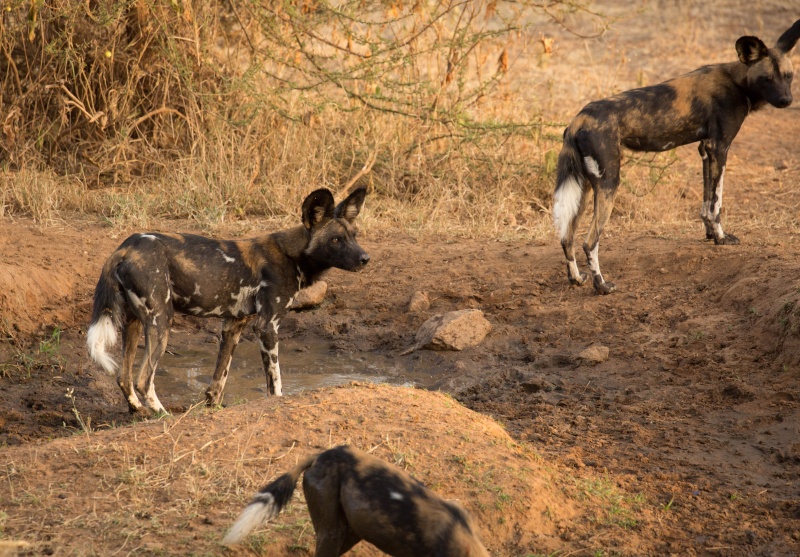 Ooops I got a bit carried away with photos

but they have the most beautiful markings.
Lai

Laikipia

Moderator




Posts

: 16153


Join date

: 2010-05-13


Age

: 59


Location

: Cheshire



Enjoyed your Mugie misc. photos Lai. As with birds, I find butterflies very difficult to photograph and identify. I do not have macro lens which is really essential for all the insects plus I don.t like having to change lenses on a game drive due to the dust that is everywhere. LBRs always look at their best against a blue sky and trying to get a photo of one in flight is always a hit and miss affair and with me it is generally miss!!
Sarara is obviously a great place to see wild dogs and to be able to see them from your tent must have been very special. They are the one mammal I have yet to see in the wild and the chances of doing so in the Mara are very slim.
As with your other posts everything looks very dry and one only hopes that the April/May rains don't fail as well. Its great for the guests that everything has to come to the camps waterhole to drink but lack of rain means lack of food for the grazers and browsers with a knock on effect for the predators.

SM

Safariman




Posts

: 518


Join date

: 2012-06-27


Age

: 75


Location

: Buckinghamshire



Thanks Safariman.  I don't have a macro lens either, it's not something that has ever really appealed to me so I just use what I have.  Happily I invested in 2 identical camera bodies so seldom change lens out in the bush, as you say the dust is just everywhere.  

For the last 4 years we've visited Sarara, and twice it has been green ish and twice it has been very dry.  Fingers crossed the next rains happen and everywhere revives itself, as you say it is essential.  Sarara has no lions but plenty of leopards and some cheetah although we have never seen cheetah there.  The terrain is not ideal but they do exist.

They have the singing wells there so the cows, goats and sheep are always able to get water.  The wells this year were 2 or 3 men deep so not as bad as it can get.  Having watched them you have to admire their strength and ability to bring water up to the surface for all their livestock.

Lai

Laikipia

Moderator




Posts

: 16153


Join date

: 2010-05-13


Age

: 59


Location

: Cheshire



Don't you just love the lion yawning shots, and the LBRs are lovely to see, always very difficult to get a good shot of birds in flight but they are a good effort Lai. How fantastic it must be to stay in tent 4 with all that wildlife going by, and what a bonus to see the wild dogs. I would have had to stay up all night just to get the chance of a glimpse of them, they are wonderful animals. Thanks for sharing them with us Lai

WS

_________________
If I can make somebody smile, my day has been worthwhile
A pleasure WS. I am a light sleeper anyway so I could hear the buff outside and of course the birds are always singing away. As for the night sounds

they are fanatastic, especially the hyena.
More Sarara bits and pieces later on in the week

Lai

Laikipia

Moderator




Posts

: 16153


Join date

: 2010-05-13


Age

: 59


Location

: Cheshire



How fantastic you got to the those Wild Dogs and your shots of them are great. Even more fantastic you were the only ones to see them, very very special

That definitely sounds like you got the best tent in the camp there



Namunyak was the name given to that lioness a few years ago that kept 'mothering' the baby Oryx's

Doogs

Moderator




Posts

: 10734


Join date

: 2010-05-14


Age

: 49


Location

: Aberdeen



Aha, that's interesting Doogs, I didn't remember or didn't know that

Lai

Laikipia

Moderator




Posts

: 16153


Join date

: 2010-05-13


Age

: 59


Location

: Cheshire



Page 2 of 2 •

1, 2

---
Permissions in this forum:
You
cannot
reply to topics in this forum