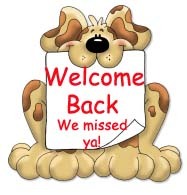 Doogs
Hoping you had the best ever time on safari and looking forward to all your news and photos.
Lai

Laikipia

Moderator




Posts

: 16153


Join date

: 2010-05-13


Age

: 57


Location

: Cheshire




Doogs
Hope you had the greatest time. Cant wait to hear how it went, and to see your pics
WS

_________________
If I can make somebody smile, my day has been worthwhile
Wooooo woooo I'm back !!!!!
Thanks so much to you both for the lovely messages it's not great to be back from the Mara

but I am glad that the flights are over and done with for another year !!! I always give a huge sigh of relief when the wheels touch the ground and my flying time is over

Got home late morning so I thought I'd pop on and say hello and make sure I caught up with Lai before she leaves
Lots and lots of phots taken, about 1,000 I think so it's going to take a wee while to get them downloaded and sorted but I'll do it as soon as I can.
Doogs

Last edited by Doogs on Thu Sep 15, 2011 5:24 pm; edited 1 time in total

Doogs

Moderator




Posts

: 10734


Join date

: 2010-05-14


Age

: 47


Location

: Aberdeen



WELCOME BACK DOOGS
It's great to have you back and I hope you've had a brilliant time. 1,000 photo's
can't wait to see them but I bet you need a bit of chill out time. Looking forward to all the news when you are ready.
Good to have you back.
littlewid-x-
_________________
LOVE ALL WILDLIFE

littlewid

Admin




Posts

: 10464


Join date

: 2009-12-28


Location

: West Sussex



LW, had such a fantastic time. It's going to be an early night tonight as I think I've slept about and hour & a half since we left Nairobi at 9.15pm last night (our time) so looking forward to our own
tonight and a good sleep :)
It's great to be back on here and I'll have to spend some time looking at what's been happening since I've been away.
Doogs


Doogs

Moderator




Posts

: 10734


Join date

: 2010-05-14


Age

: 47


Location

: Aberdeen



1000 + photos. Way to go Doogs. I'll be doing the same.
Have a good sleep

catch up soon.
Lai

Laikipia

Moderator




Posts

: 16153


Join date

: 2010-05-13


Age

: 57


Location

: Cheshire



oooh I missed this Welcome Back and looking forward to all the photos.

SM

Safari Maiden




Posts

: 3392


Join date

: 2010-05-05


Age

: 47


Location

: Midlands



---
Permissions in this forum:
You
cannot
reply to topics in this forum