Page 5 of 5 •

1, 2, 3, 4, 5
What a final, we loved it and as you say Littlewid spent £££s voting - my mum for Kimberley and Pete (on my behalf) for Louis. All from our phone so it was getting very confusing. Then my mum switched to Louis
Louis and Flavia' showdance was simply superb and they so deserved to win. Considering how he started he was just brilliant.
I am sorry for James and Denise but their showdance didn't do it for me, clever but not dancing.
We all felt it was 100% the right result.
Yaaaaaaaaaaaaaaaaay for Littlewid's Louis

(and my choice as well despite being a huge fan of Dani and Vincent smurf).
So now what do we do for the next 9 months ?

Lai

Laikipia

Moderator




Posts

: 16153


Join date

: 2010-05-13


Age

: 57


Location

: Cheshire



I am still smiling from last nights result Lai and well done your mum for switching to Louis
I wished I had recorded it last night so I could watch Louis all over again, I will have to watch Iplayer or search the net for a video of it.
I wasn't struck on Denises show dance either, yes very brave lifts but thats all it was about, the lifts, there was one after another and not much if any dancing, it didn't pay to go that way did it.
It was a shame that the two lovable little Smurfs got knocked out of the final three but I think they did well, I too liked Dani & Vincent.
Kimberley was also very good but no-one could beat my Louis


Mmmmm yes we now have to wait another 9 months but at least we do have the Christmas Day Special and we are both going to the Strictly show Lai

Still smiling over Louis






littlewid-x-
_________________
LOVE ALL WILDLIFE

littlewid

Admin




Posts

: 10464


Join date

: 2009-12-28


Location

: West Sussex



Littlewid. I must try and watch breakfast tv on Monday I am sure Louis and Flavia will be on it.
I wish I had thought of recording it too - def one to watch again, that showdance was ace and tops for me.
Lai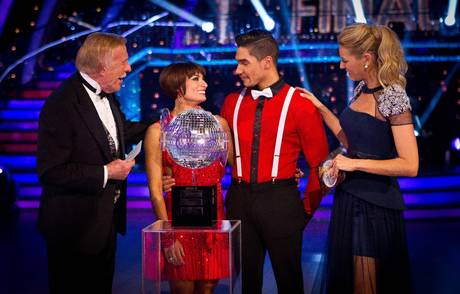 Laikipia

Moderator




Posts

: 16153


Join date

: 2010-05-13


Age

: 57


Location

: Cheshire



Page 5 of 5 •

1, 2, 3, 4, 5
---
Permissions in this forum:
You
cannot
reply to topics in this forum