Okay so it was the worst storm to hit Iceland in 25 years.  The airport closed, all the roads closed and it follows that the skies weren't crystal clear.  Having said that it wasn't icy cold, although I was wearing long johns under my ski pants and 5 layers on my top half

A few photos from our trip.  As I said landscape is certainly different to wildlife but we had an instructor who tried to explain the whys and wherefores.  
A very beautiful sunset at 4.40pm.  
Taken at 1.50am it was very dark and no artificial light - this is as close as I got to the Northern Lights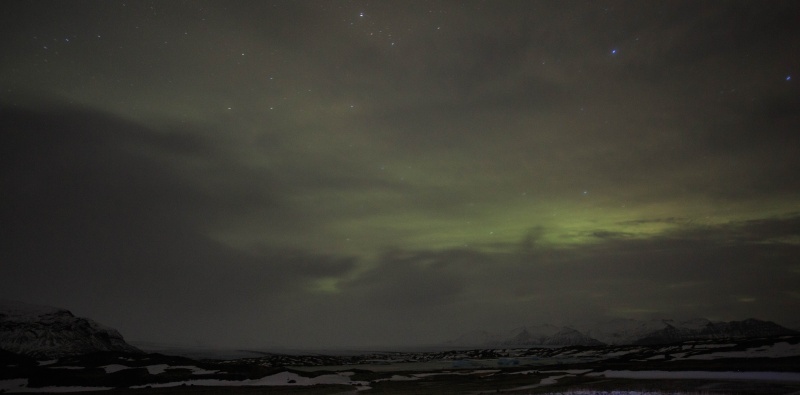 An artistic iceberg - well my interpretation!
I couldn't run in and get close enough to this beautiful blue iceberg as those waves were fast and sometimes furious and I didn't have wellies on
The 'bergs' and ice really were this amazing colour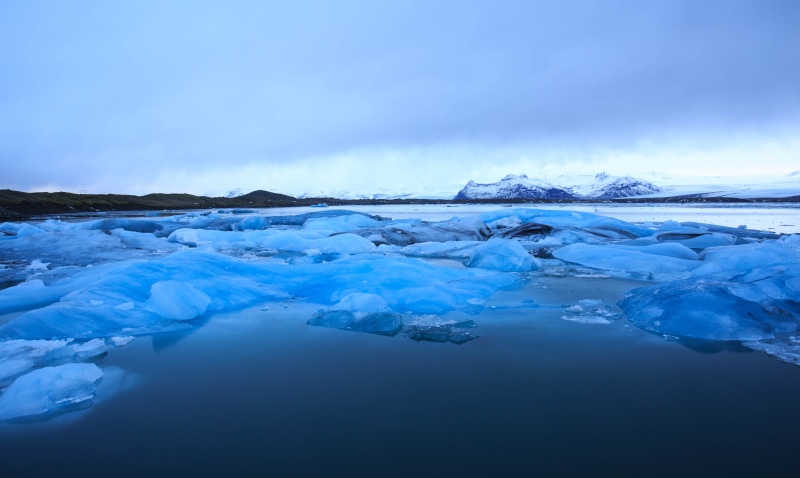 That's it folks

Lai

Laikipia

Moderator




Posts

: 16153


Join date

: 2010-05-13


Age

: 58


Location

: Cheshire



Lovely set of photos Lai, I love the colours particularly the blue of the iceberg and surrounding sea. Shame about the weather as I am sure it would have been fun to experience and record all the amazing sites of Iceland.
It's good to try a different challenge in photography and learn new techniques. I have become so used to wildlife photography that I am sure when I go to India in Feb. I will have to try and think differently. I will mainly be concentrating on architectural and street photography so a completely new challenge. I am not sure yet what equipment to take as I don't want to be bogged down carrying heavy gear when I am doing my wandering around.
For you it will be back to normal when you go to Tanzania. Which part are you going to?

SM



Safariman




Posts

: 518


Join date

: 2012-06-27


Age

: 74


Location

: Buckinghamshire



Thanks Safariman, I agree another trip to Iceland or similar will have to happen in the future, we still want to see and photograph the Lights.
India will be great and so colourful - do you have a wide angle lens?  I would guess less is more for wandering around

We are going to Kimondo Camp, Lamai, in the Serengeti and Namiri Plains Camp which is in the remote Eastern corner of the Serengeti - more than that I don't know!
We are really looking forward to discovering a new country and a new area.
Lai

Laikipia

Moderator




Posts

: 16153


Join date

: 2010-05-13


Age

: 58


Location

: Cheshire



Love those shots Lai, I find them very dramatic, and you can really sense the brooding nature of those first two sky shots, and the sea, and berg shot are fantastic showing the swirl of the sea around the bergs. Don't blame you for not going I think you would have needed a bit more than a pair of wellies

Looking at that last shot you do like your extremes of tempretures from Egypt to Iceland, and now Tanzania
WS

_________________
If I can make somebody smile, my day has been worthwhile
Thanks WS. You are so right, we do seem to go from one extreme to the other

Funnily the itinerary for Taz just arrived today and I am already thinking of

and
Lai

Laikipia

Moderator




Posts

: 16153


Join date

: 2010-05-13


Age

: 58


Location

: Cheshire



For not getting to see much of Iceland you still did pretty well, considering those shots. It must have been heavenly to have experienced such a beautiful red sunset, and that blue of the bergs is just as beautiful.
Confirms still further of just how magical a country Iceland is.
May you have much better weather in Tanzania though!

GR

gregrowlerson




Posts

: 1733


Join date

: 2012-11-22


Age

: 37


Location

: Melbourne



Thanks G
R
Taz should be

but often there's
but who cares when your watching the wildlife and hopefully a
or two
Lai


Laikipia

Moderator




Posts

: 16153


Join date

: 2010-05-13


Age

: 58


Location

: Cheshire



The weather and skies may not have been what you were expecting Lai but to me those are some stunning photo's. The colour of the icebergs and water is amazing, it looks as though the colours have been enhanced, its beautiful and I love your artistic take on the iceberg and swirling water.
The sunset is so rich isn't it, that must have been so spectacular to actually see. Someone who has now left work saw the Northern lights and he took quite a few photo's, they were really good but he said they didn't capture the true experience of seeing them.
Anyway I loved seeing those and iceland is not a place I have been to.
Thanks for sharing and sorry for being so late on commenting on them.

littlewid-x-
_________________
LOVE ALL WILDLIFE

littlewid

Admin




Posts

: 10464


Join date

: 2009-12-28


Location

: West Sussex



Littlewid, glad you enjoyed the photos. I'm sure seeing the lights is an amazing experience and one we'll look forward to one day

but I bet that's right to be there and enjoy rather than trying to capture in photographs is far more magical.
Lai

Laikipia

Moderator




Posts

: 16153


Join date

: 2010-05-13


Age

: 58


Location

: Cheshire




---
Permissions in this forum:
You
cannot
reply to topics in this forum