Sometimes it is interesting to get away from colour and revert to the old fashioned black and white or monochrome as it is now popularly called. With modern digital cameras, most can give you the option of shooting in monochrome just by making adjustments in the menu and even the most basic photo editing software allows the user to convert colour images to black and white. However not all subjects work as monochrome images and you have to careful how you use it.
Lai showed what can be done with some of her lovely monochrome images of the white horses of the Camargue. There needs to be plenty of contrast and if possible a fairly plain background. The contrast of the white horses and the sparkling water work well together. Monochrome allows the viewer to concentrate on the image without worrying about competing colours and you suddenly become aware of a lot more detail in the image which is why if possible you do not want the distraction of a "busy" background.
I have included here some of the photos I took on my recent visit to the Masai Mara to try and show how monochrome can work.A lot of subjects just did not seem to work very well in black and white possibly because there was not enough contrast or the prevailing light was very flat and even. The images seem to work best in bright sunshine giving an almost harsh light. I think the photos of the Cape buffalo bull work well because it was covered in wet mud and the bright sunlight seemed to make it sparkle and create a myriad of differing textures. I was quite surprised how difficult it was to get a good image of zebras which I thought with their basic black and white colouring should have been easy!! And landscapes again need a big contrast between sky and foreground to create a dramatic effect.
Its fun to try and with digital you can always delete the image or revert to colour and no harm is done!!!! Photography should always be about trying something different, pushing the boundaries and not being constrained by what we think a photo should look like. You will never find out unless you try!!!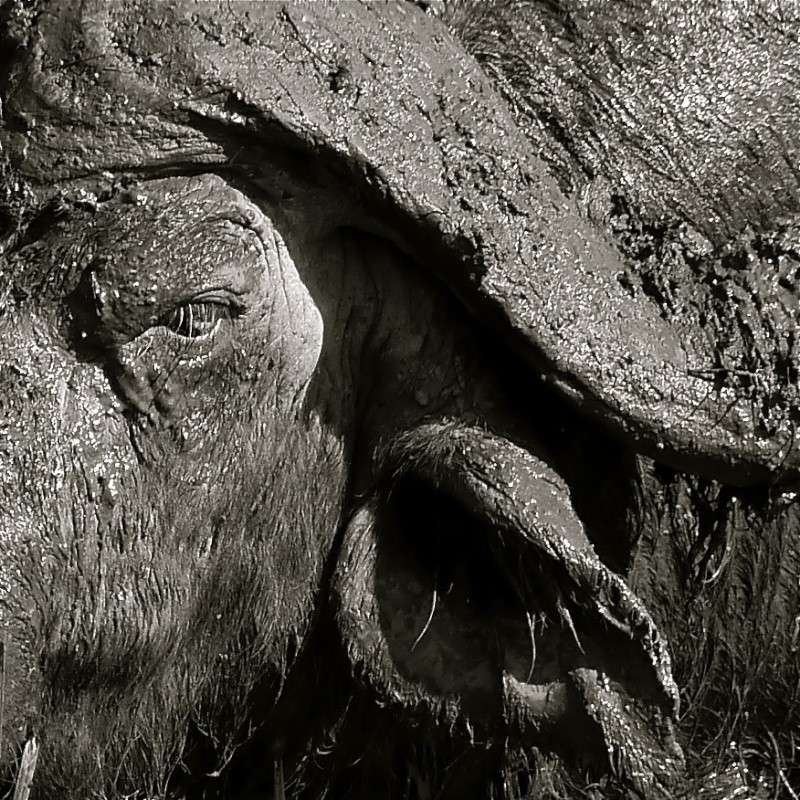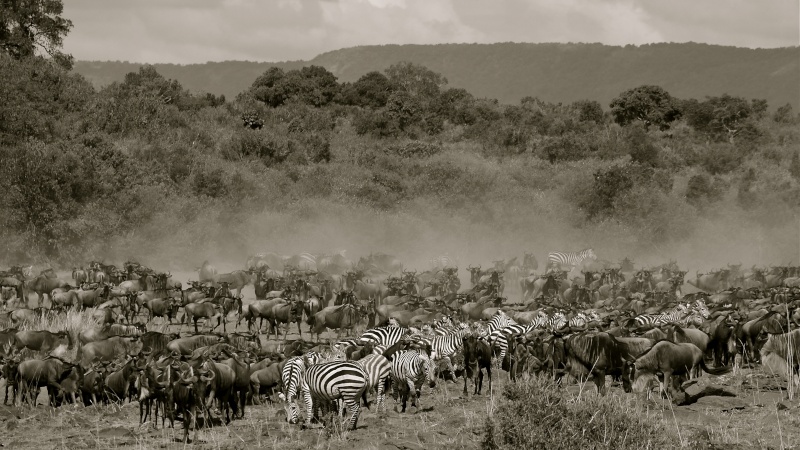 SM

Safariman




Posts

: 518


Join date

: 2012-06-27


Age

: 75


Location

: Buckinghamshire



I am a real fan of B&W photos as I think they are more dramatic than colour a lot of the time but as you rightly point out Safariman, the subject and the light has to be right to add depth to the picture.
I am loving the fkrst picture of the buffalo, the shards of light around the eye show just how well monochrome works. Again with the second picture, the patches of light on his horn, ear and eye make for a rather dramatic picture. Lovi g the grass hanging off his horn!
The ele trunk is spectacular and may have been lost in colour, its wonderful. The third buffalo picture is so alive, you feel as though you could touch the mud, that really works in B&W.
I actually like the giraffe too, he has an almost 3d effect about him. I do like the zebra pictures and I think they stand out more in the second one amongst the dark wildie boys.
Thanks so much for those Safariman, experimenting in B&W is so worth it, it often completely changes your photo.

littlewid-x-
_________________
LOVE ALL WILDLIFE

littlewid

Admin




Posts

: 10464


Join date

: 2009-12-28


Location

: West Sussex



  Safariman, a great selection of black and white photos, and you are so right and put it in words so well, some subjects look better than others for sure.
I loving experimenting and really enjoyed your choices for b & w - and in particular I love those zebra.
Thanks for sharing Safariman.
Lai

Laikipia

Moderator




Posts

: 16153


Join date

: 2010-05-13


Age

: 59


Location

: Cheshire



Your right Safariman, I very often play around with my Photos, trying different effects, adjusting exposure, ect. I that that a photo editor is just part of a photographers tools. The Buffalo looks brilliant, it really highlights so much detail, and I love the other shots

WS

_________________
If I can make somebody smile, my day has been worthwhile

Laikipia

Moderator




Posts

: 16153


Join date

: 2010-05-13


Age

: 59


Location

: Cheshire



Thanks Lai. It would seem that everyone is 'into' black and white. Some great photos from Angie.

SM

Safariman




Posts

: 518


Join date

: 2012-06-27


Age

: 75


Location

: Buckinghamshire



Fantastic pictures SM, love them and they look so different in B&W. All really good but love the way the zebra's have come out, you'd kinda expect them to look good considering their colours, stunning  

 

It's something I've not really experimented with but will do for sure  

 

Away to check out Angie's shots Lai,  


Doogs

Moderator




Posts

: 10734


Join date

: 2010-05-14


Age

: 49


Location

: Aberdeen




---
Permissions in this forum:
You
cannot
reply to topics in this forum