My mum had been considering getting a little rescue dog, however, after a lot of consideration she decided to rehome a cat instead, so yesterday I took her to Raystede Animal Sanctuary. It is about an hours drive from here and we have been before as it is a beautiful place and they rehome all sorts of animals and its also great for a day out.
Anyway, I had checked their website for available cats and we came across a lovely boy called Gucci who seemed just right. On our arrival at Reystede they got mum to fill in a form with all her details and what type and age of cat she was looking for and had she owned cats before. Mum really wasn't looking for a kitten but a slightly older cat. We told them about Gucci and they said we could of course see him but there were others that would also be suitable, so off we went to see who was who. We saw a beautiful little female tortoiseshell first but she was quite nervous and we had to consider that Nero visits my mums, so after some cuddles we moved on to a female black shorthair who came in with three other cats, two had been rehomed together and two were left, one was not suitable but this little one would have been ok but she liked to go out quite a bit and although my mums house is not right on the main road it is set back quite a bit there was a concern that she may get out the front and dart across the road, so we gave her some cuddles and moved on. We then saw Sophie, she is 13 and had ended up at Raystede because her owner who was in sheltered accommodation had to move into a nursing home and she couldn't take Sophie with her. We were told that she was a lovely little girl and she was quite affectionate and was less likely to want to go out as she had spent her time in the flat in the sheltered home. Well what a delight she was, she is a very gentle girl but incredibly affectionate and I could see my mum had fallen in love with her and it seemed that Sophie had fallen for my mum too. Mum wanted to see Gucci before she made her mind up so off we went to see him as well. He was magnificent, he is 7 and a tabby boy and so full of affection, mum was also smitten but they said that both cats needed to live on their own they had never lived with another cat and with Sophie being older it could have been a problem. So my mum was in a dilemma, she loved them both, so we went off for a coffee and mum had some thinking to do. In the end, she loved them both and wished she could have homed them both but she had immediately felt a connection with Sophie and she felt that Gucci would have no problem finding a home as he was younger and so full of love but Sophie was so much older and already people had passed her by because she was 13, so Sophie it was.
After all the paperwork was done and mum had got the vaccination certificate, micro chip certificate, the insurance, rehoming paperwork copy and i'd paid for Sophie to be mums cat, we loaded the car with all the goodies we had bought for her and put Sophie in the carrier and wondered how she would fare on the journey home as it would take an hour to get back. Well this little darling just sat in the carrier, looking out, very relaxed and never made a sound, she was so chilled.
When we got to mums, we set everything up and then let Sophie out of the carrier and wondered if she would be a little nervous or go and hide somewhere, oh no, she investigated the whole house, ate some food, used her litter tray and then was ready for loads of loving and that's how mums and Sophies evening went, lots of cuddles and purring. She was fine overnight and she has had a very relaxed day today, she is so settled already and mum is just loving her. We have been out and brought some grooming brushes today and she loves to be groomed which is a good thing. So Sophie is now well and truly all settled in her new home and my mum is just over the moon.
So here a few pictures I took on my phone yesterday of beautiful Sophie. Sophie is her original name and it so suits her.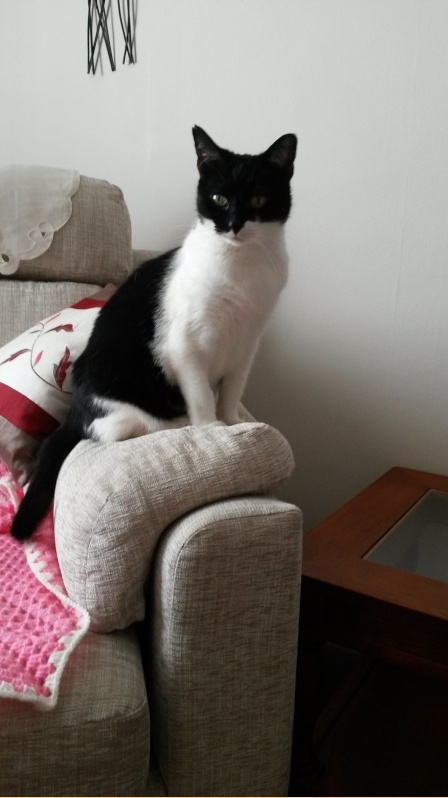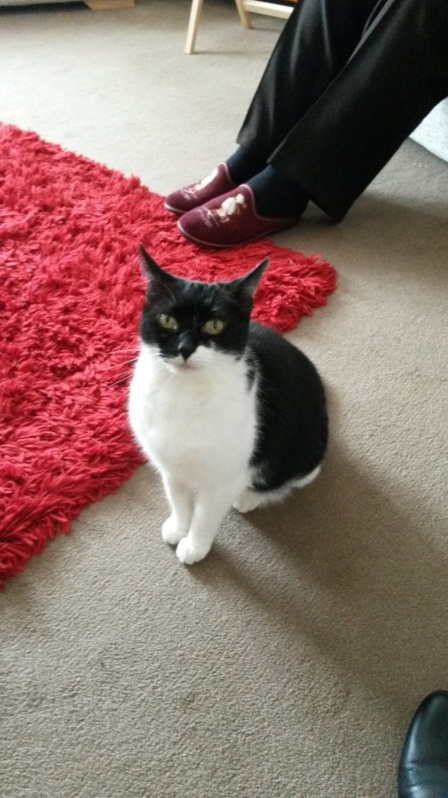 littlewid-x-
_________________
LOVE ALL WILDLIFE

littlewid

Admin




Posts

: 10464


Join date

: 2009-12-28


Location

: West Sussex



  Such a great outcome Littlewid for both your mum and Sophie and I'm so pleased that she went for an older and overlooked cat. Age so often puts people off and Sophie needs a new forever home, she really doesn't look 13, not that I am a cat expert at all.
That's really made my day and I hope your mum and Sophie have lots of fun together. Animals are such good company and I am sure Sophie will settle in and adapt to her new life.
Thanks for letting us know and please send Sophie big 
  from us.
Lai

Laikipia

Moderator




Posts

: 16153


Join date

: 2010-05-13


Age

: 60


Location

: Cheshire



That's a really lovely story LW, looks like something that was meant to be, and a match made in heaven. I'm sure Sophie, and your Mum will really love being together. Sophie looks really well for her age, and its a shame when animals are overlooked through age, and something that's happened to their owners that means that they cant care for them any more, so fantastic that your Mum chose Sophie, and I'm sure Gucci, and the other Cats will hopefully soon find as loving home as Sophie has

WS



_________________
If I can make somebody smile, my day has been worthwhile
Thanks WS & Lai  
  Sophie really doesn't look her age does she but she really is 13. Her coat is all soft and shinny, her eyes are bright and she is very spritely. Today I brought her some toys and her favourite was a little unstuffed mouse that had catnip in it, she rolled around with it for ages, she was in heaven and it was great to see her playing. I brought her some little balls as well but they didn't seem as interesting to her, even though one of them flashes on and off when it's moved, looks like its catnip mice for her  

She really is doing very well and is just so extremely settled and happy which is just so lovely. My mum adores her and Sophie loves cuddling up on her lap, which really delights my mum. As you say a match made in heaven for both of them and she was definitely the right cat for my mum and the right owner for Sophie. All the people who overlooked her for her age have really missed out on a very special girl but for my mum, it was great she was overlooked otherwise she would have missed out on Sophie. I will keep you updated on how she goes along and up date her pictures as well. I love this little cat as much as my mum does and we had a lovely cuddle today as well, she fell asleep on my lap for an hour this afternoon, so lovely  

littlewid-x-
_________________
LOVE ALL WILDLIFE

littlewid

Admin




Posts

: 10464


Join date

: 2009-12-28


Location

: West Sussex



  Littlewid, such a lovely happy story. Sophie and your mum are definitely made for each other  

Lai  

Laikipia

Moderator




Posts

: 16153


Join date

: 2010-05-13


Age

: 60


Location

: Cheshire



That's lovely LW she really sounds like our Poppy who's 14 now, same colours, and like Sophie she's a knee cat as soon as Mrs S sits down she's there, and will spend ages on her lap. We've bought Poppy all sorts of toys over the years, spent pounds. Wind up Mice a ball inside a disc, climbing frame, scratching post with dangling mouse ect.  

 Piece of silver paper rolled into a ball, and flicked for her to chase, and she's as happy as larry, she will keeping getting it, and bringing it back to play again, could have saved ourselves a fortune  

looking forward to the updates, and some more pics
WS

_________________
If I can make somebody smile, my day has been worthwhile
Thanks guys  

  I have told my mum about Poppy WS and that they were a similar age and that Poppy is also black and white  

  it looks as if the flashing ball was played with overnight and has not been found this morning, I reckon its under mums dresser in the kitchen but I forgot to look under there, I will have to do it tomorrow. I remember you saying about Poppy and rolled up sweet papers WS, I will have to gather some for Sophie and see what she does.
I went round this morning after the dentist to see how they both were, I didn't plan on staying too long as mum was going next door for coffee, well Sophie jumped onto my lap and promptly fell asleep, so I decided to stay until she woke up, well just over an hour later when mum got back I was still sitting there with Sophie fast asleep, he was fine but my bum was getting very numb  

When I get some more pictures of her I will post them.
littlewid-x-
_________________
LOVE ALL WILDLIFE

littlewid

Admin




Posts

: 10464


Join date

: 2009-12-28


Location

: West Sussex




---
Permissions in this forum:
You
cannot
reply to topics in this forum