On Bank Holiday Monday, I went to Littlehampton Harbour with my sister, brother in law and my mum. We had gone for lunch and a stroll along the harbour. My sister had told me there were some Swans there so I was keen to take my camera and have a play around with it. I had played a bit with it at the zoo but I wanted to try different shutter settings etc to see what happened. Anyway, with the Swans I just thought we would see them on the water, I knew there wouldn't be any nesting Swans like Safarimans because of where they were but how wrong was I!!!! right at the top of the runway for the lifeboat, two Swans had made a nest. I was really surprised at this because its where the boat goes down to the harbour plus its right by the walkway where the public can walk. Anyway, the swans aren't bothered by this at all, all they get annoyed with is the seagulls and their young coming in to try and pinch the food that is being given for the Swans. I was concerned because of where the nest is but apparently, the lifeboat men look after the Swans and make sure their nest is ok. I am not sure if this is an experienced pair of nesting Swans or maybe a couple of first timers because of where the nest is but then saying that, they are pretty relaxed with it all.
Here are some of the pics of my day. Not very brilliant because I was fiddling........but I captured nesting Swans  

Mum on the nest
Mum & Dad
They have an Egg !!!!!!
Chasing off the young Gulls
A local builder who feeds them regularly.......you can see they are not bothered by people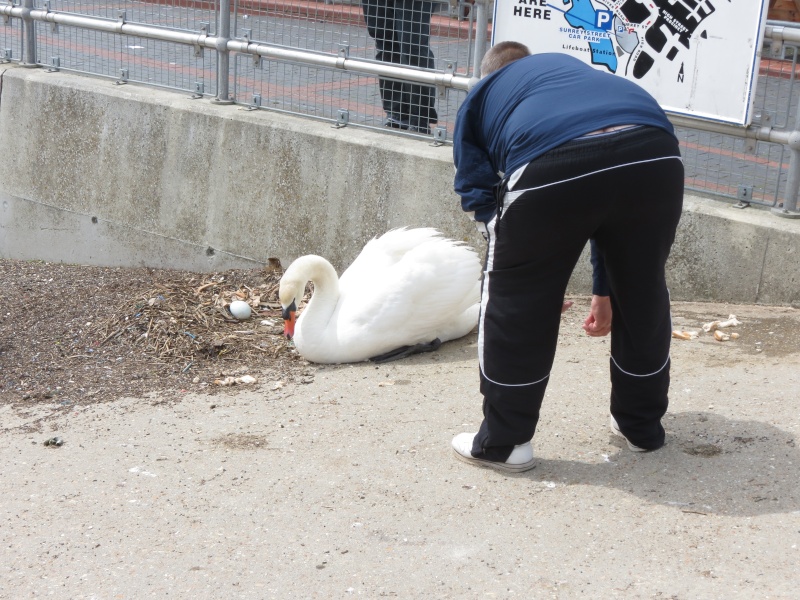 On the water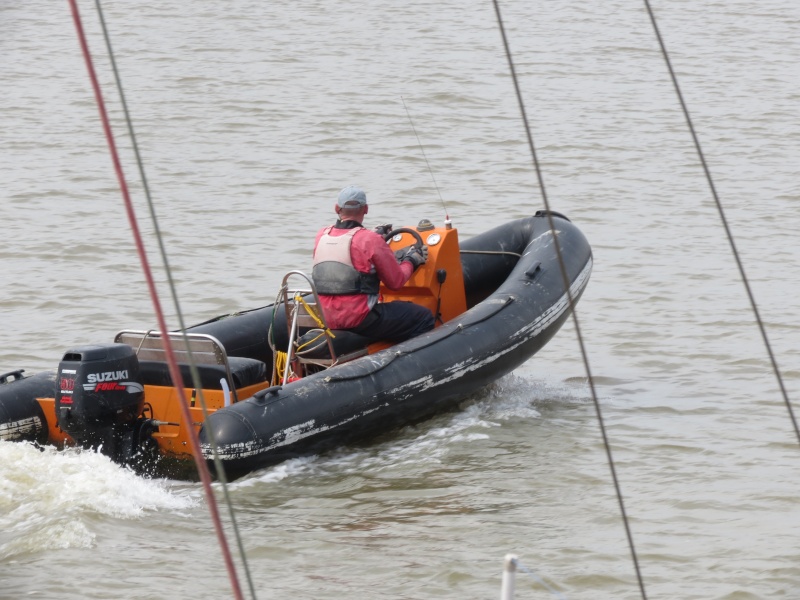 A really quick shutter speed and water turns to snow !!!
A young Gull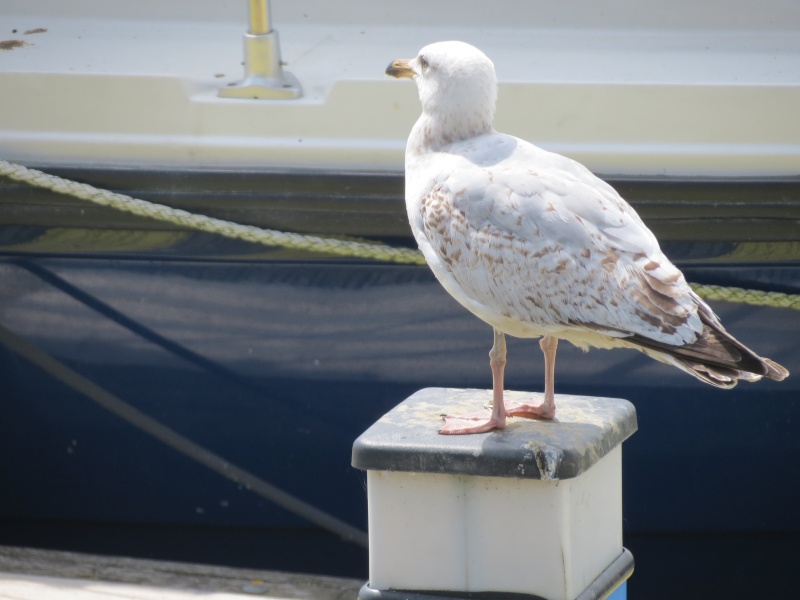 Is it too cold for a dip??????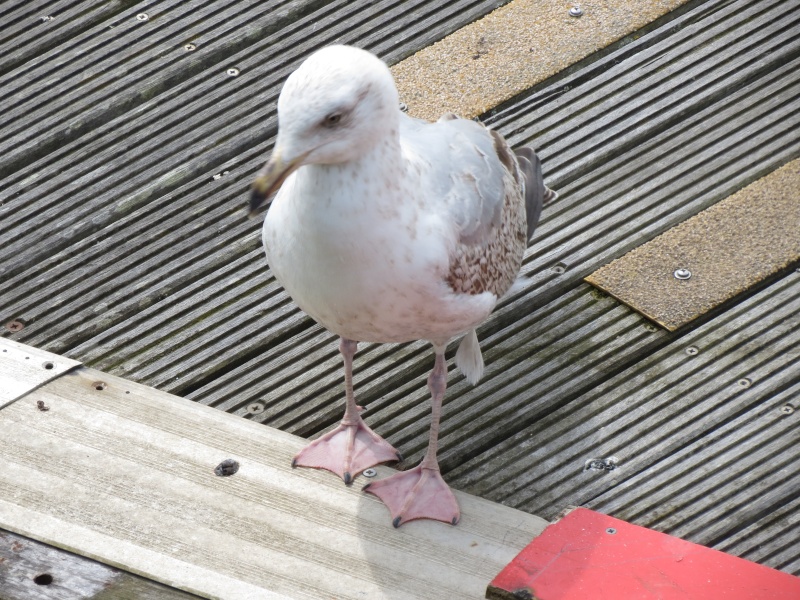 Life Boat Station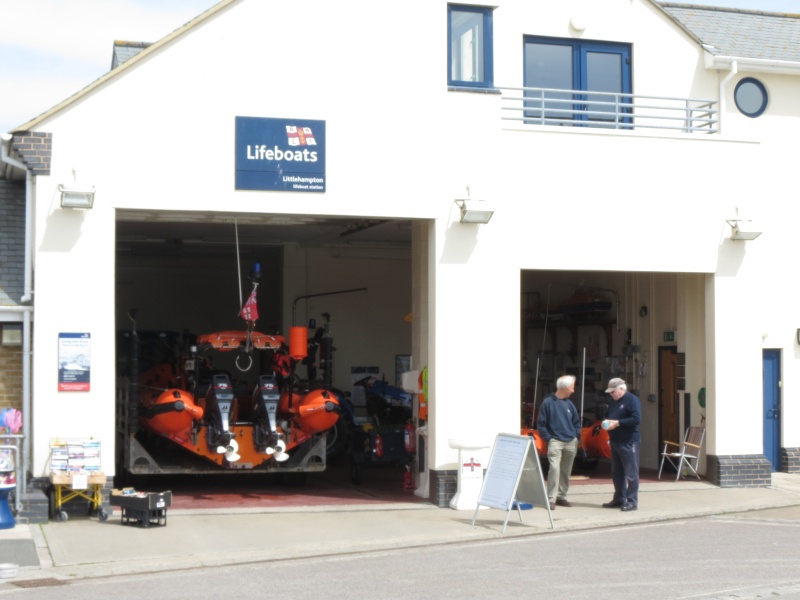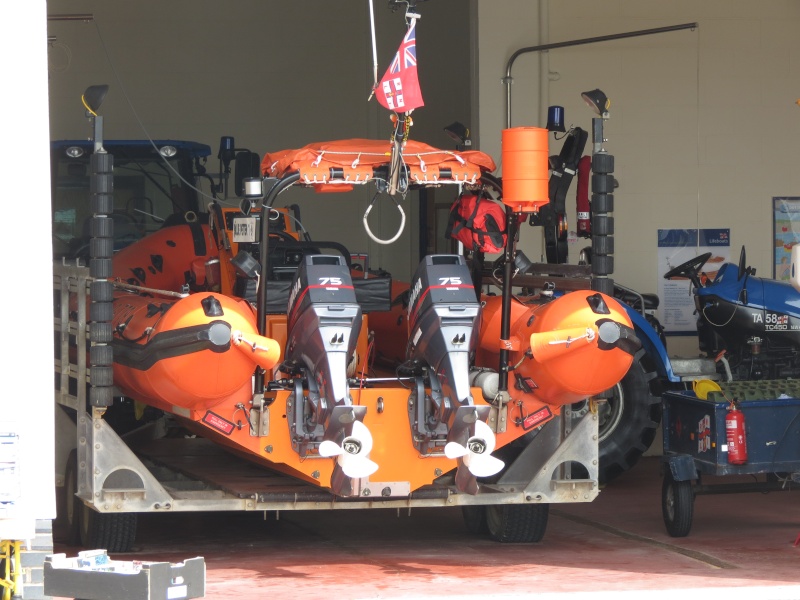 If I had got the light/exposure and shutter speed right this may have been really nice  

Not Mum or Dad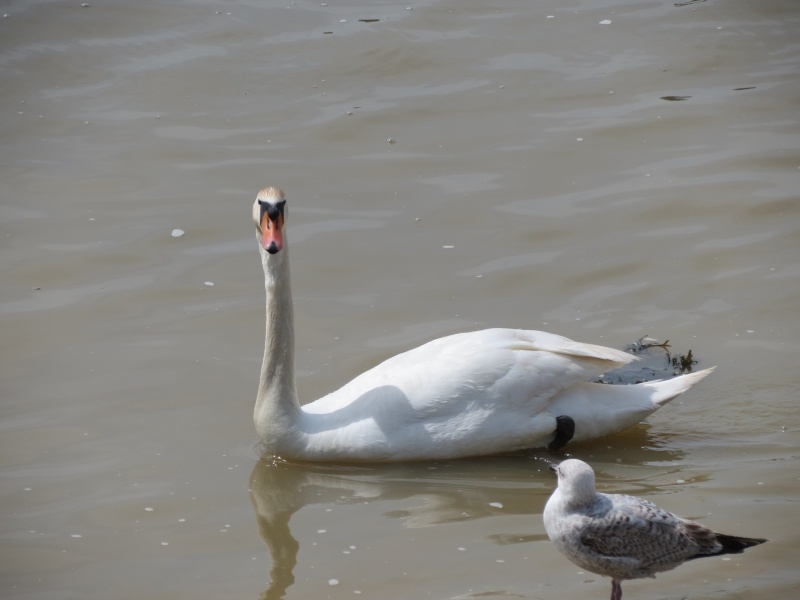 Dad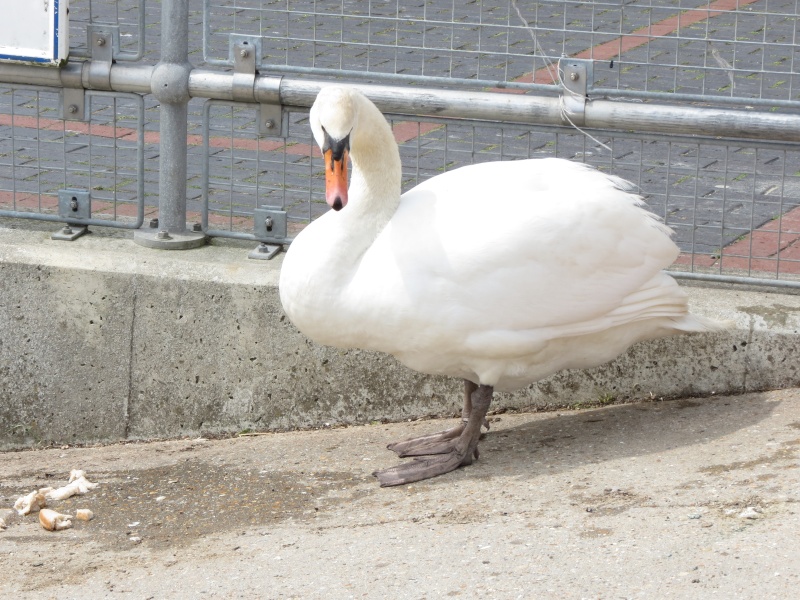 As we were walking along I could see people looking up at the roof of an old house, they were all a little bit aghast and when I looked closely I thought........what the heck!!!!!! but with the beauty of zoom on a camera......it was a good laugh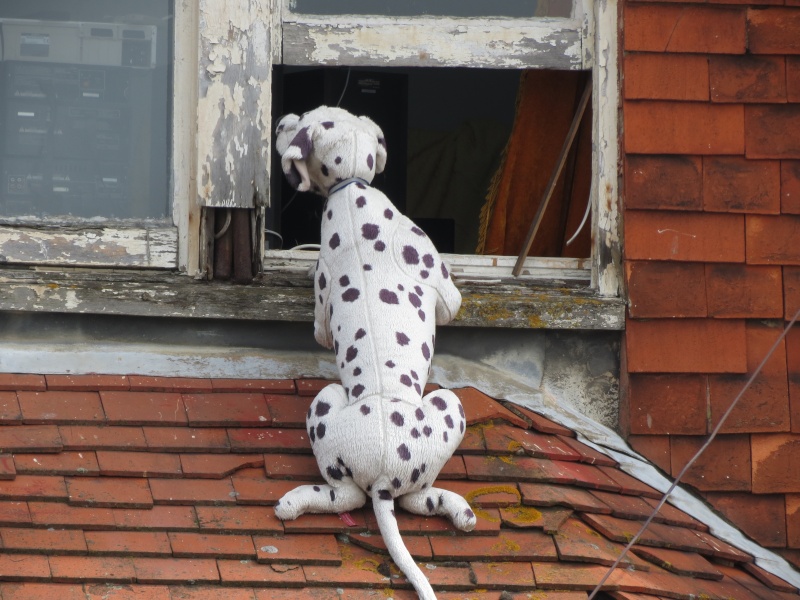 We had a lovely time there, lunch was fab and the birds were as noisy as birds can be which was lovely. Loads of people were walking their dogs and it was nice and sunny too. The pictures are not the best but it's good to play around with the camera......my fiddling can only get better and im glad I used settings and speeds I hadn't used before......practice, practice, practice  

littlewid-x-
_________________
LOVE ALL WILDLIFE

littlewid

Admin




Posts

: 10464


Join date

: 2009-12-28


Location

: West Sussex



 Looks like you had a great day out LW, and a brilliant idea to practise with different settings. It's always good to try new things especially with shutter, and aperture settings. As a rule of thumb the stronger the light the faster shutter speed you can use, and a smaller aperture setting. By the looks of it to me your shutter speeds were fast enough to stop the movements of the boat, and birds in those shots, but they needed a bigger aperture setting, but its always difficult to get everything right at the same time, as different apertures affect your depth of filed focus, so practising is very important so can get better shots. This is the best I could do with your Birds shot
The Swans do look very laid back, and it looks like they are so used to visitors that it doesn't bother them at all, but that is a bit of a precarious place for an egg, specially with Gulls around, and even more especially if there are Greater Black Backed Gulls in the area. Just love that shot of the Dalmation on the roof, I bet the owners are very often in stitches watching people look up. It looks a lovely place to visit LW, and hopefully you'll go there again
WS

_________________
If I can make somebody smile, my day has been worthwhile
  Littlewid - what a great day out and some really lovely photos.  Oooooooooooooh I would love to live near Littlehampton.  Isn't it amazing how wildlife can often co-exist so peacefully with humans?  I love the swans looking so chilled and obviously well fed!
I love the  
  that's so funny  

Practice, practice, practice, you are so right  
Thanks for sharing your day out with us,
Lai

Laikipia

Moderator




Posts

: 16153


Join date

: 2010-05-13


Age

: 59


Location

: Cheshire



An interesting place for the swans to build a nest. It looks rather precarious and I hope they don't have to launch the lifeboat in a hurry or that there isn't a high tide!! The nest doesn't appear to be very substantial for laying many eggs!!
As you say LW with a camera there is nothing to beat practice and experiment to improve your photos You need to find the camera settings for the type of photo you want to achieve and then try to remember them!! The problem I always have particularly as I get older is trying to remember my favourite settings. If I do not use the camera for a little while I soon forget them and have to start all over again. The only way is to constantly have your camera with you and use it!!

SM

Safariman




Posts

: 518


Join date

: 2012-06-27


Age

: 75


Location

: Buckinghamshire



thanks Guy's and also thanks for all the tips, I need as many as I can get. I was really playing around with these pictures and it was all just a huge learning curve, hence the pics not being very good at all, I was trying things I hadn't done before but yes, it's just practice practice practice and your right safariman.....remember what you have done to see if it works.
Thanks so much for sorting the photo of the birds that was quite off WS, I do love the bird in mid flight though. I do appreciate you doing that for me.
Safariman the nest is in a precarious place but luckily it is right at the top and the runway is quite wide so the lifeboat would miss it. The nest is quite flat and it has a lot of stones in it as well, so I imagine it's not too comfortable but that is why I think they may be first timers as it's not a brilliant nest and it's not in a very good place really but then saying that, they are on the harbour and they are there all the time and there really isn't anywhere else to nest unless they nest on a boat. At least it is well away from the waters edge and as far as the Swans are concerned, it is on high ground, so maybe they have been a little bit careful.
You are right though WS, it is going to be hard to keep the egg and then the cygnet safe with all the gulls around and there are black backed gulls there as well but the life boat men and the public are feeding the birds all the time so there is not really any competition for food, they all charge for it don't get me wrong but they are not starving or having trouble getting food, so hopefully the egg and the impending cygnet will be ok.
If Sunday is not a too bad a day and my sister and bro in law are around maybe I can get over there again and see how the swan and egg are doing and report back.......maybe if I entice them with lunch I have more of a chance of going  

littlewid-x-
_________________
LOVE ALL WILDLIFE

littlewid

Admin




Posts

: 10464


Join date

: 2009-12-28


Location

: West Sussex



 LW for those pictures, nice varied selection of pictures.
Had two laughs one at that  
 on the roof and the other at the builder - he was a builder he had the bum to prove it !!!  



 

Is that unusual for swans to only have 1 egg ?

Keep up the good word and will 3rd the comment of "practice, practice, practice"  


Doogs

Moderator




Posts

: 10734


Join date

: 2010-05-14


Age

: 49


Location

: Aberdeen



Today I managed to get back to Littlehampton Harbour. We were going for lunch so it was a good opportunity to check up on the Swans and the egg. Sadly the egg has gone. I don't know whether it was human intervention, which I do doubt very much or if it was due to a gull. It is quite sad as I was really hoping to see the egg or even maybe a cygnet. Anyway, the mating pair are still there and the female is still sitting on the nest so maybe she is going to lay again otherwise I would have thought she may have given up on the nest. There were a few other swans wandering around as well and signs have now been put up to say "Nesting Swans, keep clear and keep dogs on a lead" so I imagine they are trying to give these swans the best chance of laying again, which I so hope they manage to do.
I didn't have my camera with me as although we thought we would be going, it was chucking down with rain when we left so we thought we may go somewhere else for lunch but then we still ended up at the harbour, so these pictures were taken on my phone and I was doing as the notices said and kept my distance from the Swans as I too want them to have the best chance of laying another egg or two.
Coming right for you!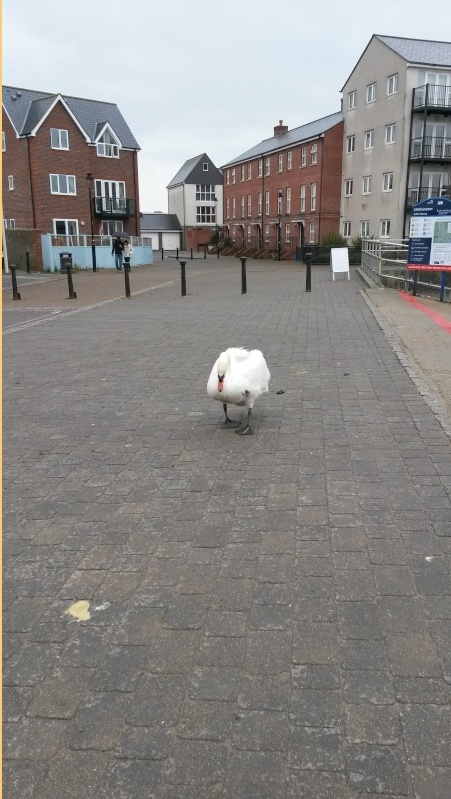 Mum on the nest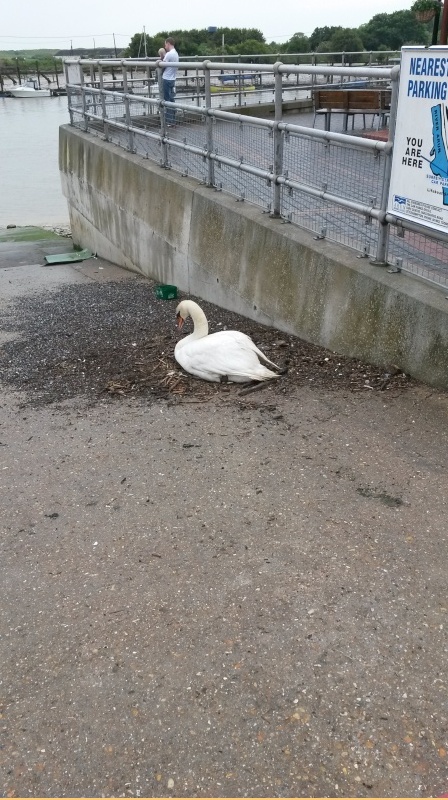 A wee bit closer but not much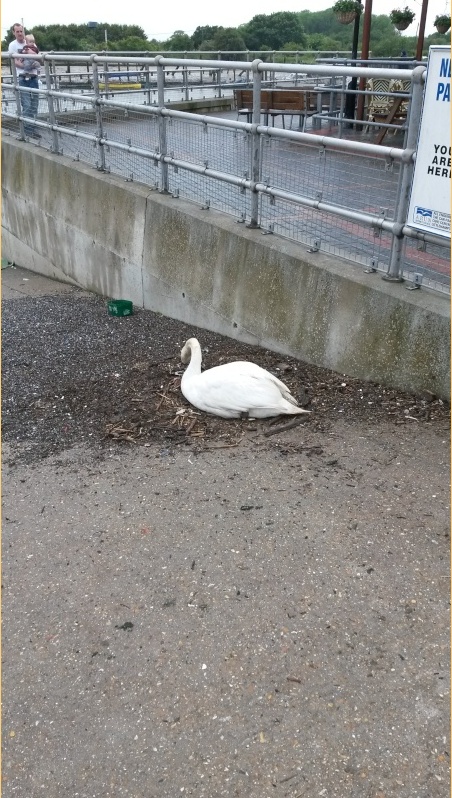 Parading boys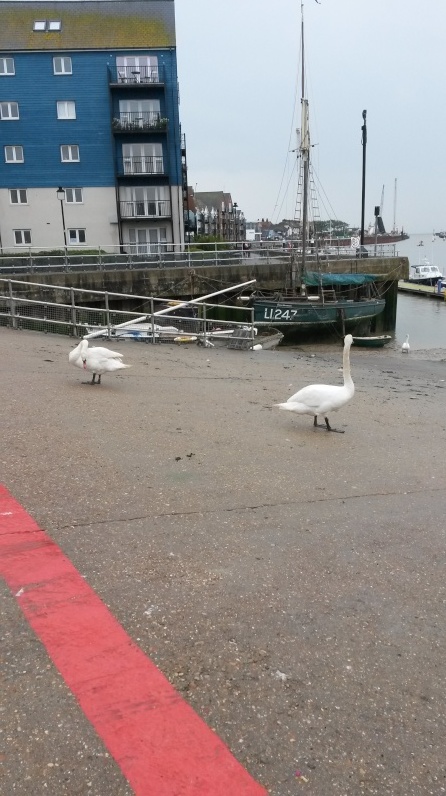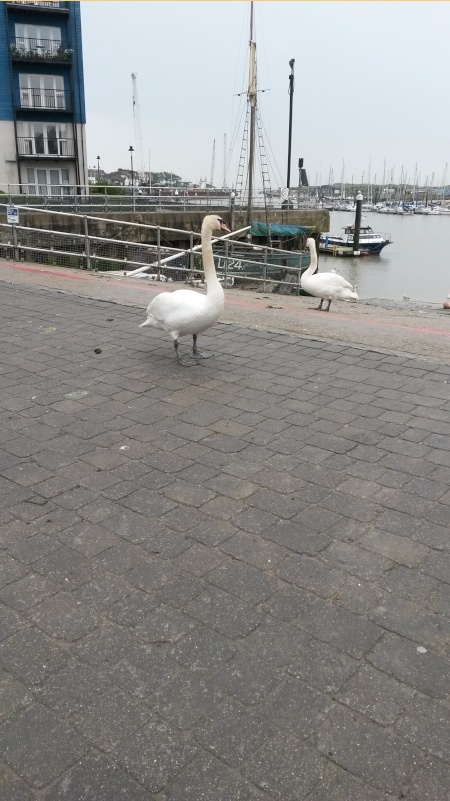 It's a shame I couldn't get closer and my phone was getting wet but at least they are all still there and maybe there will be more eggs to come. I am going to try and keep an eye on these swans to see what happens in the next few weeks.
littlewid-x-
_________________
LOVE ALL WILDLIFE

littlewid

Admin




Posts

: 10464


Join date

: 2009-12-28


Location

: West Sussex




 Shame about the egg LW, but as you say they may lay again, perhaps they are first time parents, and are learning the ropes, about protecting eggs that they lay. Lovely pics, and you couldn't really get any closer, because that would have encroached into their area, but well done for getting them. Hopefully you had a nice lunch, and enjoyed Littlehampton
WS

_________________
If I can make somebody smile, my day has been worthwhile
Awww that's not good news about the egg LW, it was a bit vulnerable being the only one  

  Here's hoping their time will come sooner rather than later
 

Great to see the swans again though and those are really good quality from your phone  


Doogs

Moderator




Posts

: 10734


Join date

: 2010-05-14


Age

: 49


Location

: Aberdeen




---
Permissions in this forum:
You
cannot
reply to topics in this forum