To start my photos I am posting a few photos of Ringo and Sudan who are very precious rhinos living in the Ol Pejeta Conservancy in a fenced area under protection.   Ringo although not an orphan, is being hand reared as his mother didn't produce enough milk and rejected him.  She was possibly a first time mother, so this little bundle of energy and mischief is being cared for by the Rangers.  He is fed on milk every four hours (this was back in late February/early March so will have changed now).  Sudan is the very last Northern White Rhino who came from a zoo in the Czech Republic, aged 40+ he is well cared for now but unable to reproduce.  It was probably the most special afternoon and very moving to spend time with them both.  The Rangers are just amazing and care for more than just these 2 Rhino.
At night Ringo and Sudan each have their own small fenced area next door to each other - they are under 24 hour protection.
A few photos and a very short video clip ....
Meet Ringo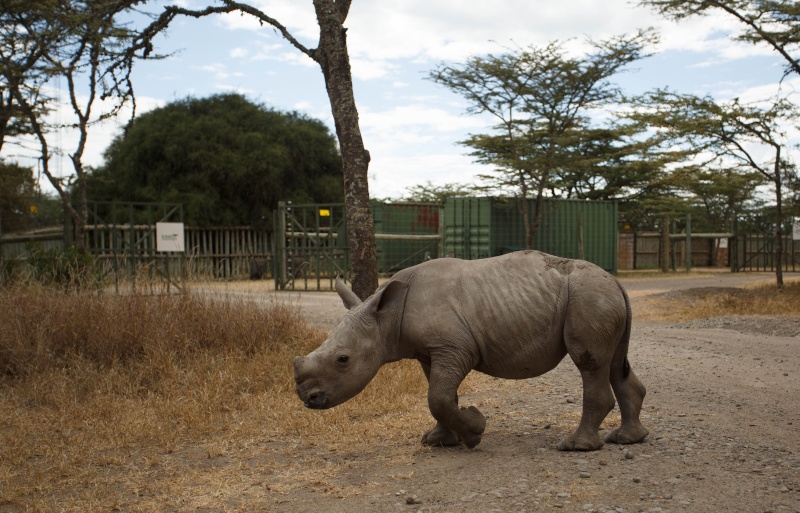 All the ingredients that go into his 4 hourly milk feed
2 of the Rangers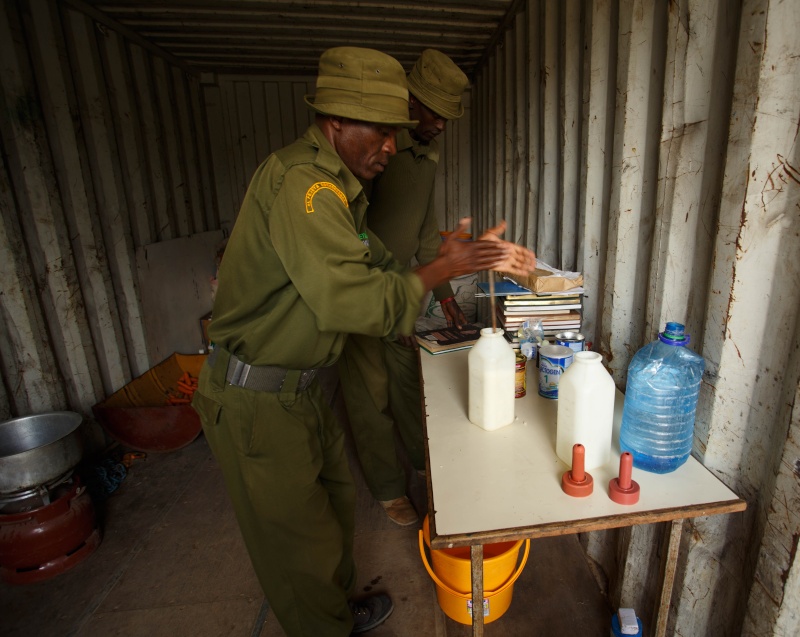 Pete feeding Ringo the second bottle (I started with the first bottle)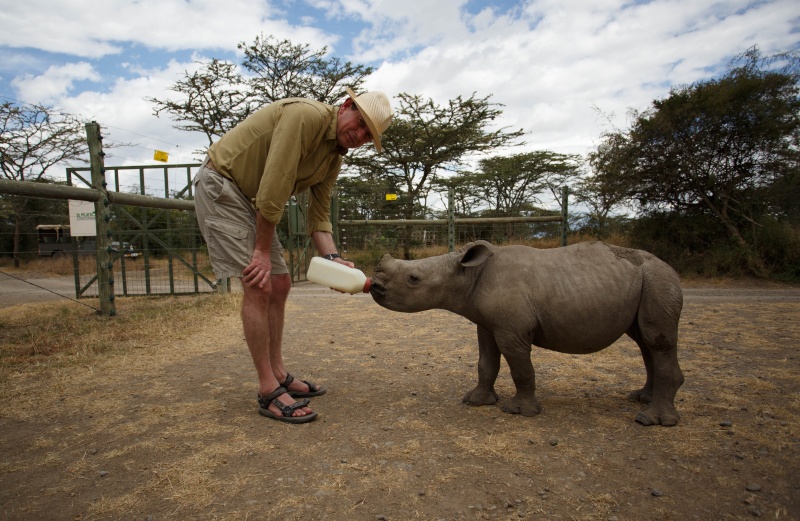 After 2 bottles of milk and a walk what any Rhino needs is a short sleep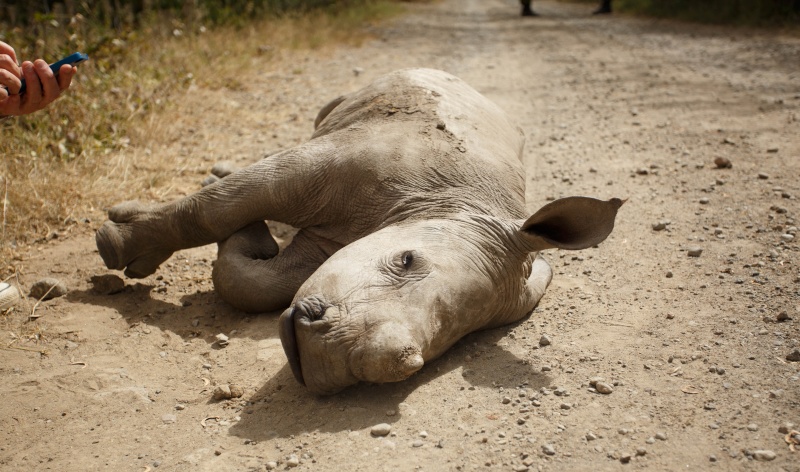 Ringo and me - what an experience, lying down with a baby Rhino
Pete and I with Sudan.  When you are with him you talk quietly to him and he knows where you are and doesn't spook
Up close and personal face on - not too close he is still a wild Rhino!
Oh and yes he did nearly knock me over as I was crouching down low level taking the video of him
It was all about getting the 'shot'
Lai

Laikipia

Moderator




Posts

: 16153


Join date

: 2010-05-13


Age

: 62


Location

: Cheshire



Its so sad that Sudan is the last of his species, and speak's volumes of that state of the World today, at least he now well cared for, and free to move around instead of being in a Zoo.
OH
What a fantastic experience Lai, for you both to spend time with Ringo, and Sudan, I bet you were over the moon at giving Ringo his milk, and amazing the different stuff that goes into making it, lying down with a baby Rhino must be bliss. The Rangers are really special, and deserve the thanks of the whole world for the things they do. Thanks for those pics, and the brilliant video, that's really made my day, and bucked me up no end
WS
 WS I am glad it helped, you certainly need some cheering up just now and I hope your health is getting better day by day.  
I can't really express just what a privilege I thought it was spending time with them both, the US$40 was so worth the afternoon spent and any $$s that can help Ol Pejeta with their amazing work and the wonderful rangers is so worthwhile.  We had Alex with us who owns Ol Pejeta Bush camp and he loves visiting with guests.  We also went to see the 3 female White Rhinos, (more on them later) plus the Grevy zebra and various other animals that are in a large enclosure for their own protection and to ensure that endangered species can stay safe and breed.
I just love Ol Pejeta conservancy and the work they do.  We hope to visit again soon ish, well maybe next February unless Ali and I can sneak in an October visit
More photos to follow .......
Lai

Laikipia

Moderator




Posts

: 16153


Join date

: 2010-05-13


Age

: 62


Location

: Cheshire



Seems as if you had a great time with the rhinos at Ol Pejeta Lai. It will be a great help to you when you have your away day with the rhinos at Chester Zoo!
It is sad that fairly soon the only rhinos to be seen will be in zoos of specially protected enclosures. I think the days of seeing rhinos in the wild are probably numbered. I also think that we might have to consider about whether the vast amount of conservation money that is spent on trying to protect rhinos in the wild would be better spent on other conservation projects for the less "iconic" species. With a limited amount of money I don't think it should be all spent on trying to preserve the impossible!!

Looking forward to seeing some more of your pics and stories.

SM

p.s. Hope you are feeling better WS with all your continuing ailments; it just seems to be one thing after another.

Safariman




Posts

: 518


Join date

: 2012-06-27


Age

: 78


Location

: Buckinghamshire



POSTED BY lAI
Safariman, I hope I don't get up that close and personal at Chester zoo, I bet the rhinos there are not quite so amiable!
It's an endless debate isn't it about conservation and how we best spend the available £££ and $$$
Lai
WS. did I vanish?
Lai

Laikipia

Moderator




Posts

: 16153


Join date

: 2010-05-13


Age

: 62


Location

: Cheshire



No Lai you didn't After your post there was another that was only visable to guests, or if you were not logged in. It was a Sponserd Link with adverts for different things with the links to them. Never seen that before. It wasn't posted by a new member or anything like that, I was baffled where it came from. So just in case it came in on the back of your post I deleted yours, but copied it first, but it was nothing to do with your post, so I reinstated it. I went into Admin, and it took me ages to delete it, I suspect Forumotion has added the facility for this links to be posted, after finding them in an Admin section that wasn't there before. I've now managed to block them, the downside is that Guests can't post. Sorry was going to PM you, but didn't have time.
Meant to say I shared your video on Petes Pond ustream site, thought it would help promote Ol Pejeta hope that's OK, they loved it

WS
WS for getting to the bottom of that
- not a problem at all, I just thought I was losing the plot
Thanks for that, and yes I hope it does promote Ol Pej and the conservation work they do
Lai

Laikipia

Moderator




Posts

: 16153


Join date

: 2010-05-13


Age

: 62


Location

: Cheshire



Similar topics
---
Permissions in this forum:
You
cannot
reply to topics in this forum