This is a post about a male cheetah I came across on my visit to the Mara last December. I mentioned him briefly in an earlier post "Life and Death on the Mara".
With my two Masai guides David and Kaapen, we had already spent a marvellous morning having already seen a leopard, lions, elephant and buffalo and were looking for somewhere to park and have a very late breakfast when we saw a cheetah sitting under an acacia tree surveying the landscape close to the road. David stopped and recognising the cheetah said "That's the Runner". "Why is he called the Runner" I naively asked, "Just wait and see" replied David smiling. The cheetah's attention was taken by a couple of warthogs and a Thompsons gazelle way off in the distance. He slowly stood up stretched and then set off at full speed towards his prey who easily spotted him and trotted off with the Runner soon reduced to a slow walk. "That's why we call him the Runner" explained David, "Anything he sees he will always chase." We soon caught up with the cheetah who having aborted his chase decided on a spot of scent marking on the few trees that were visible. Soon tiring of that he found another tree and flopped down in the shade to rest. We carried on a little way and also finding a suitable tree parked up and had our own belated breakfast. There is no better way of eating a bacon buttie than out in the open in the African bush within sight of a relaxing cheetah and with a lone bull elephant and gazelles and giraffe in the distance.
We came across the Runner again a couple of days later on an afternoon drive. He was relaxing in the late afternoon sun having finished his "running" for the day.
Cheetahs are my favourite big cat and I think I have mentioned before that they are just so beautiful and elegant and asking to be photographed. I was looking through my computer and I now have over 1,400 photos just of cheetahs!!
"The Runner"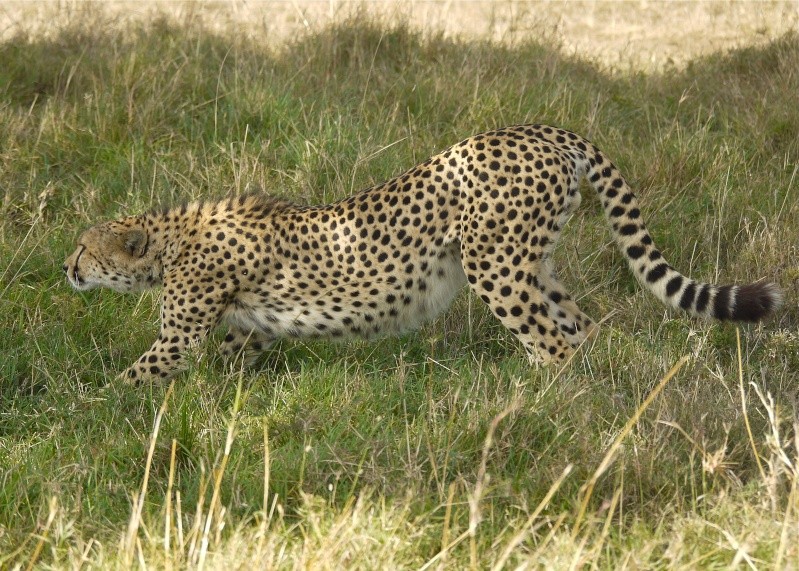 "Time for some exercise"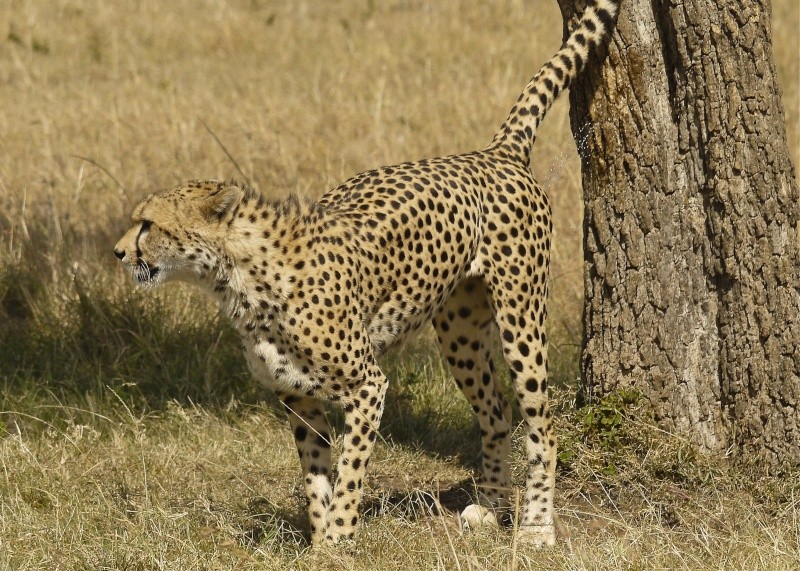 "Scent marking"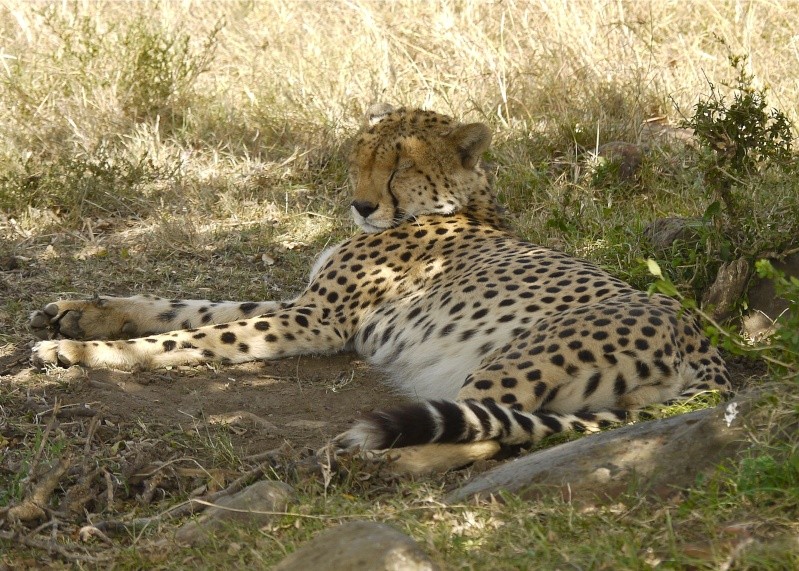 "A hard morning's work!!"
"Relaxing in the afternoon sun"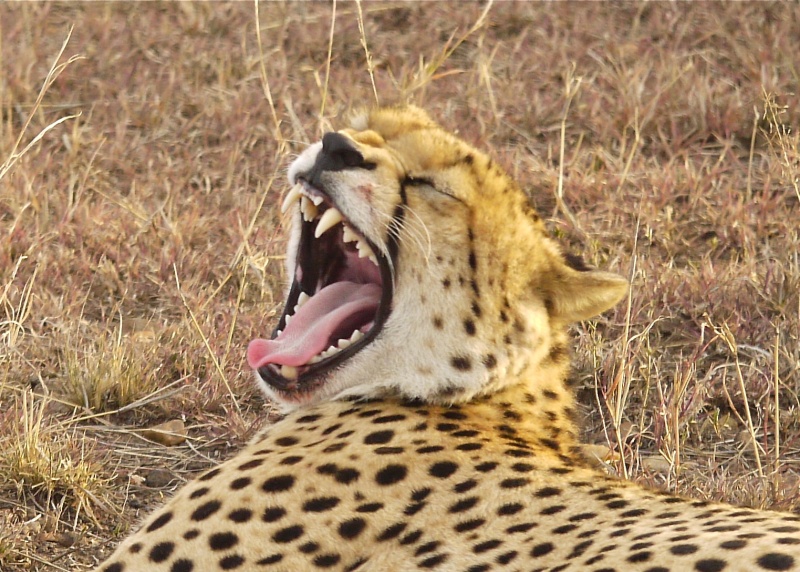 "Another tiring day almost over"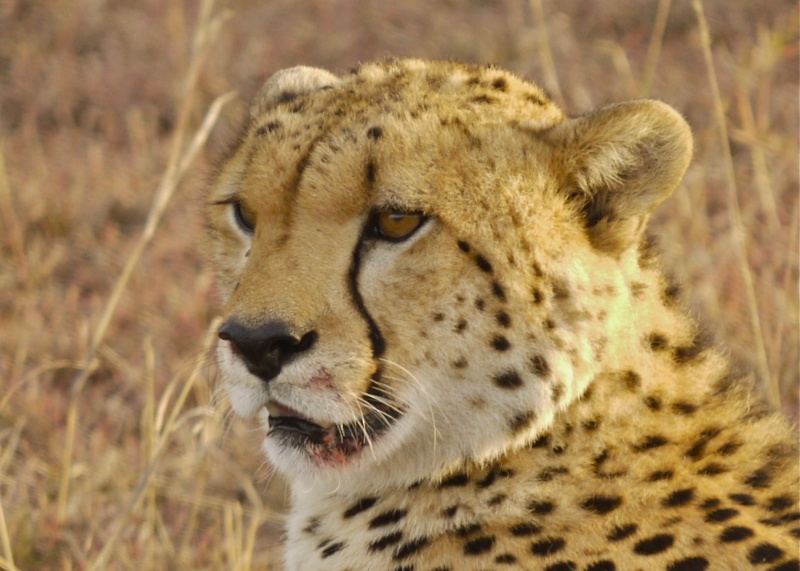 "The Runner"
Safariman

Safariman




Posts

: 518


Join date

: 2012-06-27


Age

: 78


Location

: Buckinghamshire



Safariman, a great story about 'the Runner' and some really fantastic photos, he is a very handsome cheetah and looks very well and healthy.
I so agree about breakfast in the bush with just the wild animals around for company.
That's an impressive number of cheetah photos! I am wayyyyyyyyyyy behind you there.
Thanks for sharing.
Lai

Laikipia

Moderator




Posts

: 16153


Join date

: 2010-05-13


Age

: 62


Location

: Cheshire



Wow he is one handsome boy Safariman and his name suits him but I see from his last picture that he must have caught up with something, he has the tell tale signs round his mouth.
I wonder how many chases he does a day if he just runs after everything, no wonder he needed a lie down
Lovely story as always and superb pics Safariman, Tigers are my fav big cat but I must say, I do have an enormous love of the Cheetah to.
Thanks for sharing that Safariman.
littlewid-x-

littlewid

Admin




Posts

: 10464


Join date

: 2009-12-28


Location

: West Sussex



Fantastic photos Safariman thanks for sharing them with us. He really does look a powerful Boy, and also well fed by the look of him. His name tickled me, The Runner, it reminded me of the the Road Runner in the Cartoon. I can just imagine him breaking into a run miles from the prey, and going peep peep. Your right about the bacon butty, tastes completely different outside especialy when it cooked on an open fire, must be the woodsmoke I've always thought
WS
Amazing pics again Safariman! And more than 1,400 cheetah pics
for always posting great stories with your pics too.

gregrowlerson




Posts

: 1733


Join date

: 2012-11-22


Age

: 41


Location

: Melbourne



---
Permissions in this forum:
You
cannot
reply to topics in this forum