I have started sorting out my photos from my recent trip to Zambia and The Lower Zambezi National Park and have included some to try and give a flavour of my trip as well as a short video. I will add more photos and stories in due course. The park is set on the banks of the Zambezi River which forms the border between Zambia and Zimbabwe andis totally dependent on the river which provides the life blood for the park. I will give a more detailed description of the park later but for now here are some photos. The video is of the wildlife within the park and I will try and post a separate video for the river itself.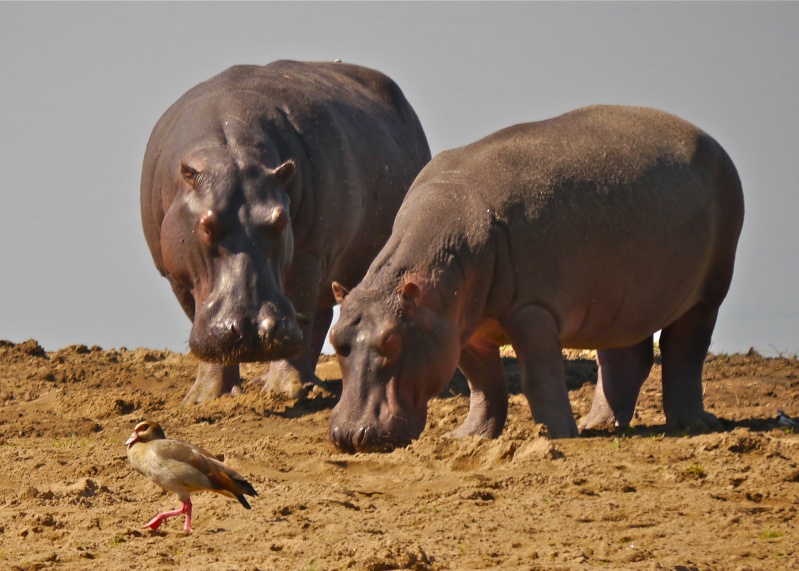 A pair of miserable looking hippos inspecting an Egyptian Goose!!
One of several large herds of buffalo I came across
A herd of female Impala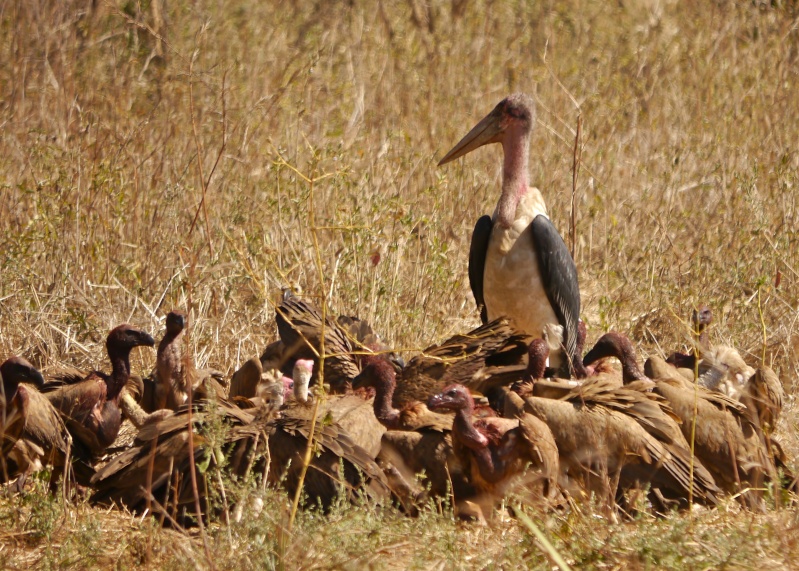 Vultures and Maribou stork feasting on a dead Impala
A medium sized crocodile, approx. 2.5-3.0 metres long!!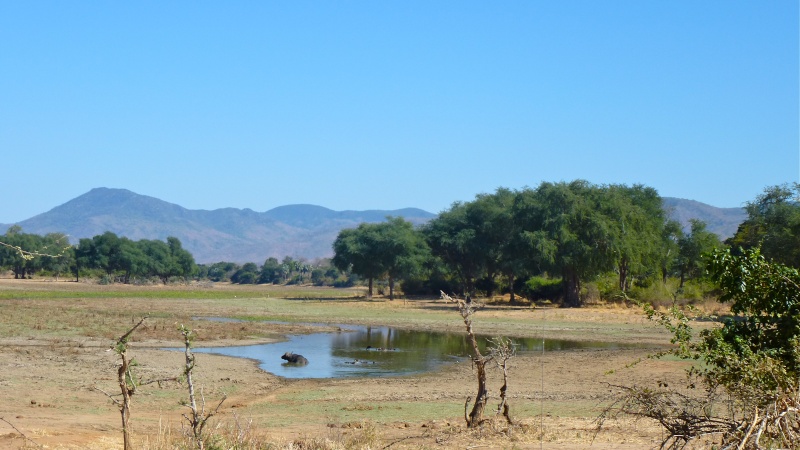 A buffalo wallows in a fast drying up waterhole.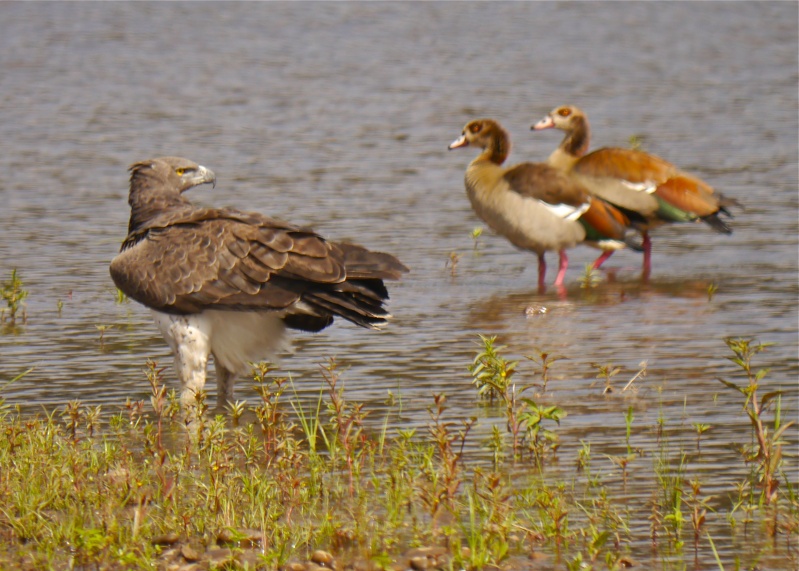 A juvenile Martial Eagle and a pair of Egyptian Geese.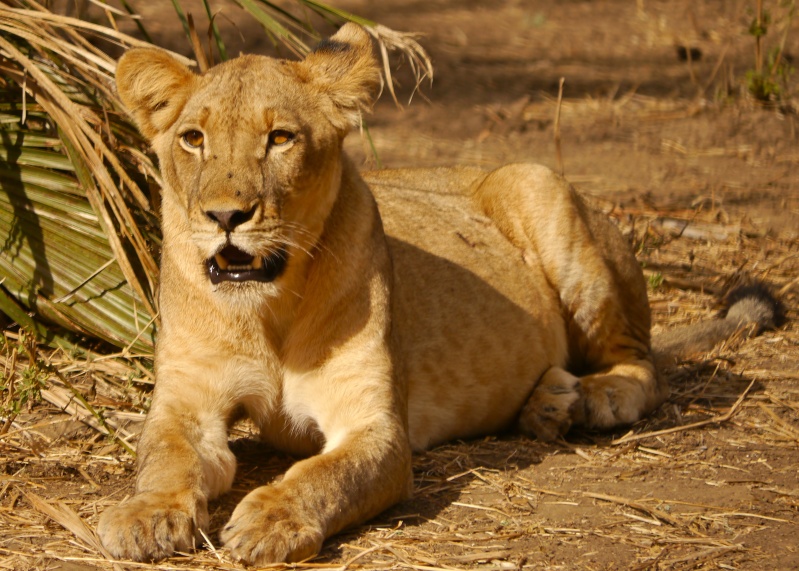 Young male lion.
One of many Vervet Monkeys that were always around camp
Female Greater Kudu and young
An Elephant foraging along the bank of the Zambezi River (Taken from a boat on the river)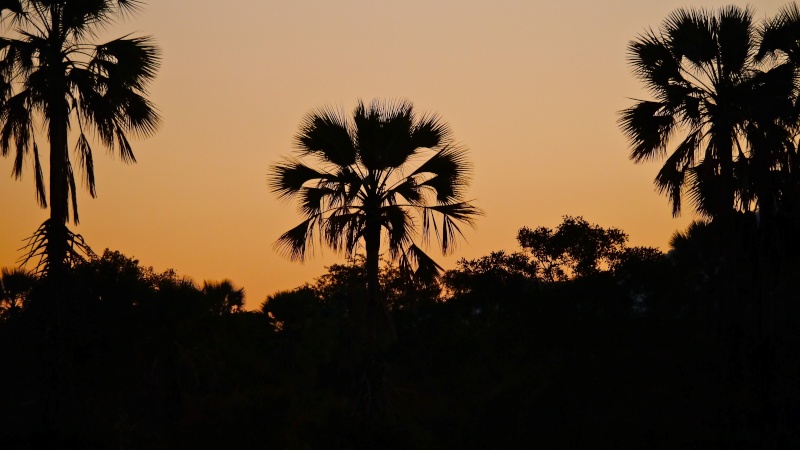 Sunset
Short video of Lower Zambezi wildlife
Safariman

Safariman




Posts

: 518


Join date

: 2012-06-27


Age

: 78


Location

: Buckinghamshire



Safariman that video surely did give a flavour of your trip and I actually liked the music too, it had you anticipating the next scene. It looks a mixture of green and quite arid or is that not the case? I am looking forward to more details on the park when you have time.
I must admit, Hippos usually have softer faces but in that shot those two really do look a little miserble but I still love them, the Egyptian Goose is really not bothered by them at all is it.
Loads of Buff Boys,
 Lai will be pleased with that as well.
Loving the Martial Eagle with the Egyptian  Geece and that Lion looks like he has just woken up.
The tree in the centre of the sunset picture is stunning and loving mum and baby Kudu.
Medium sized Croc is still a big Croc 
I love the Dustbin men and the Stork but had to not look too closely.......you know me!
I bet going up the Zambezi on a boat was exhilarating especially when you came across that wonderful Ele.
I love the Buff in the waterhole thats how you imagine a classical picture of a safari to be.
Notice how the sun shines on the women......female impala 
I love that Vervet Monkey, he looks quite serene there.
Lovely look at your holiday Safariman, thank you and cant wait to see and hear more.
littlewid-x-

littlewid

Admin




Posts

: 10464


Join date

: 2009-12-28


Location

: West Sussex



 for another great selection of pics Safariman! Really love the impala and greater kudu ones, although aren't they lesser? LW, nice attention to detail on the sun shining on the females. It only shines out of (a particular part) us males
I think that was quality WS humour
The elephant in the river is a wonderful shot and no surprises to see a male lion doing what he does best...nothing!

gregrowlerson




Posts

: 1733


Join date

: 2012-11-22


Age

: 41


Location

: Melbourne



 Thanks for sharing some photos and a video clip so quickly after your trip Safariman.  It's wonderful to see and I really enjoyed a reminder of how great Zambia is and all the different animals.
As Littlewid said, to see the buff boys is always a treat, we both have a great admiration for them
Look forward to more and I think Zambia may be a must for us in 2015.
Lai

Laikipia

Moderator




Posts

: 16153


Join date

: 2010-05-13


Age

: 62


Location

: Cheshire



Thanks everyone. LW the music was accidental as originally I had intended to use some music from the soundtrack of "Out of Africa", corny I know but I love the music. However after managing to edit the video to exactly fit the music and uploading it to YouTube, a considerable achievement in view of my computer skills, they informed me that due to copyright problems they would have to block the video in many countries (including the UK) and suggested I change it to something on their approved list!! So the music on the soundtrack was the only piece that I could find that was of the right length and vaguely fitted. It is a bit over dramatic for the content but seems to work ok. So you might find some strange musical accompaniments to some of the other videos I hope to post!!
GR it is a Greater Kudu, the Lesser Kudu has more stripes 10-12 and is much smaller and not found in Lower Zambezi. The Greater Kudu has 6 or 7 stripes and is found mainly in southern Africa.

Safariman

Safariman




Posts

: 518


Join date

: 2012-06-27


Age

: 78


Location

: Buckinghamshire



The music from Out of Africa is wonderful Safariman and yes would have been really scene setting but the music on this video really did work, I know it wasn't what you had planned and yes the music was rather dramatic but it did work as it had you wondering what was coming next, it had a real anticipation about it and thats really what going on Safari must be like I imagine, anticipting what you are about to see next:bounce: .

At least changing the music we have now been able to view it and it wont be blocked in other countries as that would have been a shame as its a lovely video. I have never uploaded anything to youtube but it makes you realise theres more to consider than just uploading your video. I am looking forward to your other videos Safariman and your choice or not your choice of music .

littlewid-x-

littlewid

Admin




Posts

: 10464


Join date

: 2009-12-28


Location

: West Sussex



Thats a great job you've done with editing the Video, and putting it to music Safarimaan , that's not something I've done. So when I try it out I'll know who to ask if I get stuck. If thats a medium size croc I would'nt like to meet a big one
 The Hippos really do look like they are having a bad day. Great to see so many Buff Boys, and thanks for the info on the Kudu I did'nt know there was a lesser, and greater species. Thanks for sharing the photos, and Video.
WS
Oooops I've missed this one
 

What lovely, clear photos (as you normally post Safariman
 ), they are all excellent.  The expression on those Hippo's faces was rather amusing, loved the herd of Impala shot - they are such beautiful animals, the Juvenile Martial Eagle shot is brilliant
, lovely lion and the sunset just divine
 

The video is great - you and Lai are getting very good at these
   Great to see lots of big herds of different animals, liked that shot from the photo of the ME in the water with the EG in the background, lions doing what they do best
 and the scenery looks lovely.  

At first I was expecting to see Jaws somewhere in the video with that music at the start . . .  then it changed

Doogs

Moderator




Posts

: 10734


Join date

: 2010-05-14


Age

: 52


Location

: Aberdeen



---
Permissions in this forum:
You
cannot
reply to topics in this forum