I thought I would give some space to some Chacma baboon and Vervet monkey photos I took on my recent trip to Zambia as they tend to get by-passed or ignored on most threads in favour of the the more well known animals.
The Vervets were always around the camp and a constant source of amusement with there antics and interaction. It was just a case of always remembering to keep the tent properly secured and not leaving anything lying around or it would soon disappear!! They seemed quite happy to pose for photos.
The Lower Zambezi National Park seemed to be full of baboons and whenever you found impala, the most common of the antelopes, there were always baboons around something I had not come across before. It appeared as if there was almost a kind of symbiotic relationship between them each helping the other to survive. The baboon photos are of a family I came across late one afternoon and the low sun seemed to reflect off their eyes to give some great photo opportunities, particularly with one of the youngsters using a non too compliant adults tail as a swing!!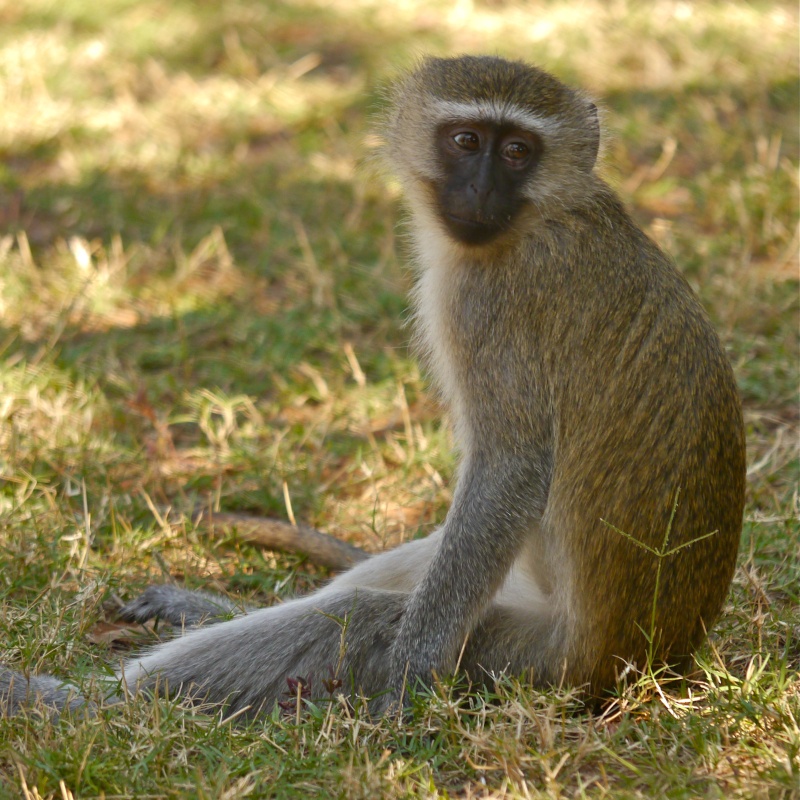 Vervet monkey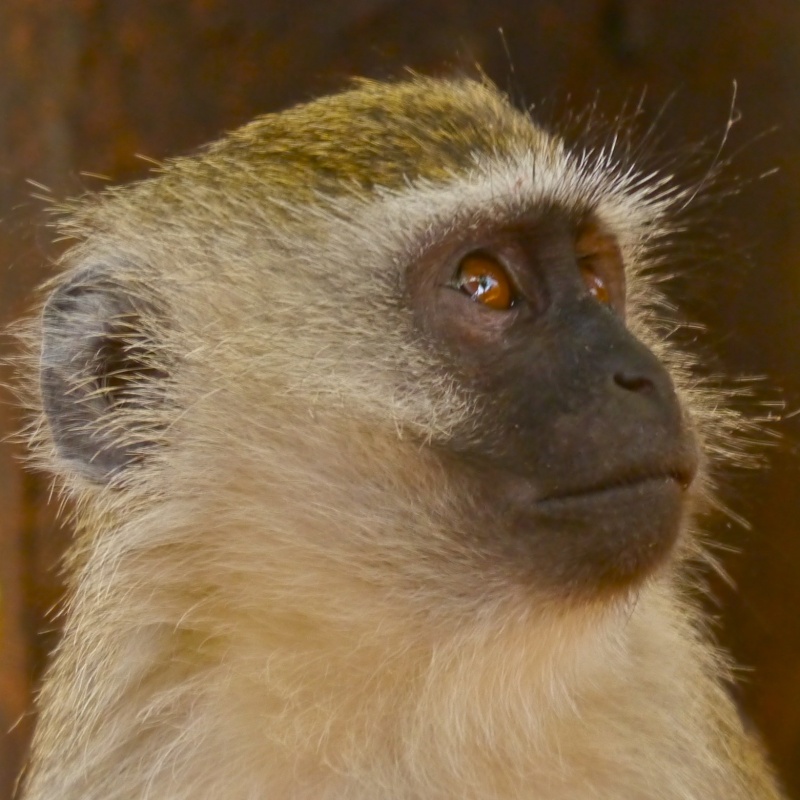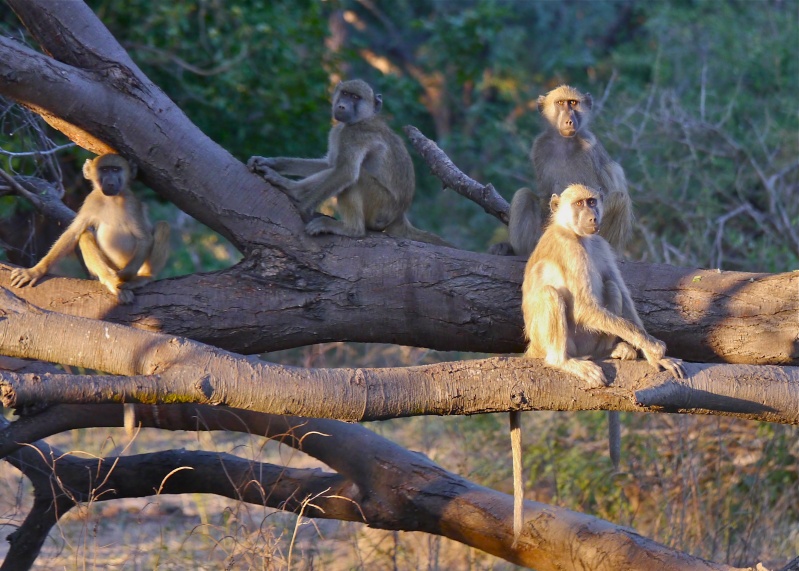 Baboon family portrait!!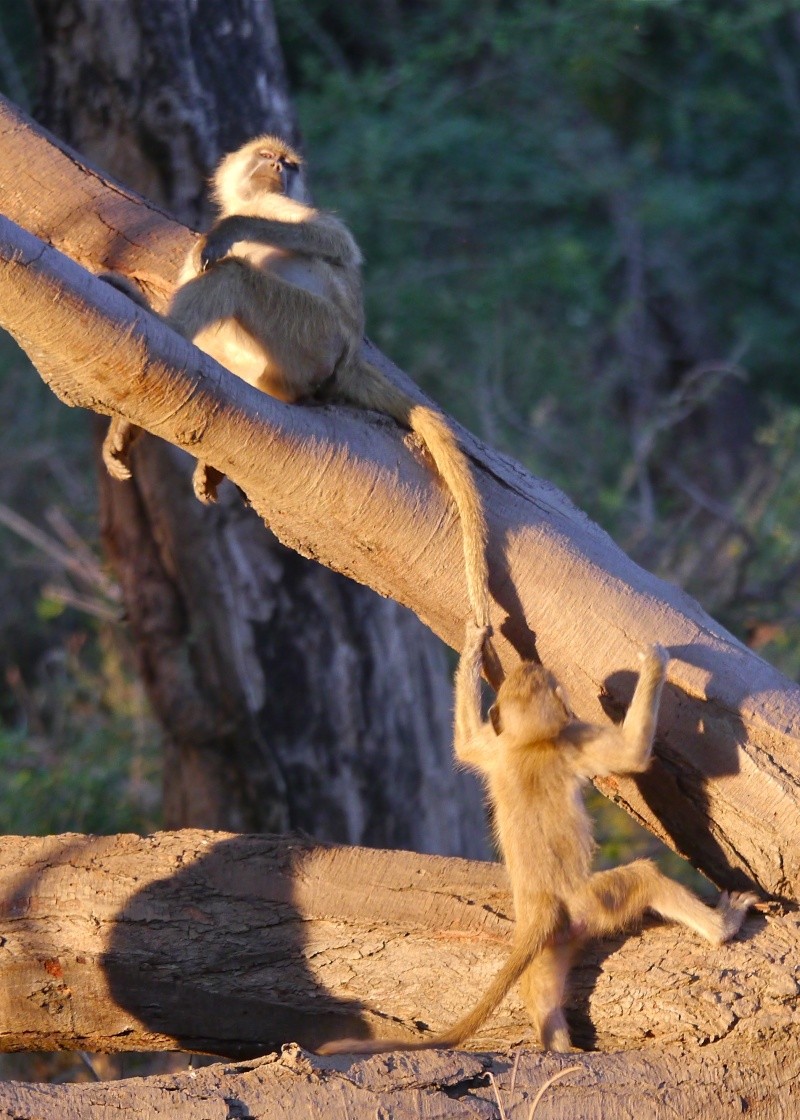 Get off my tail!!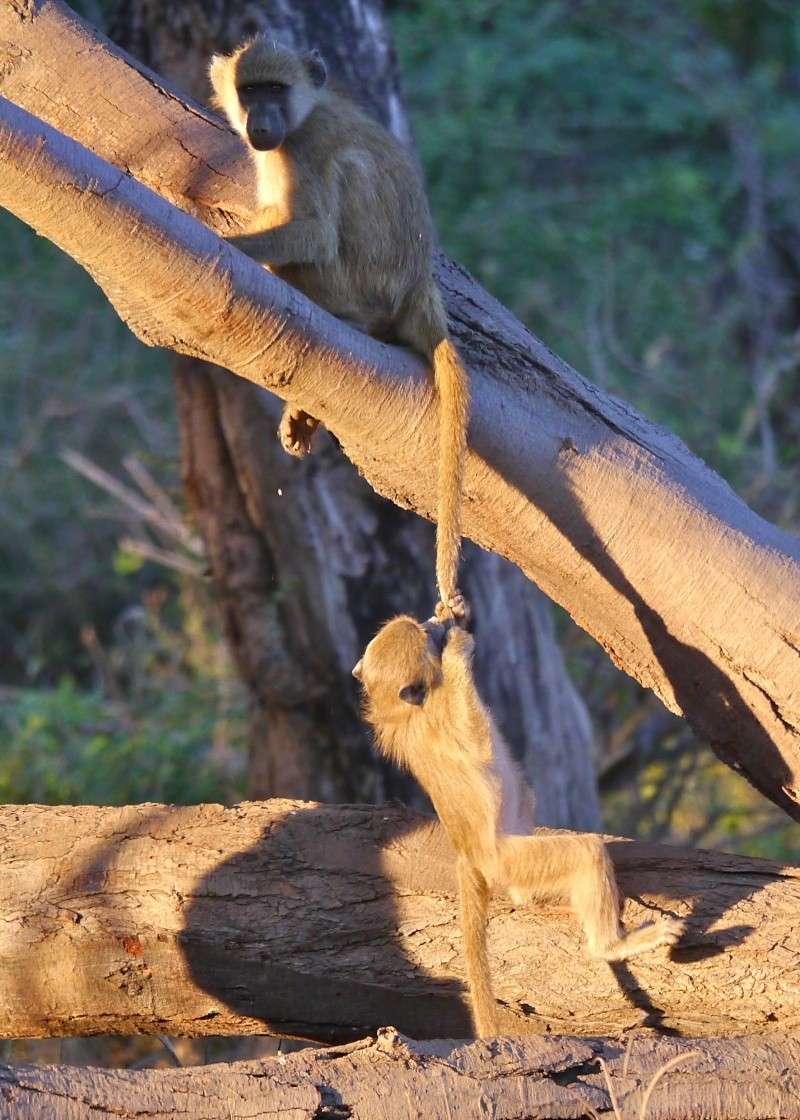 I said..... get off my tail!!!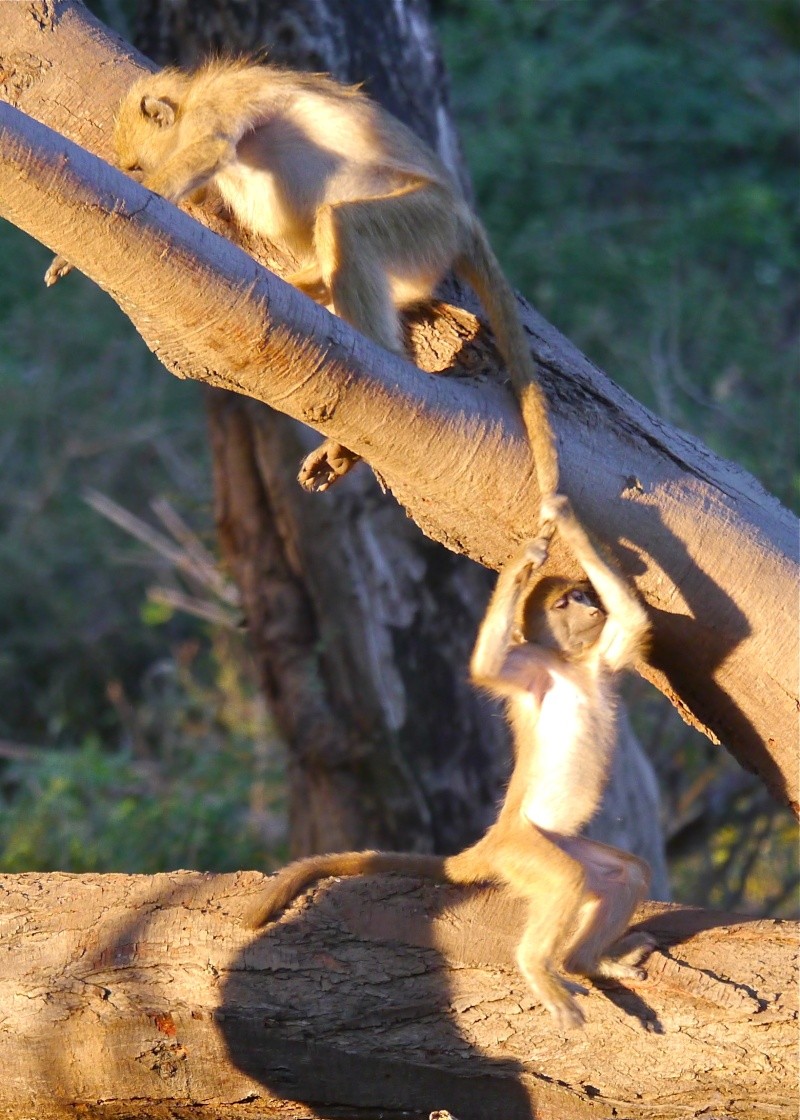 I am not telling you again!!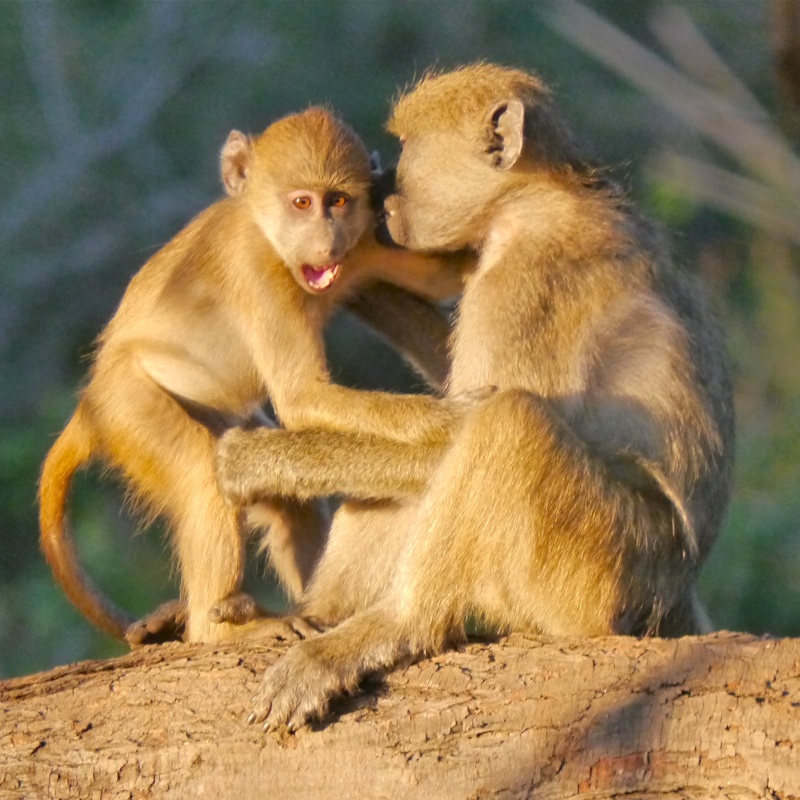 You're in big trouble now!!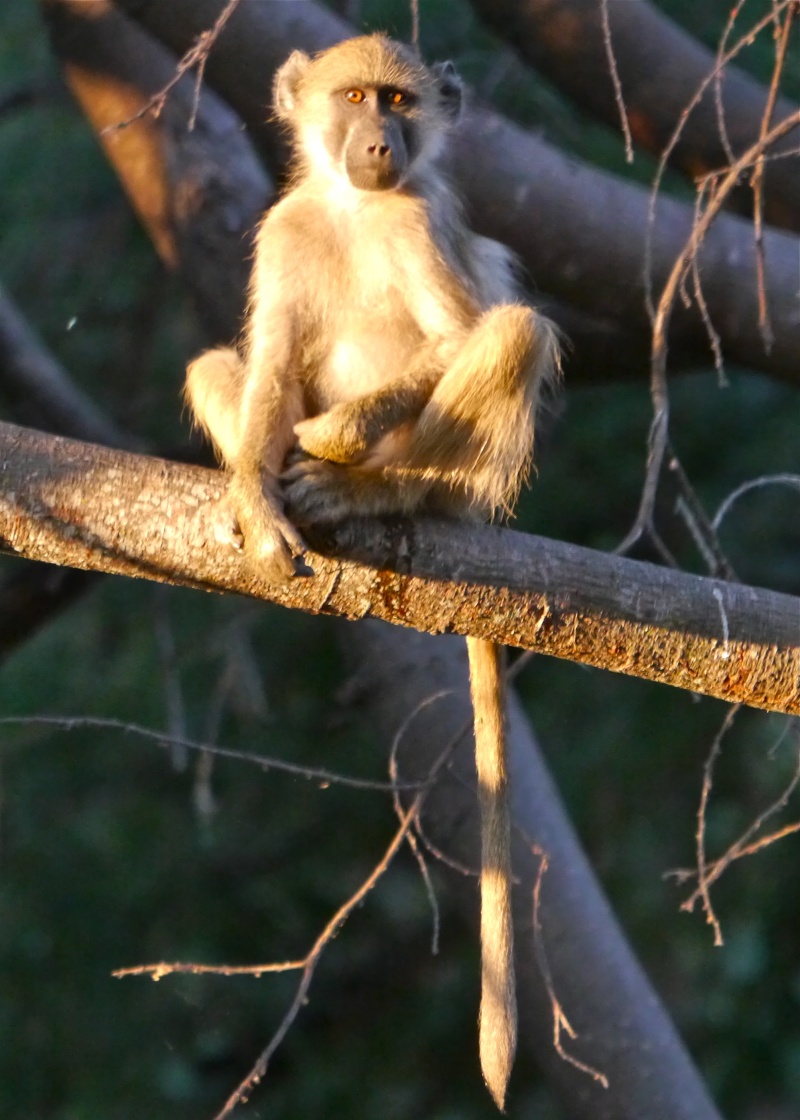 I am totally inscrutable!!
Safariman

Safariman




Posts

: 518


Join date

: 2012-06-27


Age

: 78


Location

: Buckinghamshire



  Safariman, those are wonderful photos and a great commentary and you are so right, we often overlook the vervets and baboons and they deserve to be photographed as well as they are always doing interesting things.
Thanks for sharing.
Lai

Laikipia

Moderator




Posts

: 16153


Join date

: 2010-05-13


Age

: 62


Location

: Cheshire



Fantastic Safariman, they are tremendous photos and your right they do get overlooked which is such a shame as they are genuinely unique characters. The tail commentary and photos are fabulous but I am a portrait girl and I was just blown away by the portrait shots. Action shots always give a sense of fun or mischief about an animal but shots like those portraits often get you to the heart of the animal andI love seeing face shapes, eyes and fur layering. There is such a depth to those facial shots, they are mesmerising.
Thank you for sharing them.

littlewid-x-

littlewid

Admin




Posts

: 10464


Join date

: 2009-12-28


Location

: West Sussex



 Another great set of photos, and story Safariman. I to love the close ups, and also the family portrait. I really like watching the Vervets, and Baboons on the Web Cam at Petes Pond in SA, thay are really fun to watch, and as you say so easy to to miss. Your right about the symbotic relationship between the Baboons, and Impala, its a individual, and group survival relationship with the Impalas keen hearing, and sight, and the Baboon sentries using trees, and termite mounds as look out posts both groups benifit. I've seen this on a few nature programes. However there is a dark side to it once the Impala start giving birth the larger Baboons will catch, and eat Impala young.
WS
What great photos Safariman - I must admit to having a big liking for most kinds of monkeys/apes etc you can just watch them for ages as they are always up to something
 

Great close ups of the Vervet Monkeys and I loved that wee Baboon hanging off the other ones tail

Doogs

Moderator




Posts

: 10734


Join date

: 2010-05-14


Age

: 52


Location

: Aberdeen



Thanks everybody. I can also watch them for hours and they are a constant form of amusement for us humans as I am sure we keep looking for human characteristics in them. Perhaps it should be the other way round and we should be looking for monkey characteristics in humans!! Its fun to play games with the vervets as they have very restricted tunnel vision to help them judge distance very accurately as they swing through the trees from branch to branch. If you move your head to one side you will find the vervet has to do the same thing to keep you in vision and they also copy what you do; if you pretend to scratch they will often do the same thing. They can provide endless hours of fun!!

Safariman

Safariman




Posts

: 518


Join date

: 2012-06-27


Age

: 78


Location

: Buckinghamshire



Thats really interesting Safariman about the Vervet monkeys eyesight, I didn't know that and if I was moving my head and he moved too, I would have assumed that he was copying me as monkeys do, so I have learnt something new today
You have now got me thinking that we are going to be comparing friends and relatives with monkeys
littlewid-x-

littlewid

Admin




Posts

: 10464


Join date

: 2009-12-28


Location

: West Sussex



Thanks for that information Safriman, I did'nt know that about Tunnel vision, I can see the advantage regards judging distance, but it must have a down side as a potential prey animal.

WS
 that's great info Safariman, didn't know that.  Must try that out next time I see a Vervet Monkey.  If I remember rightly there's not that many at the Intrepids Camp in the Mara but there were loads up in Samburu, they used to have to use a catapult to fire wee stones at them during meal times 'cause if they didn't they would come into the restaurant and pinch your food !!!

Doogs

Moderator




Posts

: 10734


Join date

: 2010-05-14


Age

: 52


Location

: Aberdeen



I didn't know that either Safariman so thanks for sharing that. Same here Doogs at Mfuwe Lodge in Zambia they would come in at lunchtime and help themselves from the buffet unless someone stood over it constantly. They are so quick and nimble and on the odd occasion something was snatched then it would go up into the tree and eat it happily whilst we all watched
Lai

Laikipia

Moderator




Posts

: 16153


Join date

: 2010-05-13


Age

: 62


Location

: Cheshire



---
Permissions in this forum:
You
cannot
reply to topics in this forum