I thought I would do something slightly different with this thread and describe the Lodge I stayed at and daily life on safari. I know a lot of members have not had the chance to go on a safari and some might be contemplating one (you will love it) so this thread although mainly about Kasaka River Lodge would apply to most camp/lodge based safaris with a few minor differences depending on the country or area you are visiting.
Kasaka River Lodge is a small tented camp set on the banks of the Zambezi River just outside the Lower Zambezi National Park. It consists of 8 tents 4 either side of the main communal areas, nominally designated as either the "Wild Side" or the "Tame Side" The more substantial main area has dining, lounge and bar areas over-looking the river and a second lounge/library area at a lower level. All the meals at Kasaka were communal affairs with everyone eating together at a single table.The guides and management staff also dined with the guests to answer queries and decide on activities everybody wanted to do. A lot of the activities were centered around the river  included river cruises. canoeing and fishing as well as the normal vehicle game drives into the park. Guests could choose whawtever they wanted to do and there was no pressure put on to ensure everyone did the same thing. They were quite happy to take some on a game drive while others fished or canoed. My preference was for a game drive in the morning and a river cruise later on.
The tents are the standard safari tents known as "Meru Tents", I don't know why. As you can see from the photos they are reasonably large and well equipped and not like the type of tent you associate with camping The sides mainly comprise of insect netting windows and a little bit of canvas although there is a substantial double roof for sun and rain protection. The bathrooms had a 3/4 height solid wall for privacy and a roof but were otherwise open to the elements and provided easy access for any passing baboon of vervet monkey as some guests found out much to their dismay!! Electricity was provided for all the camp by a small generator which provided sufficient power for low voltage lighting and water heating. As I was there in winter although the days were wall to wall sunshine as soon as the sun set, the temperature dropped dramatically so  the hot water bottle which appeared in my bed while I was having dinner was always very welcome.
My tent was on the tame side of the camp which meant I looked out on a lawned area within sight of a small swimming pool, the wild side had been left overgrown with walkways giving access to the tents. There were no fences around the camp and wildlife can wander through the camp without any hindrance so after dark it was essential to be escorted to and from your tent by security guards The tame side turned out to be a lot wilder than the wild side as I was to find out. On my second night I was awoken a little after 2am by some strange sounds of rustling and scratching and twigs snapping and I could feel something moving against the side of the tent!! It was not until I heard a low pitched rumbling sound that I realised that my visitor was an elephant who was happily munching at a small tree while leaning against the side of my tent. Rather disconcerting when you are half asleep. I felt I could have reached out and easily touched him/her through the side of the tent. After what seemed an age although probably only 10-15 mins. the ellie moved on almost immediately to be replaced by a regular munching sound coming from the front of the tent. The four legged lawnmower was a hippo on his nightly visit, something I was to get used to. On inspection the following morning I could see the elephant footprints on the path by the side of my tent and also on closer inspection found buffalo tracks along the path which ran behind my tent. So much for being on the tame side!!
A typical day would start with a 5-30 wake-up call, it was still dark at that time!! As the tents were canvas the wake-up call consisted of one of the security guards saying "knock, knock"!! This was followed by a quick breakfast and I would leave camp at about 6-30 on the morning game drive, getting back about 11-30/12-00 in time for lunch. There was hardly any time for a siesta before afternoon tea and cakes and then the afternoon activity, either another game drive or river cruise with a stop for the necessary sundowners. By the time one returned to camp, dinner would be ready and I was normally tucked up in bed with my hottie well before 10 to be occasional woken by the sounds of the 'lawnmower' at work or preferably by the sounds of roaring lions and whooping hyenas. Being in a tent you hear every sound particularly at night and for me one of the joys of being on safari is listening to the wonderful nocturnal sounds of the bush and knowing another days adventure awaits.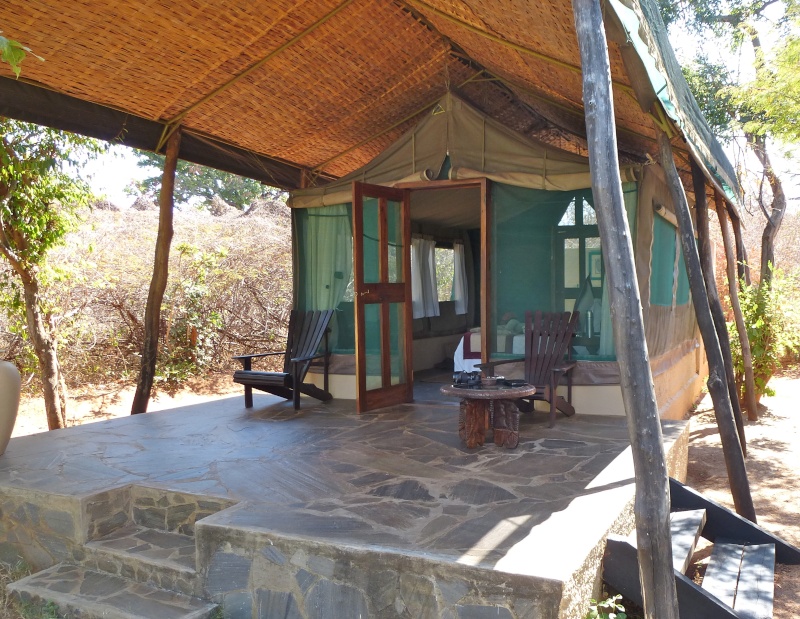 My home for 10 days
The interior of the tent
The bathroom area showing the Baboon/monkey access point
The small tree on the left next to the tent is the one the ellie decided to eat!!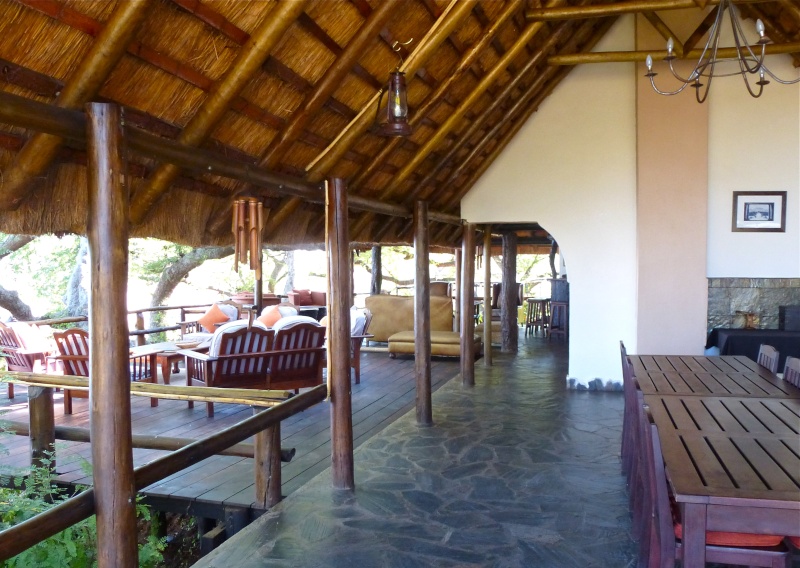 The main lodge area with dining, lounge and bar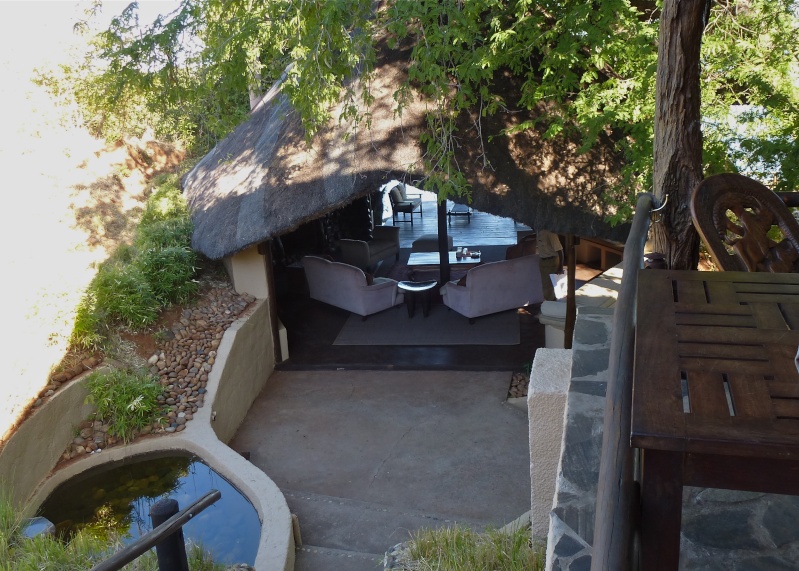 The lower lounge/library area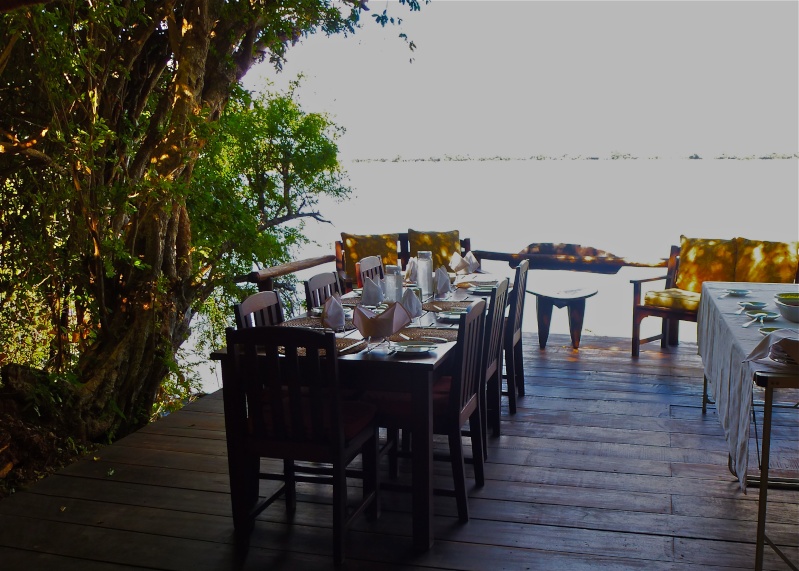 The table set for lunch looking out over the Zambezi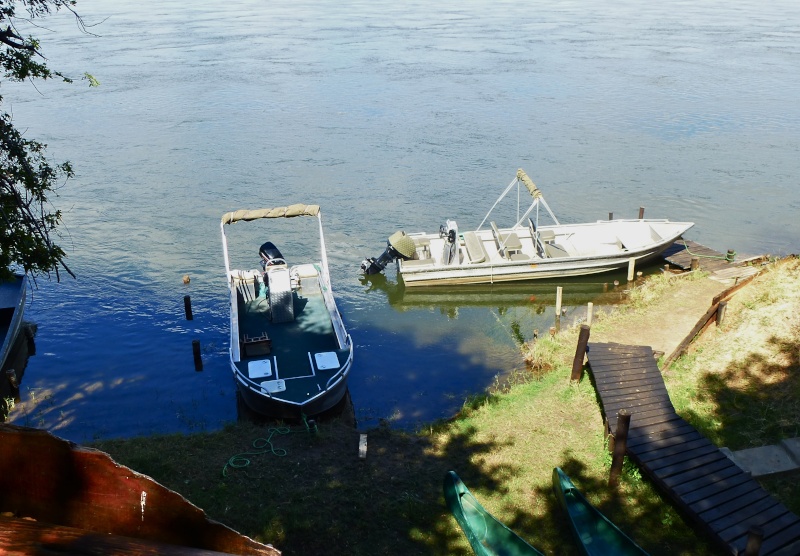 The small jetty and the boats used for river and fishing trips and the tips of the canoes
Safariman

Safariman




Posts

: 518


Join date

: 2012-06-27


Age

: 78


Location

: Buckinghamshire



Wonderful stories Safariman! Very interesting to read for one who has never experienced the safari lifestyle. Perhaps one day I will consider such a trip. I would prefer to be surprised by a warming jack russell in my bed after dinner, though a hot water bottle will still do nicely! An elephant that close...yep, a little scary! But the hippo munching regularly nearby sounds kinda lovely, and maybe they would not be so dangerous well away from their waterhole.
Maybe I would be tempted to try to pat it
G
 R

gregrowlerson




Posts

: 1733


Join date

: 2012-11-22


Age

: 41


Location

: Melbourne



That was a cracking idea to post your Safari experience at where you stayed Safariman
  it really gives us that have'nt been on Safari a flavour of what you can expect ( keeping my fingers X on the lottery this weekend ). It looks really beautifull to stay there, and the atmosphere in the evenings with all the sounds must be great, but I'm sure a bit
  the first time you do it. I can understand what you mean about the sounds at night, a few years ago I has a very stressfull job in sales, and was having trouble sleeping I bought a CD with sounds of Africa animals at night, and it really got me off to sleep dreaming of being out there. Thanks for taking the trouble to share this with us Safariman.
GR not a good idea to pat a Hippo, they kill more humans Africa than any other animal
 , and the worst thing you can do is to get between them, and their water
WS
WS, I would make sure that I stayed on the outside in regards to the location of their watering hole
Besides, can't see them getting too angry at a flying squirrel....under any circumstances

gregrowlerson




Posts

: 1733


Join date

: 2012-11-22


Age

: 41


Location

: Melbourne



  Safariman, that was a brilliant idea and I will try and show that to my neice as she and her partner are going on their first safari on the 27th of this month to Tsavo and they will love reading that. It was so well done and really does give us who haven't been on Safari a real taster of what it's like and I love the sound of it, even the ele being that close munching on his tree and the hippo too, what an experience and definitley not the tame side at all but thats wild life, they will go wherever they like I suppose, sides mean nothing to them.
I love the pictures, it all looks very inviting and lovely and I love the idea of you all eating together, I love mixing with people and I would really enjoy that side of it but the Baboon can keep out whilst i'm using the bathroom
Really enjoyed that Safariman, thanks for taking the time to write that and post it
littlewid-x-

littlewid

Admin




Posts

: 10464


Join date

: 2009-12-28


Location

: West Sussex



Just catching up with your posts Safariman and a great idea to share your experience of safaris. I loved reading it and seeing the photos, and could well imagine being back in Africa (which reminds me we need to get there
 ) There is nothing like the night sounds of munching outside your tent, I love it but sometimes you think there is just a piece of canvas between you and the hippo/ele and that's a bit
Kasaka River Lodge looks like a wonderful place and sounded perfect.
Thanks for sharing Safariman.
Lai

Laikipia

Moderator




Posts

: 16153


Join date

: 2010-05-13


Age

: 62


Location

: Cheshire



---
Permissions in this forum:
You
cannot
reply to topics in this forum