On one of my afternoon trips down the Zambezi River I was lucky enough to come across a small herd of elephants crossing the river from the Zimbabwe, Mana Pools side towards the Zambia, Lower Zambezi side. They were in fact heading for an island mid-stream between the two reserves a distance of approx. 500/600 metres. As the river varies considerably in depth, some of the time they were swimming and at other times it was shallow enough to just wade across. There were 11 elephants in the her, 8 adults and 3 small youngsters who seemed to spend a considerable time under the water. Just as they reached the island and the river deepened and they all had difficulty scrambling up onto dry land particularly the youngsters. However they all arrived safely and would have plenty of fresh grass to grave on for a few days before deciding whether to continue to Zambia or return to Zimbabwe and all without the necessity of a passport or visa!!!
I have included a short video which I tried to shoot inbetween taking photos; its a bit shaky as the boat would not keep still!!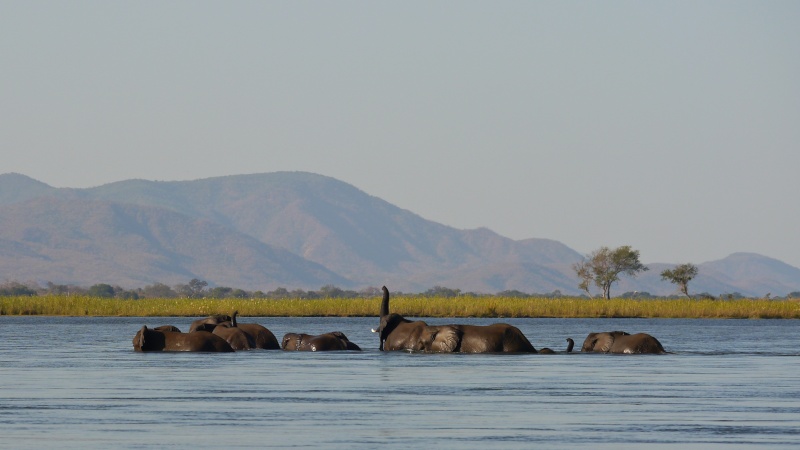 The start of the journey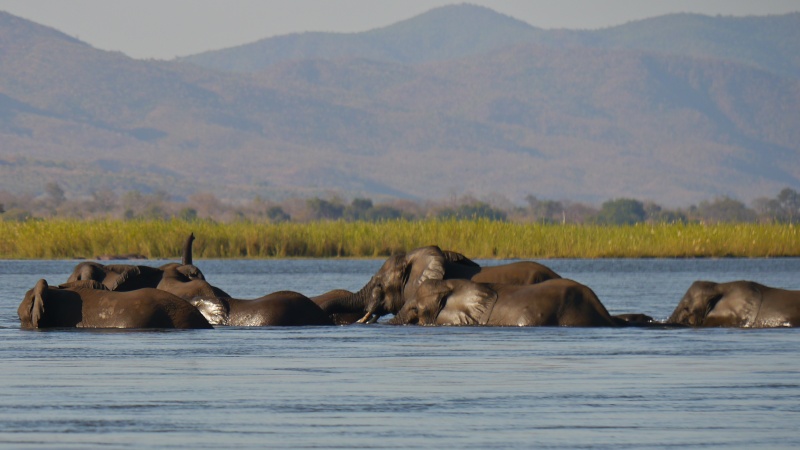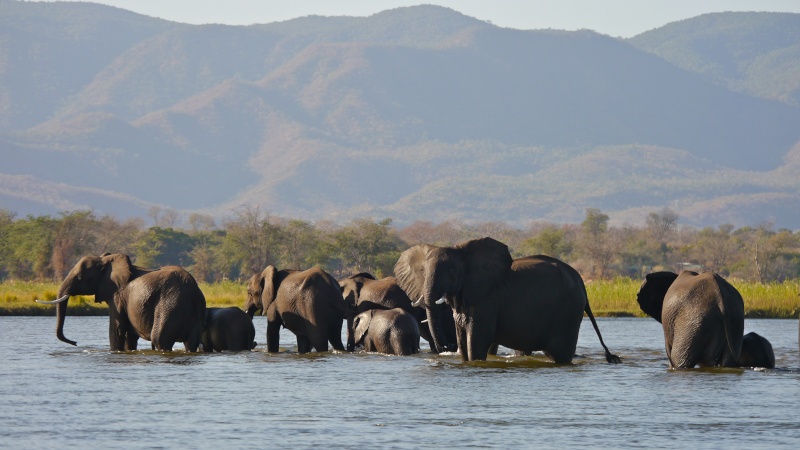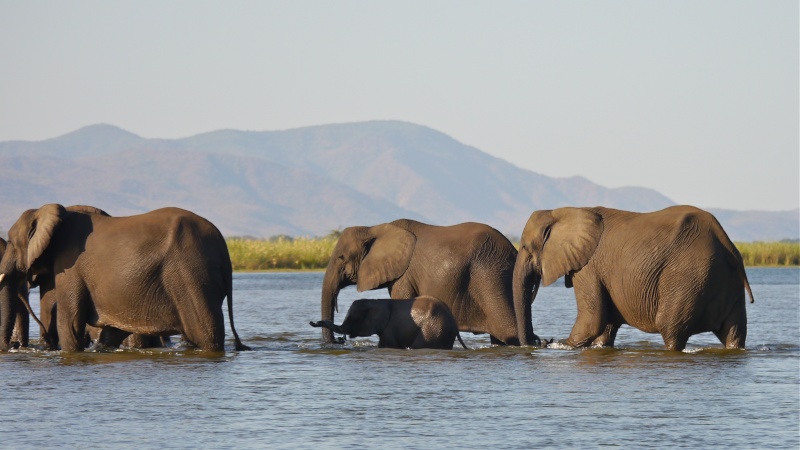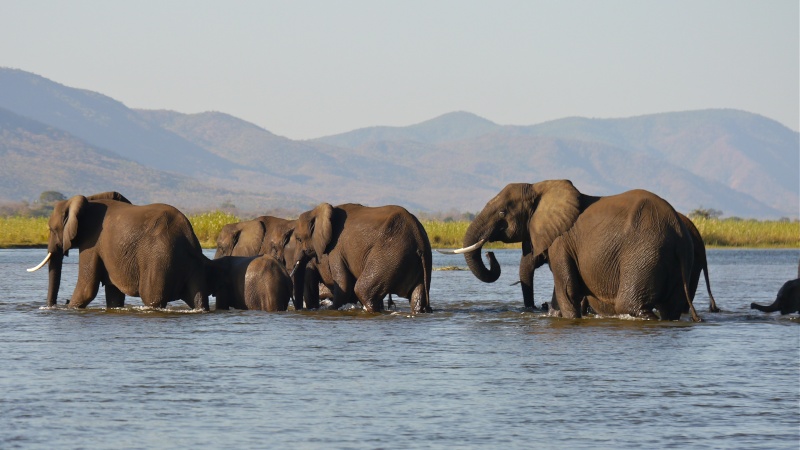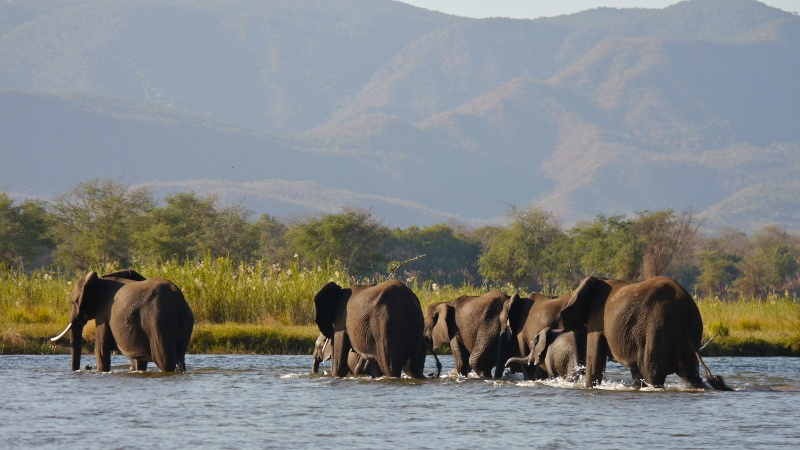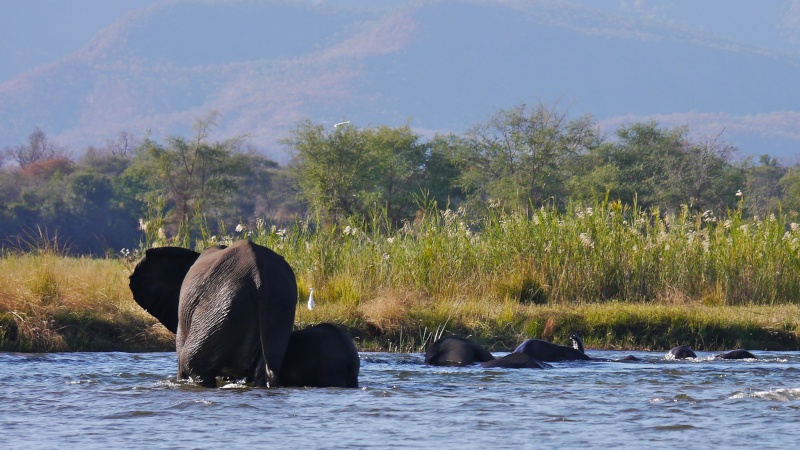 Almost there!!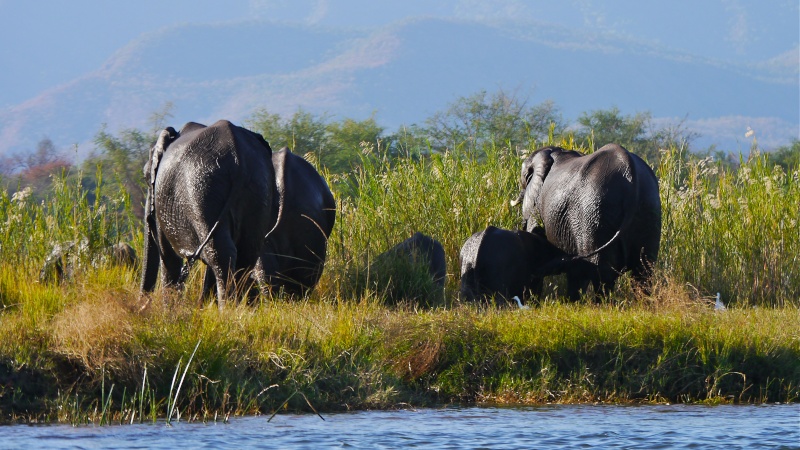 Dry land at last!!
Safariman

Safariman




Posts

: 518


Join date

: 2012-06-27


Age

: 78


Location

: Buckinghamshire



Oh I loved that video Safariman and again I must say I liked the music, it had the impression that it was just a slow chillin' walk across the river with a Hey we do it every kind of day attitude which as you say though, it was quite tough for the little eles because you could see how deep the water was at some points on the adult eles so the little ones must have found that quite tiring really.

The scenery is beautiful isn't it and I love the first picture with the trunk in the air. It looks as if they were crossing to quite lush land so well worth the river trip, for them and for you I can imagine.

Thanks safariman

littlewid-x-

littlewid

Admin




Posts

: 10464


Join date

: 2009-12-28


Location

: West Sussex



  Great shots again Safariman, and I loved the video, that music really goes with it, as LW says chillin music. It must have been majical just being in the boat watching them cross, and I have to say considering you were in a boat that was'nt really shaky. It amazes me sometimes how the little ones manage to get across, they do seem to stay under for such a long time, and then the scramble up the banks, can be really tough
Thanks once again for sharing your trip with us
WS
Thanks LW and WS the music was again somewhat accidental and not my original choice. It was fascinating to watch them as some of the time they had their trunks well out of the water and at other times kept them down under the water. I don't know if they use their trunks to try and determine the depth as their eyesight is none too great but at times the little ones disappeared totally under the water.

Safariman

Safariman




Posts

: 518


Join date

: 2012-06-27


Age

: 78


Location

: Buckinghamshire



Thats something I had not thought of Safariman but they could well use their trunks to gauge the depth of the water, thats a good thought.
Isn't it odd that when something is not our first choice it can often work really well, the music seemed as if it had been chosen perfectly.

littlewid-x-

littlewid

Admin




Posts

: 10464


Join date

: 2009-12-28


Location

: West Sussex



  Safariman.  I missed this post while I was in Shetland.  Stunning photos and clips of those eles. Lovely to see them all crossing the river, although it's always a little scary watching small eles trying to cross.
Thanks for sharing.
Lai

Laikipia

Moderator




Posts

: 16153


Join date

: 2010-05-13


Age

: 62


Location

: Cheshire



---
Permissions in this forum:
You
cannot
reply to topics in this forum