Although over 4,000 sq. km. the Lower Zambezi National Park  only has a lion population of about 40 individuals divided into 4 prides. When I was there in June they were well spread out throughout the park making finding them quite difficult. At this time of year the prides spread out as the game is very well scattered throughout the park. It is only as the dry season progresses and the animals concentrate closer to the river for food and water that the prides get together. Although we found plenty of tracks, actually seeing any lions was very much hit and miss and when we did find them they were doing what lions do most of the time and that is nothing!! We did find a very pregnant female with a 2 year old cub and a mixed group of adult male and female, sub- adult male and young male. It was only the young male male who bothered to rouse himself and come and investigate the vehicle before flopping down next to us which enabled me to get some good close-up photos. I have also added a short video mainly showing sleeping or resting lions!!
Sub-adult female
It's a hard life!!
A very pregnant female!!
Male lion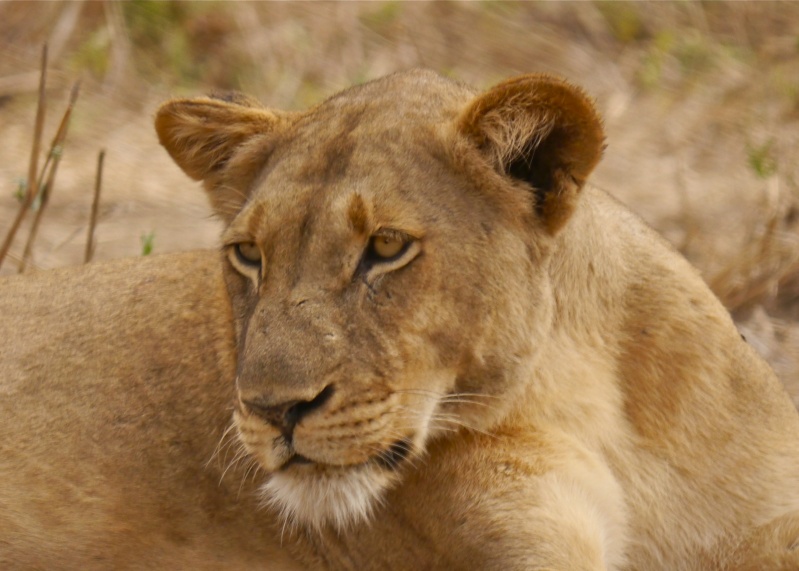 Female lion
Young male coming to investigate!!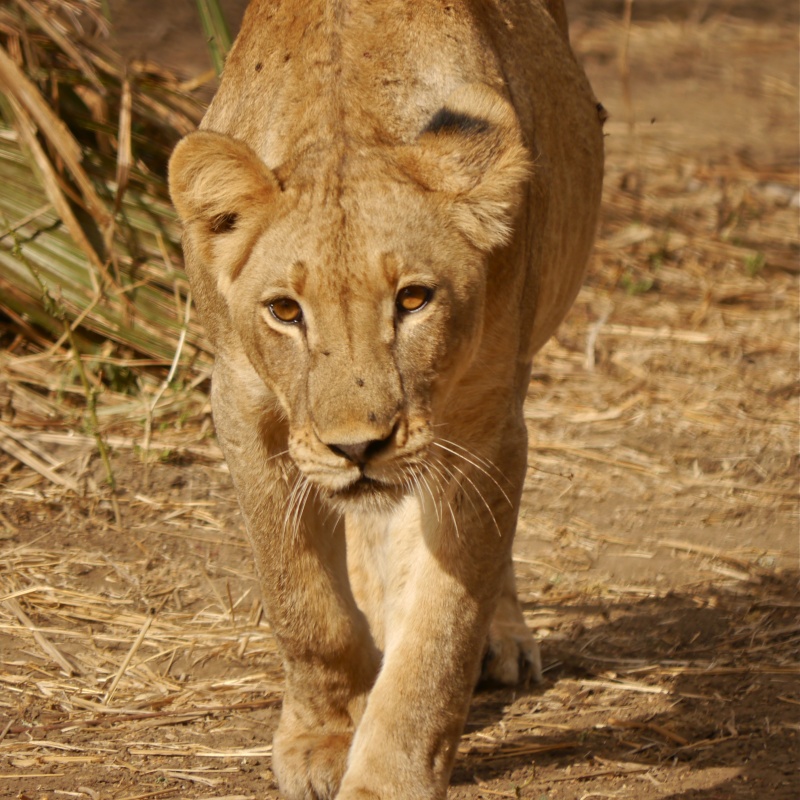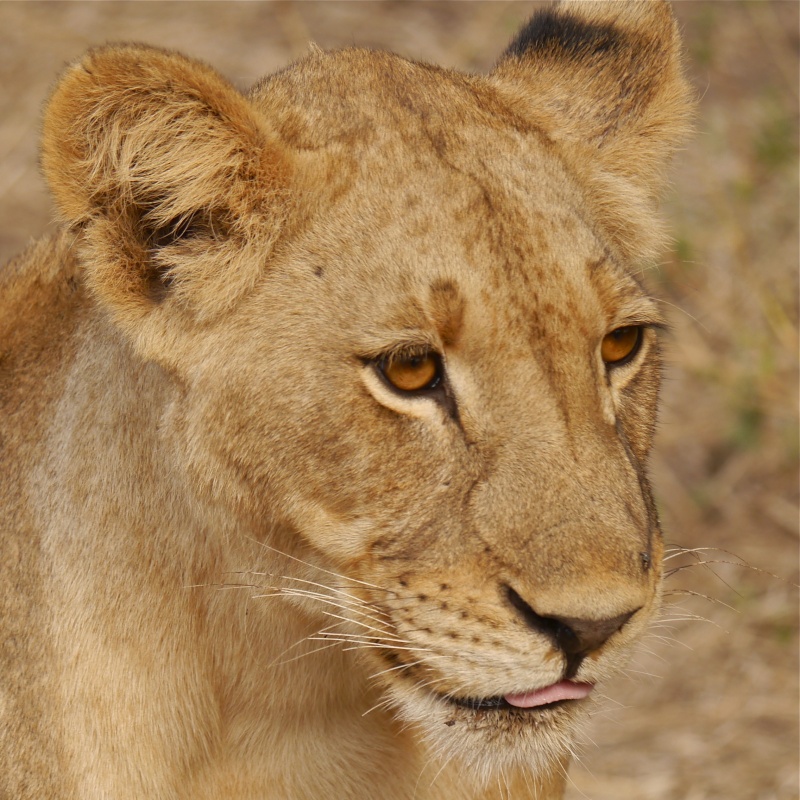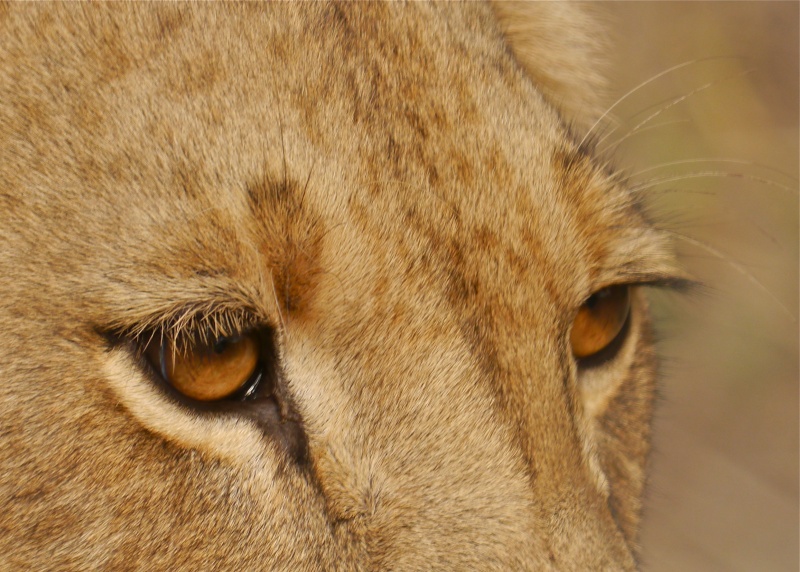 A female with 4 of her 5 sub-adult cubs, doing what lions tend to do all day!!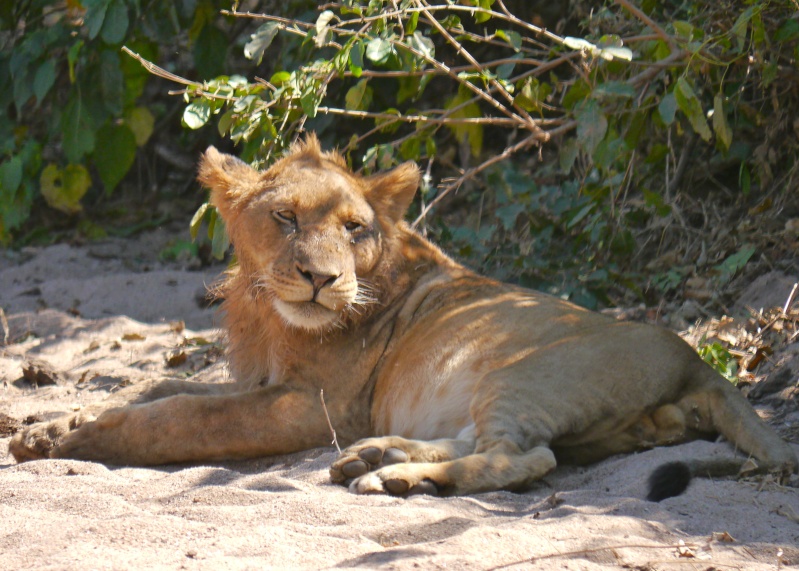 The 5th. cub, a sub-adult male
Safariman

Safariman




Posts

: 518


Join date

: 2012-06-27


Age

: 78


Location

: Buckinghamshire



Great that you did manage to see some lions Safariman and what wonderful pictures you have to prove it
  That lioness has one big tummy full of little cubs
   The male lions looks rather ragged and obviously been scrapping recently by the marks on his face, bless him
  Loved the close up shots of the eyes
 apart from the lioness who came for a nosey and lay down beside your jeep your video showed a perfect example of what lions do during the day in the searing heat . . .
  The pregnant lioness was well zonked and looked very comfy
 

Thanks for posting

Doogs

Moderator




Posts

: 10734


Join date

: 2010-05-14


Age

: 52


Location

: Aberdeen



Great photos and clip Safariman. At last you saw lions, when we were there last November (in South Luangwa NP) there wasn't a lion to be found, despite there being quite a large pride the year before.

Lai

Laikipia

Moderator




Posts

: 16153


Join date

: 2010-05-13


Age

: 62


Location

: Cheshire



As always simply stunning photos Safariman but I must say those facial shots are just outstanding
  and the one with the tongue popping out is such a cat thing, even little domestics do that and its so cute and looks even cuter on a big cat. I must say my favourites are the two eye shots, if they were mine I would be as proud as punch with them. My other favourite is the pregnant female, generally on TV all you see is a pregnant female walking around but that belly holding all those little Lion cubs is just magical.
Loved the video as well and again the music hit the mark, it is what I would call swaying music, he had me swaying and Tiga my cat singing, he obviously loved it too and had his nose on the screen almost whilst he was singing away.
Thanks for sharing those safariman.
littlewid-x-

littlewid

Admin




Posts

: 10464


Join date

: 2009-12-28


Location

: West Sussex



---
Permissions in this forum:
You
cannot
reply to topics in this forum